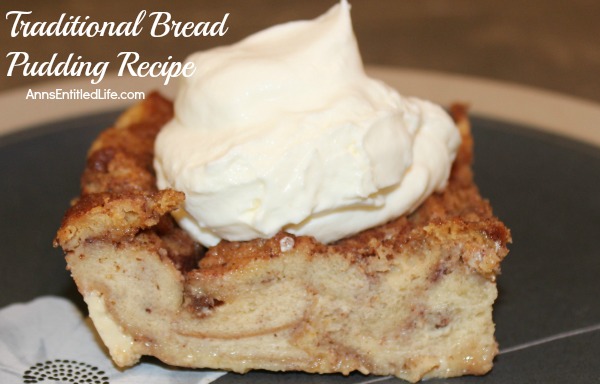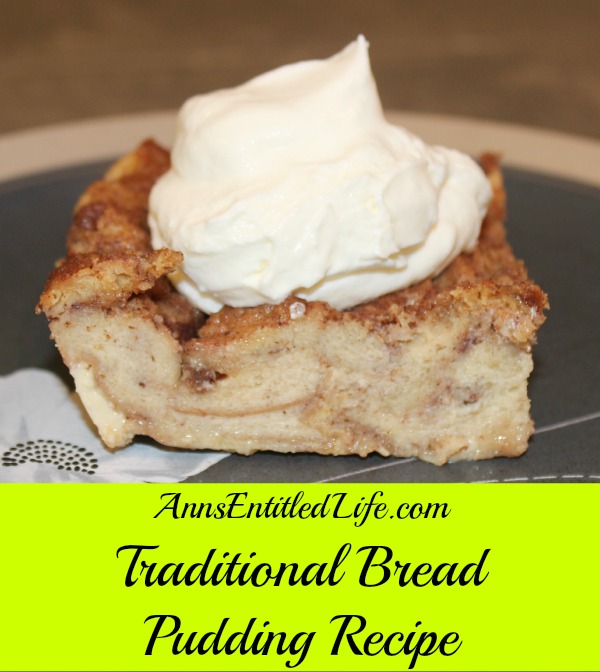 Traditional Bread Pudding Recipe
By Ann
This old fashioned, traditional bread pudding makes great use of leftover, dry or stale sweets bread, danish and treats. This favorite dessert is a delicious ending to any meal.
Prep Time: 30 minutes
Cook time: 45 minutes
Ingredients:
● 3 cups Milk, scaled and cooled
● 1 TBSP Brandy
● 1/4 cup Butter, melted
● 8-10 sliced Dry Raisin Bread (12oz by weight, you can also use danish or bagels)
● 1 cup Brown Sugar, hard packed
● 1 tsp Cinnamon
● 1/4 tsp Pumpkin Pie Spice
● 3 Eggs
● 1/4 tsp Salt
● 1 tsp Vanilla
Directions:

● Preheat oven to 325°.
● Lightly spray a 13″x9″ pan with non-stick cooking spray.
● Scald the milk, allow it to cool.
● Melt Butter.
● Cut bread into 1/2″ – 3/4″ cubes, set aside in a large bowl.
● Combine brown sugar, cinnamon and pumpkin pie spice. Reserve 3 tablespoons for topping; mix the rest into the cut up bread, tossing lightly.
● Pour melted butter over bread mixture, toss lightly.
● Place bread mixture into the 13″x9″ pan.
● Combine eggs, salt and vanilla in a bowl; beat for one minute.
● Add scalded, cooled milk and brandy slowly to egg mixture.
● Pour milk mixture over the bread in the 13″x9″ pan.
● Let stand for 5 minutes.
● Top with remaining brown sugar mixture.
● Bake at 325° for 45-50 minutes.
● Top with whiskey, brandy or vanilla sauce, or whipped cream
Makes 12 Servings of Traditional Bread Pudding
● To print this Traditional Bread Pudding Recipe, click here.
---
● Disclosure the links in this post may be affiliate links.
● For more Recipes on Ann's Entitled Life, click here.
● If you enjoyed this post, be sure to sign up for the Ann's Entitled Life weekly newsletter, and never miss another article!
---