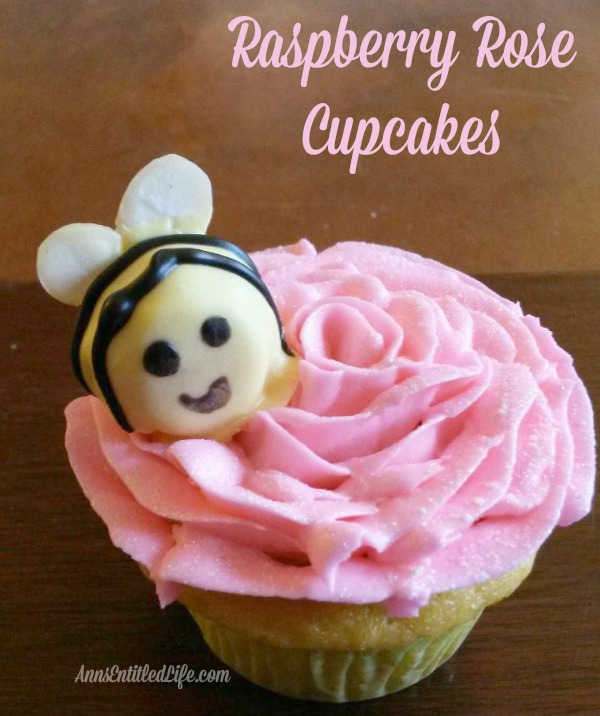 Raspberry Rose Cupcakes
By Ann
These Raspberry Rose Cupcakes are as delicious as they are adorable. The buzz will be strong when you serve these Raspberry Rose Cupcakes at your next family function, after dinner dessert or packed in a school lunch box!
Prep Time: 60 minutes
Cook time: 35 minutes
Equipment You'll Need:
● Stand mixer
● 1 Pastry Bag For Melted Chocolate
● 1 Pasty Bag For Each Frosting Color (your choice!)
● Wilton Rose Tip
● Wax Paper
● Double Boiler
● 2 Dinner Forks
Ingredients For Cupcakes:
● 1 box Vanilla Cake Mix (you may substitute a gluten free cake mix)
● 1 package Instant Vanilla Pudding
Directions For Making Cupcakes:

● Prepare cake mix according to package directions adding dry instant pudding mix prior to mixing.
● Bake according to cake mix package directions.
● Cool cupcakes completely before decorating, if they are not completely cooled your frosting will melt.
● Note: if using a gluten-free boxed mix, add 1 teaspoon of baking powder
Ingredients For Raspberry Cream Filling:
● 1 cup Heavy Whipping Cream
● 8 oz Fresh Raspberries
● 1 Lemon
Directions For Making Raspberry Cream Filling:

● Place mixing bowl for stand mixer and whisk attachment in the freezer for at least 20 minutes prior to making the filling.
● Zest the lemon, and then juice the lemon.
● Place the raspberries, lemon zest and lemon juice into blender and puree until smooth; set aside.
● After affixing frozen mixing bowl and whisk attachment to mixer, whip the heavy cream at high speed until stiff peeks are formed; approximately 5 to 7 minutes.
● Fold raspberry puree into freshly whipped cream.
● Refrigerate for at least half an hour prior to filling your cupcakes.
Ingredients Almond Butter Cream Frosting:
● 2 ½ sticks Unsalted Butter, room temperature
● 5 ½ cups Powdered Sugar, approximately 1 pound
● 3 TBSP Water
● 1 TBSP Almond Flavoring
Directions For Making Frosting:

● Fit mixer with paddle attachment.
● Whip softened butter until smooth at medium speed.
● Add powdered sugar one cup at a time. Blend each cup fully before adding more. Scrap the sides of the bowl as needed.
● Add almond flavoring.
● Add water and whip until fluffy, about 3 minutes.
Ingredients For Bees:
● 1 jar Maraschino Cherries, rinsed and WELL dried
● 8oz Yellow Melting Chocolate
● 2oz Dark Melting Chocolate
● Slivered Almonds
Directions For Making Bees:

● In double boiler, melt yellow chocolate.
● Transfer melted yellow chocolate to a shallow bowl.
● Dip cherries into yellow chocolate and coat completely. This may take 2 or 3 coats, allow each coat to fully dry before moving on.
● Once the yellow layer has dried, melt dark chocolate in double boiler.
● Transfer melted chocolate to pastry bag.
● Stripe bees as you like and add faces if you want to!
● Once stripes are dry, dip an edge of slivered almond into left over chocolate.
● Place on bees back and hold until dry, now your little guy has wings!
Assembling Your Cupcake:

● Make a hole in the center of each cupcake, a grapefruit spoon is best but a small spoon will do, remove cake plug and set aside.
● Fill your cupcake with raspberry cream, make sure it doesn't overflow.
● Replace cake plug (it will fit). Repeat until all your cupcakes have been filled.
● To make rose; with thick potion of rose tip on TOP, make a swirl in the center of your cake. It should be about the size of a quarter.
● Flip the bag over so that the thick portion of the rose tip in on the BOTTOM, make petals with short strokes.
● Be sure to overlap a bit for best results.
● You may sprinkle with luster dust or edible glitter to add some shine but that's up to you!
● Place Bee on top of the cupcake.
● Enjoy
Makes 14 Raspberry Rose Cupcakes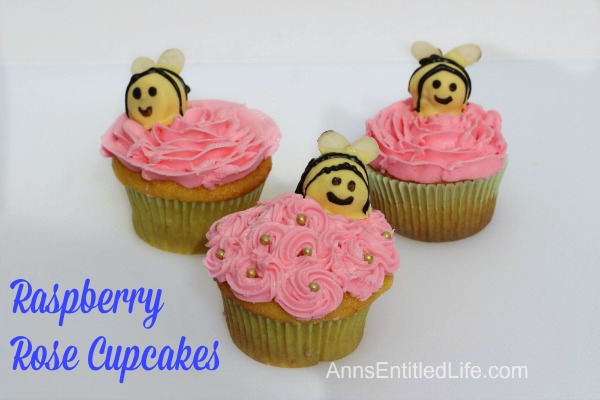 Note: If you use a gluten free cake mix, the yield will be 12, not 14.
A very special thanks to my niece Maggie for these adorable cupcakes!
---
For more Recipes on Ann's Entitled Life, click here.
---