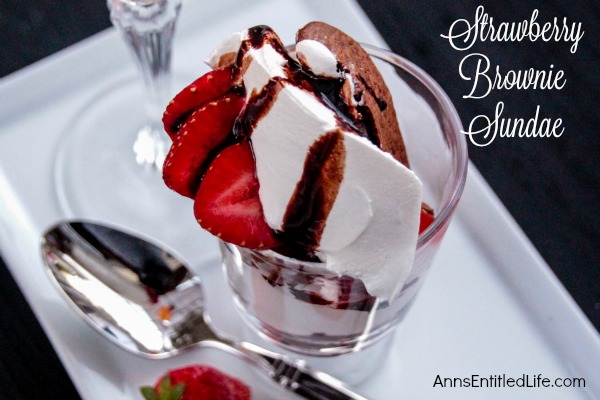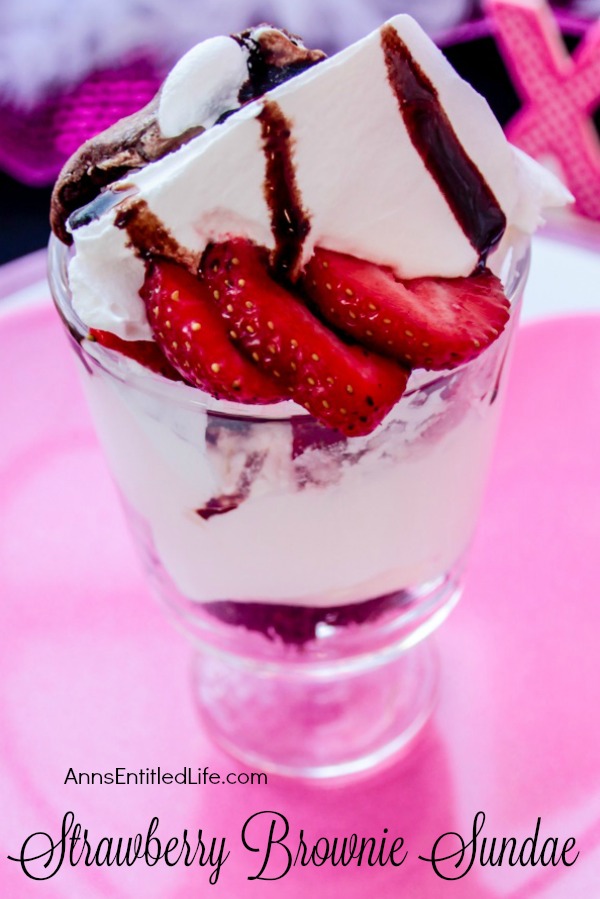 Strawberry Brownie Sundae
By Ann
A sweet treat for a special someone, this delicious strawberry brownie sundae dessert contains no ice cream, just fresh baked goodness. Simply a delightful end to a wonderful meal.
Prep Time: 20 minutes
Cook time: 25 Minutes
Total Time: 1 hour 15 minutes
Ingredients:
● ½ cup Unsalted Butter, melted
● ½ cup Unsweetened Cocoa
● ¾ cup Granulated Sugar
● ¼ cup Light Brown Sugar
● 2 Eggs
● ½ cup Flour
● ¼ tsp Kosher Salt
● 2 tsp Vanilla Extract
● 6 Ripe Strawberries, sliced
● ½ cup Whipped Cream, divided
● ½ cup Dark Chocolate Syrup
Directions:

● Preheat oven to 350°.
● Butter a 9″x9″ baking pan; set aside.
● Combine melted butter and unsweetened cocoa in a bowl, mix until butter and cocoa are well combined.
● Add granulated sugar and brown sugar; mix well.
● Add eggs one at a time; mixing until combined.
● Add flour, Kosher salt, and vanilla extract; mix until flour is completely absorbed into the mixture and you can no longer see the white flour.
● Spread brownie mixture evenly in the prepared pan and bake for 25 minutes in a preheated 350° oven, or until a toothpick comes out clean.
● Remove from oven and cool, set aside.
● Cut cool brownies into 6 pieces. Place a piece of brownie into a dessert dish or decorative glass, top with a cut strawberry, whip cream and drizzle with dark chocolate syrup.
● Serve.
Makes 6 Strawberry Brownie Sundaes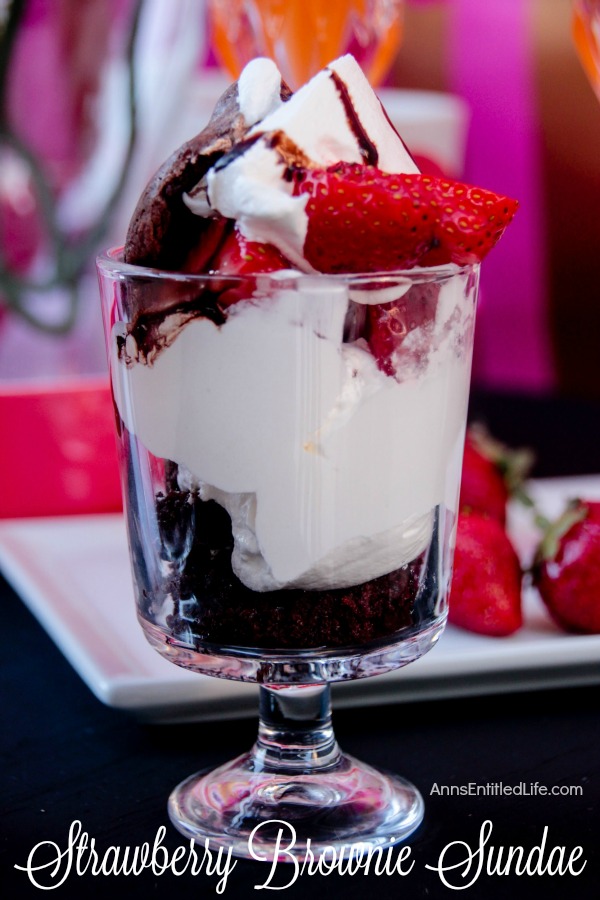 ● To print the Strawberry Brownie Sundae recipe click here.
---
● For more Recipes on Ann's Entitled Life, click here.
● If you enjoyed this post, be sure to sign up for the Ann's Entitled Life weekly newsletter, and never miss another article!
---