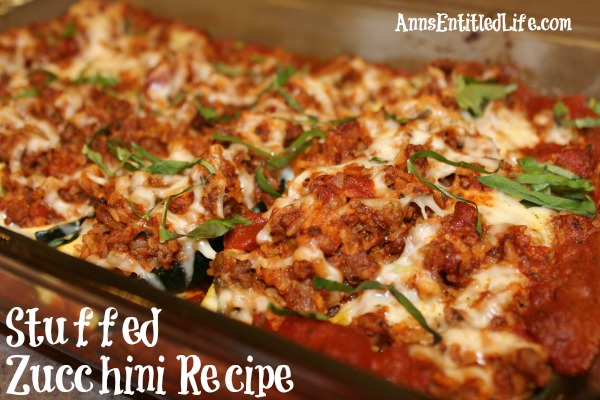 Stuffed Zucchini
By Ann
Make the most of your fresh garden zucchini with this delicious stuffed zucchini recipe which can be served as either a side dish or a main dish.
Prep Time: 30 minutes
Cook Time: 75 minutes, divided
Ingredients:
● 3 large Zucchini
● 2 TBSP Olive Oil
● 1 lb Ground Beef
● 1 Onion, finely chopped
● 2 Cloves Garlic, minced
● 1 cup Cooked Rice
● 1 TBSP Fresh Basil, chopped
● 1/4 tsp Fresh Oregano, chopped
● 1/2 tsp Paprika
● 1 (26oz) Jar Spaghetti Sauce, divided
● 8oz Monterey Jack Cheese, Shredded and divided
● Sale and Pepper to taste
Directions:

● Preheat oven to 400°.
● Slice washed zucchini in half the long way. Slice off 1/8″ of each bottom so it can lay flat in the pan.
● Scoop out inside of the zucchini to make "canoes". Don't scoop out too much; you don't want the filling to leak ou when cooking.
● Place those zucchini in a greased 13×9 pan. Roast at 400° for 20-25 minutes. Allow to cool. This will dry out the zucchini a bit and they will end up meaty rather than mushy.
● Once your zucchini are removed and cool, you will be baking the recipe at 350°.
● Heat olive oil in a pan over medium heat; saute onions until tender, approximately 5 minutes.
● Add garlic to onions, and saute an additional 2 minutes.
● Add ground beef to the garlic-onion mixture. Cook until browned.
● Add rice and spices.
● Once the meat has browned and the rice and spices have been mixed in, add 3 tablespoons of the spaghetti sauce to the mixture.
● Allow to cool for 5-10 minutes.
● Sprinkle half of the Monterey Jack cheese in the bottom each zucchini "canoe" shell.
● Fill with meat mixture.
● Top with rest of spaghetti sauce, then top with remaining Monterey Jack cheese and garnish with fresh, slivered basil.
● Place the 13×9 pan back in the 350° oven, and bake for 20-25 minutes until thoroughly heated, and cheese is melted.
● Serve hot.
Makes 4-6 servings of Stuffed Zucchini
---
● For a list of all Recipes available on Ann's Entitled Life, click here.
---