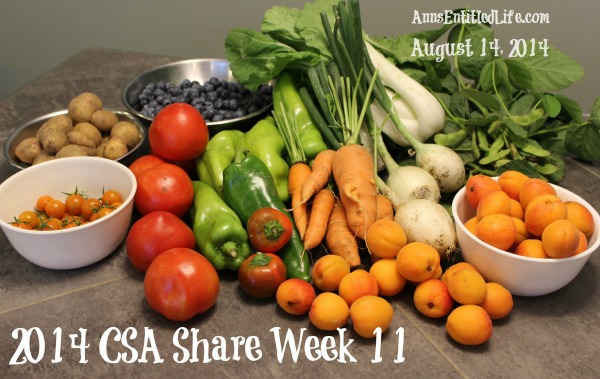 This is the diary of our 2014 CSA share. The cost of our full share is $545 for 22 weeks (this CSA offers a winter share) which will bring us to the last week in October, and works out to $24.75 per week. Western New York weather is such that June is lightest CSA month. September and October will be more than abundant! Usually I feel I don't get my money's worth the first few weeks (which will be predominantly lettuces), but the fall bags more than make up for that.
We also purchased a Fruit Share this year for $180, lasting 18 weeks which works out to $10 per week. The local fruit included in the fruit share starts with cherries, apricots, plums, peaches, nectarines, blueberries, and moves into pears, raspberries and of course apples! This portion of the share begins in July.
---
Just when I had caught up…
Last weekend Hubby and I spent a lot of time processing the CSA produce. I was concerned that we were falling into a bad habit of not using it right away, and then it wilted and went into Hubby's vegetable stock bag. I thought that was a giant waste of excellent produce. I processed the tomatoes for freezing, Hubby made these awesome roasted garlic green beans, I made apricot jam, he made apricot fruit leather… basically, we used what we had except for onions, potatoes and carrots.
This week, apricots were still available (I was shocked), but they are gorgeous and we'll be eating those instead of baking with them. I got 6 more CSA tomatoes, and have over a dozen from my garden, so I will be freezing tomatoes again this weekend.
I think I will make Hubby happy, and make blueberry cobbler. We received a quart, so maybe two blueberry cobblers!
The potatoes are keeping well so I plan on just adding to that pile. Same for the onions and carrots. I do have a ton of peppers to process between the garden and CSA. I am sure Hubby has some ideas for them. Joy.
This week again was a great value for the money. While I hate to see the same produce all the time (and I realize it is a function of the growing season), when it is produce we use, I am very happy!
2014 CSA Share Week 11
● Apricots*
● Beets
● Blueberries*
● Bok Choy*
● Cantaloupe
● Carrots*
● Chard
● Cherry Tomatoes*
● Cucumbers
● Edamame*
● Flowers
● Onions*
● Peaches
● Peppers, sweet and hot*
● Plums
● Potatoes*
● Scallions
● Tomatoes*
* took for share
All-in-all another very good CSA week!
Do you belong to a CSA? If so, what type? How much? Do you find it as worthwhile as I do?
---
● For more CSA posts on Ann's Entitled Life, click here.
● Mind Your Peas and Cukes pinterest board: All things CSA, Produce, Farmstead Fresh – community supported agriculture, farmstand fresh produce, organic produce, more from all over the United States.
● CSA posts
● Find a CSA
● Porter Farms CSA (we belonged for years)
● Root Down Farm CSA (our 2013 and 2014 CSA)
● NYS Fruit and Vegetable Harvest Calendar
● US Agricultural Data
---