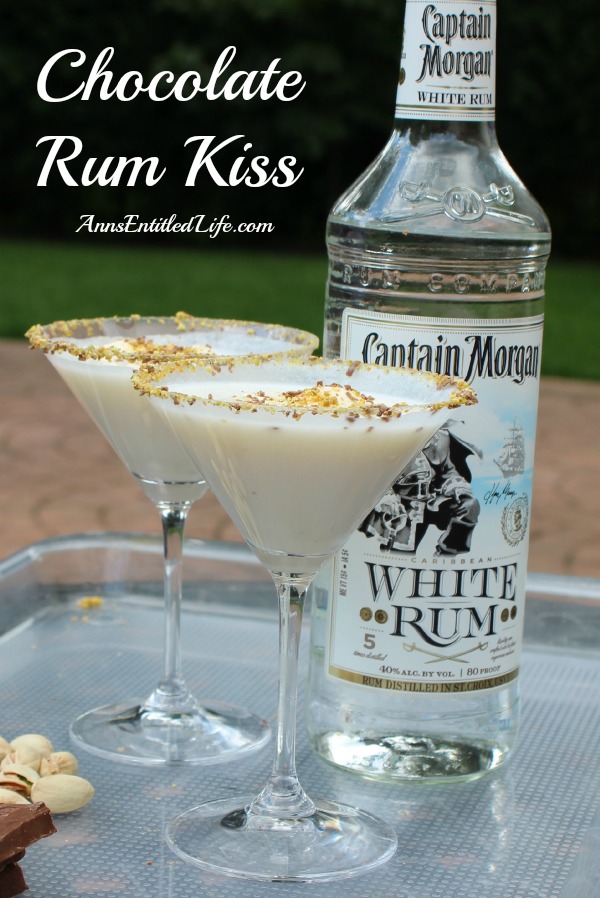 Chocolate Rum Kiss Cocktail Recipe
By Ann
A creamy, smooth and delicious rum cocktail featuring Captain Morgan White Rum. This Chocolate Rum Kiss Cocktail is a decadent drink that makes any occasion special.
Prep Time: 5 minutes
Ingredients:
● 1 oz Captain Morgan White Rum
● 1/2 oz White Chocolate Liqueur
● 1 oz Cream of Coconut
● 2 oz Half and Half
● Small Scoop of Vanilla Ice Cream
● 1 oz Milk Chocolate
● 10 Pistachios
● Vanilla Extract (for rimming)
Directions:

● Shell your pistachios; crush the pistachio meat.
● Grate your milk chocolate fine; combine with crushed pistachios.
● Rim your cocktail glass. Use vanilla extract for the liquid, the milk chocolate and pistachio mixture for the dry rimming material. DO NOT SKIP THIS STEP!
● Place a small scoop of vanilla ice cream in your rimmed cocktail glass.
● In a cocktail shaker, combine Captain Morgan White Rum, white chocolate liqueur, cream of coconut and half and half; shake 10 times.
● Pour into cocktail glass over ice cream.
● Top with the pistachio nut and milk chocolate mixture.
Makes 1 Chocolate Rum Kiss Cocktail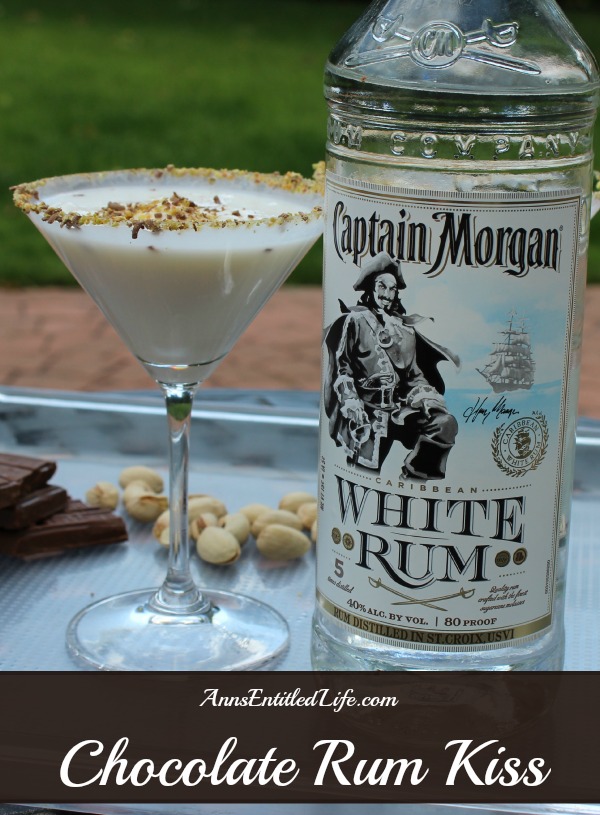 Chocolate Rum Kiss Mise en Place:
● Grater
● Martini Glass
● Ice Cream Scoop (personally I use a spoon, but Hubby has a heart attack when I do, soooo)
● Jigger
● Tall Cocktail Glass
Chocolate Rum Kiss
Last week I was contacted by Captain Morgan's inquiring as to whether or not I'd like to participate in National Rum Day on Saturday, August 16, with them. Captain Morgan's is hosting a fun competition (#CaptainRumDay to see all the drinks) They sent a number of social influencers a package containing Captain Morgan's New White Rum, along with several unusual ingredients: Chocolate, Bacon, Sriracha, Pistachios, BBQ Sauce, Red Licorice, Salsa and Potato Chips, to form drinks for this friendly "competition". The catch? We needed to use at least two of those items in our drink, and the cocktail could have no more than 1.5 oz of liquor.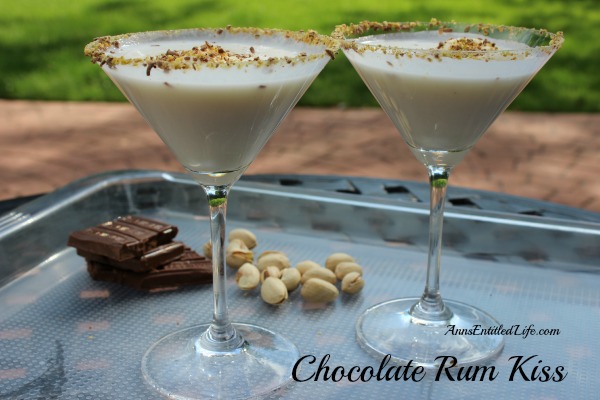 Hmmm what to do? What to do?
Max's groomer came over the other night, and since she is the same age as Sonny-boy, I asked her what all the cool-kids were drinking right now. Apparently Sriracha is really hot – in more ways than one! She suggested a Sriracha and Chocolate sauce in which I dipped the bacon, and then… I don't know. I am sure I will do this just to make the bacon! I've always said that a bacon-chocolate-coffee recipe could take over the Google+ world, so maybe a bacon-chocolate-Sriracha-rum offering will work just as well?
I liked her ideas (that last one was texted to me yesterday morning… apparently I wasn't the only one intrigued by this ingredient list), but you know me – sweet, sweet, and more sweet!
Hubby suggested I freeze the licorice and use it as a swizzle stick! I liked that idea too. But then he stopped (ok, frozen licorice, now what!?) and I was back to ruminating on my ideas.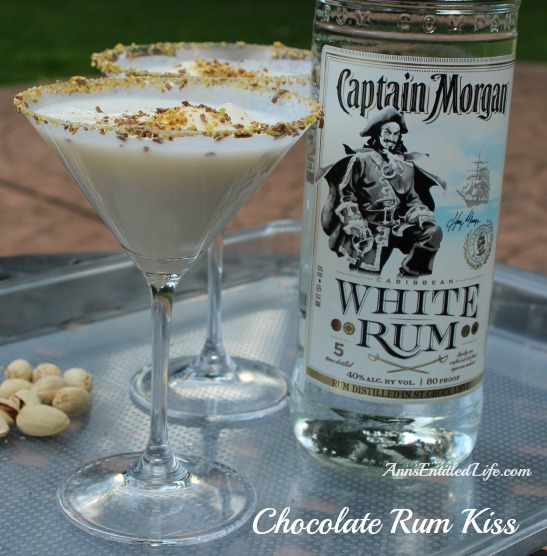 I knew I'd use chocolate. Duh. No brainer. The question of whether I'd be melting it into a sauce, or using it as a garnish was the decision I needed to make before moving forward. I wanted you all to be able to make this drink, and I wanted it to be fast and easy, so I decided the stove top was out.
I then looked at past cocktails I had made, and thought about what you all liked to drink.
And then I pulled out a can of whipped cream.
Chocolate and whipped cream… yes!
I needed to use second ingredient from what Captain Morgan's sent and decided the pistachios would provide the salty.
And now we had a Sundae without the ice cream.
So, you know what happened next, right? I thought to myself… well, if we are going to do a Sundae, why not ice cream!?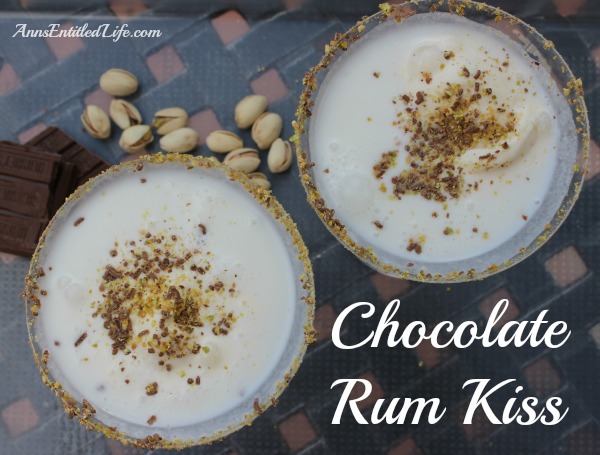 And out came the vanilla ice cream.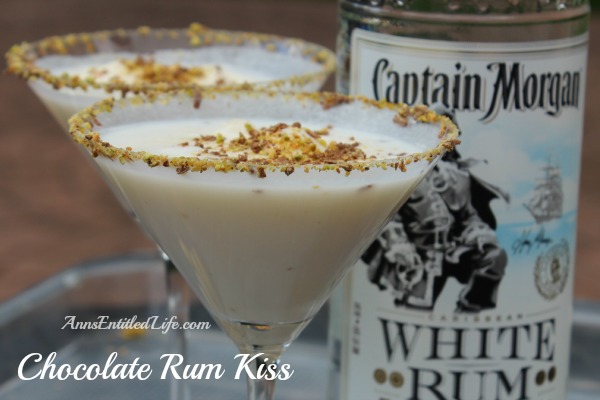 Holy crud this drink is fabulous! I want to have it daily. I will tell you that if you allow the ice cream to melt, it is even creamier and more delicious. The chocolate is subtle, but the pistachios are what really makes this drink. Do not skip the rimming! You will lose the complexity of the flavors (I can't believe I just wrote that!)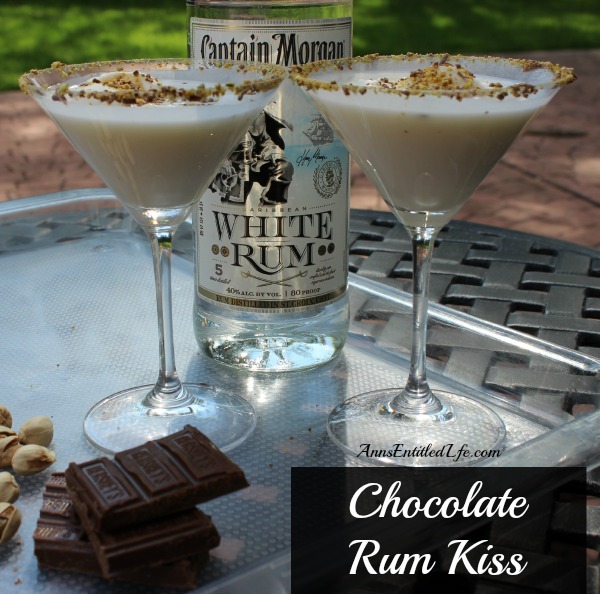 And now is where I should confess I made and drank this at 10 o'clock in the morning. I wasn't about to waste it with just a taste test – yeah, it is that good.
Note: I asked the Captain Morgan's PR person if the new Captain Morgan White Rum is the same as the totally delicious Captain Morgan White Rhum Blanc.
This was the response:
According to one of Diageo's rum executives, the Captain Morgan White Rhum Blanc is actually the same as the Canadian version of Captain Morgan White Rum. The US version apparently has a slightly different taste profile.
Disclosure: Captain Morgan's sent me the pictured materials listed in this post, no further compensation was supplied. All opinions are mine and in no way influenced by Captain Morgan's.
● To print the Chocolate Rum Kiss Cocktail Recipe, click here.
---
As always, drink responsibly and please don't drink and drive.
● Disclosure: the links in this post may be affiliate links.
● If you enjoyed this post, be sure to sign up for the Ann's Entitled Life weekly newsletter, and never miss another article!
● Click here to learn How To Rim a Cocktail Glass.
● For more liquor and wine cocktail recipes, tips and reviews, click here.
● Ultimate Guide to Non-Alcoholic Bar Basics
---