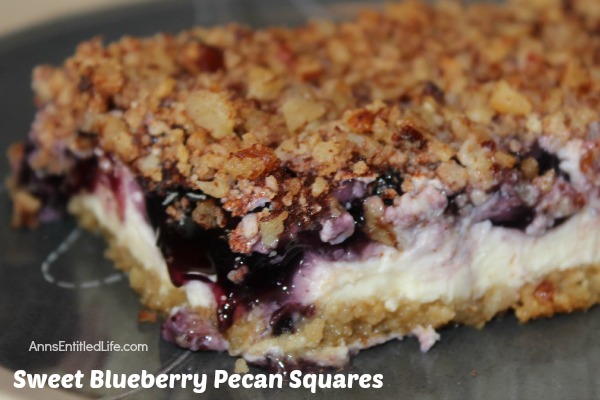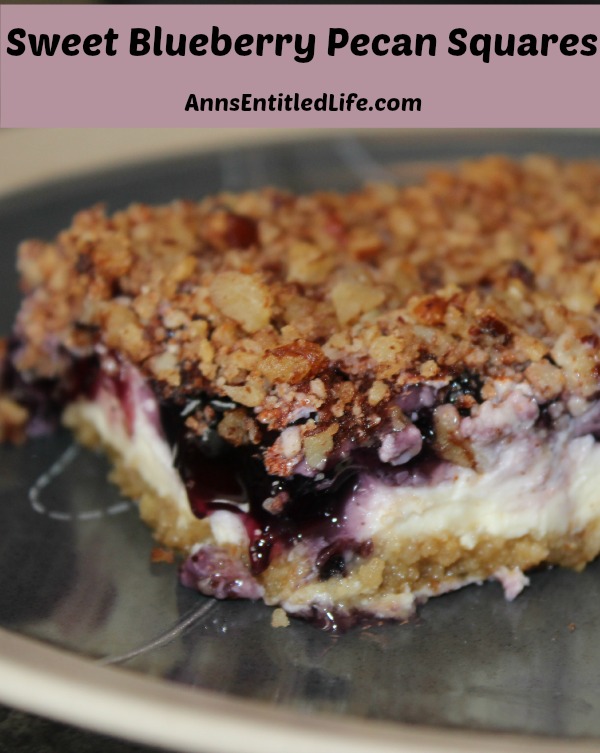 Sweet Blueberry Pecan Squares
By Ann
These Sweet Blueberry Pecan Squares have a sweet, creamy filling layer, graham cracker crust and delicious pecan topping. Simple to make, these Sweet Blueberry Pecan Squares are a perfect colorful, and delicious, dessert for any occasion.
Prep Time: 15 minutes
Cook time: 20 minutes
Ingredients:
● 1 1/3 cups Graham Cracker Crumbs
● 6 TBSP Butter, melted
● 1 (14oz) can Sweetened Condensed Milk
● 1/4 cup Lemon Juice
● 8 oz Sour Cream
● 1 (21oz) can Blueberry Pie Filling
● 1 cup Pecans, chopped small
● 1/2 tsp Ground Cinnamon
Directions:

● Preheat oven to 400°.
● Lightly spray a 9″x9″x2″ baking pan with non stick spray.
● Combine graham cracker crumbs and melted butter together in a bowl; press mixture firmly into the bottom of your pan.
● In a separate bowl, combine by hand your sweetened condensed milk and lemon juice, add sour cream and mix well.
● Spread sour cream mixture evenly over the top of the graham crackers in the pan.
● Top the sour cream mixture with the blueberry pie filling, spreading to the ends of your pan.
● Sprinkle pecans over the pie filling.
● Sprinkle ground cinnamon on top of the pecans.
● Bake in preheated 400° oven 20-22 minutes, or until you see the sides lightly brown.
● Cool before serving.
● Store leftovers in the refrigerator.
Makes 18 Sweet Blueberry Pecan Squares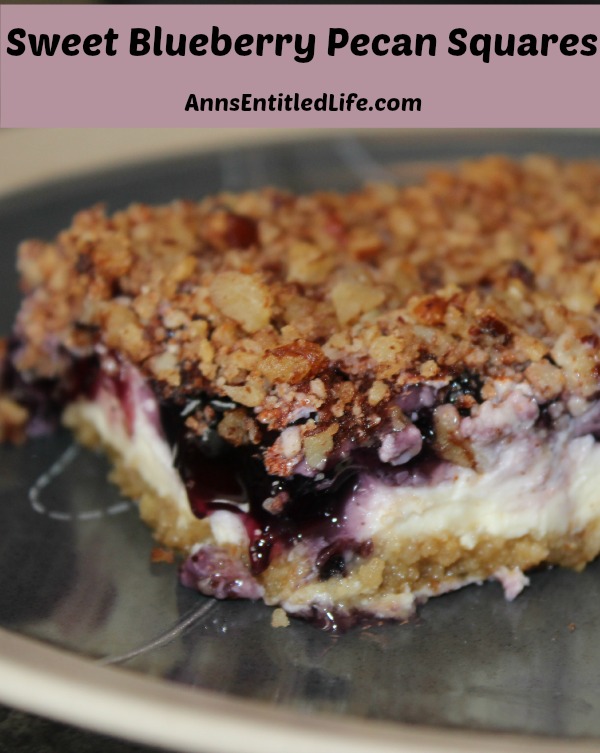 Note If you want to substitute apple pie filling for blueberry, that works. If you go the apple pie filling route, swap the pecans for walnuts, and add 3/4 of brown sugar to the topping. Most excellent!
● To print the Sweet Blueberry Pecan Squares recipe, click here.
---
● For instructions on How To Chop Nuts Easily (seriously 2 minutes for a full bag of shelled nuts), click here.
● For more Recipes on Ann's Entitled Life, click here.
● If you enjoyed this post, be sure to sign up for the Ann's Entitled Life weekly newsletter, and never miss another article!
---
---