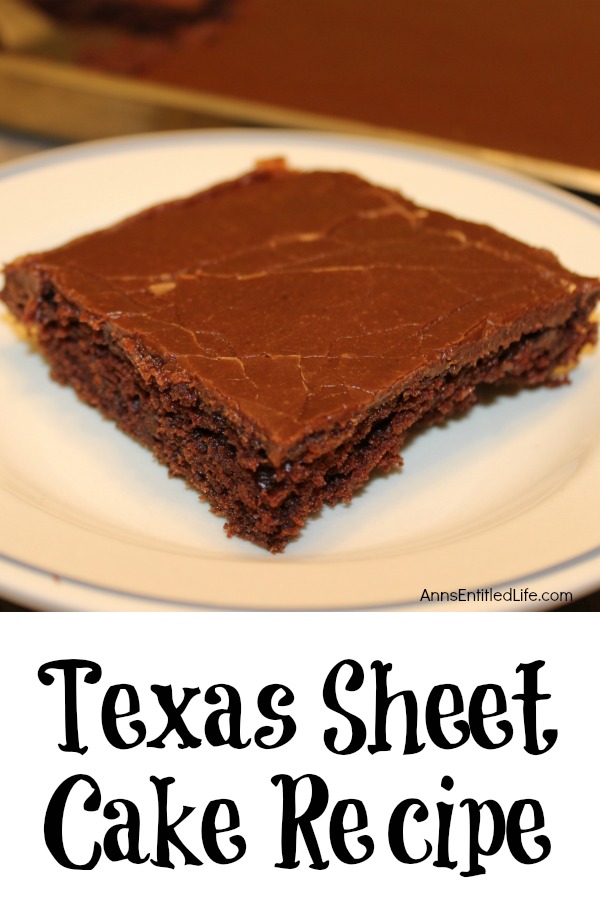 Texas Sheet Cake
By Ann
A classic chocolate cake that is so simple to make! My Grandmother made this for many an occasion when I was growing up. The Texas Sheet Cake is moist, sweet and totally decadent.
Prep Time:20 minutes
Cook time:25 minutes
Cake Ingredients:
• 2 cups Flour
• 2 cups Sugar
• 1 cup Water
• 2 sticks of Butter
• 4 TSBP Unsweetened Cocoa Powder
• 1/2 cup Buttermilk
• 2 Eggs
• 1 tsp Baking Soda
• 1 tsp Vanilla Extract
Frosting Ingredients:
• 1 stick Butter
• 4 TBSP Unsweetened Cocoa Powder
• 7 TBSP Buttermilk
• 1 pound Confectioners Sugar
• 1 tsp Vanilla Extract
Directions:

• To Make The Cake:
• Preheat oven to 375°
• Spray a 15″x10″ jelly roll pan with a non-stick spray.
• In a large bowl, combine flour and sugar; set aside.
• Melt butter in a medium saucepan; stir in baking cocoa powder and water and bring to a boil. Pour the boiling cocoa mixture into the bowl with the flour mixture and mix with a spoon until blended.
• In a separate bowl, whisk together eggs, vanilla, buttermilk and baking soda.
• Add the egg mixture to the cocoa mixture and stir until blended.
• Pour the batter into the pan and bake for 20 to 25 minutes, or until a toothpick inserted into the center of the cake comes out clean.
• As soon as you pull the cake from the oven, start making the frosting.
• Frosting Instructions:
• Sift confectioners sugar into a large bowl, set aside.
• Melt the butter in a saucepan over medium heat; add the 4 tablespoons cocoa powder and 7 tablespoons buttermilk. Bring to a low (barely there) boil.
• When the cocoa mixture reaches a boil, remove from heat.
• Stir in vanilla extract.
• Pour the liquid cocoa mixture into the bowl of sifted confectioners sugar and whisk together until smooth.
• Make certain you work quickly so that the frosting does set up in the bowl.
• Once the frosting is smooth, pour the frosting over the warm cake.
• Allow cake to cool and frosting to cool before serving.
Makes 20 servings, Texas Sheet Cake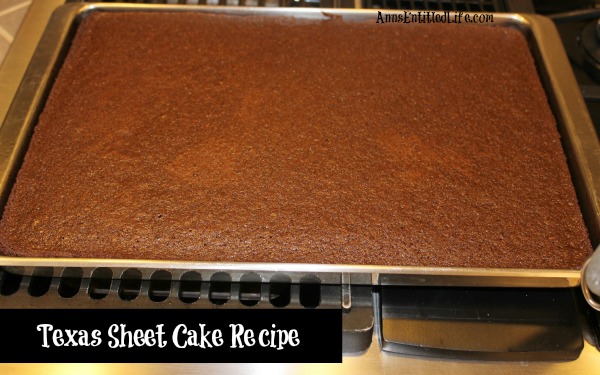 This is an old, well known recipe. It is actually quite easy to make! My Grandmother used to make this for many of our summer get-togethers. This was one of her "go-to" recipes because it comes out perfectly every time.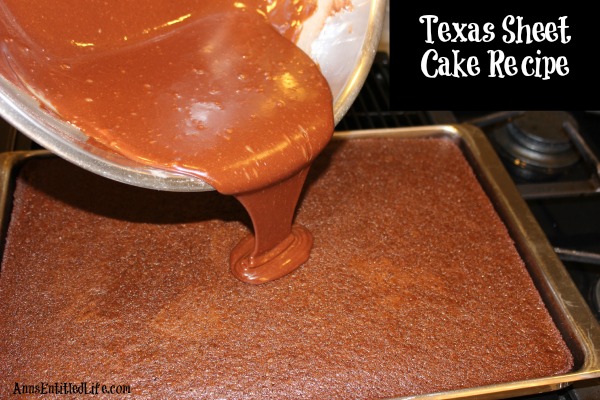 When you pour on the icing, you are truly pouring it out of your bowl. Make sure it gets to the ends.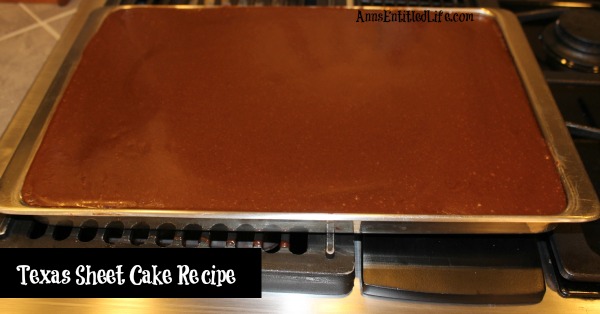 It will look like a sheet of chocolate glass!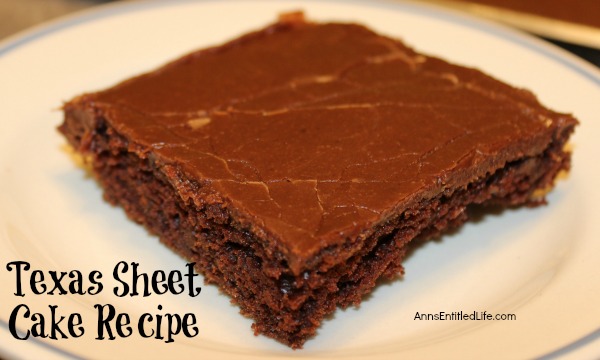 Moist and delicious, this Texas Sheet Cake will keep for days if you cover it!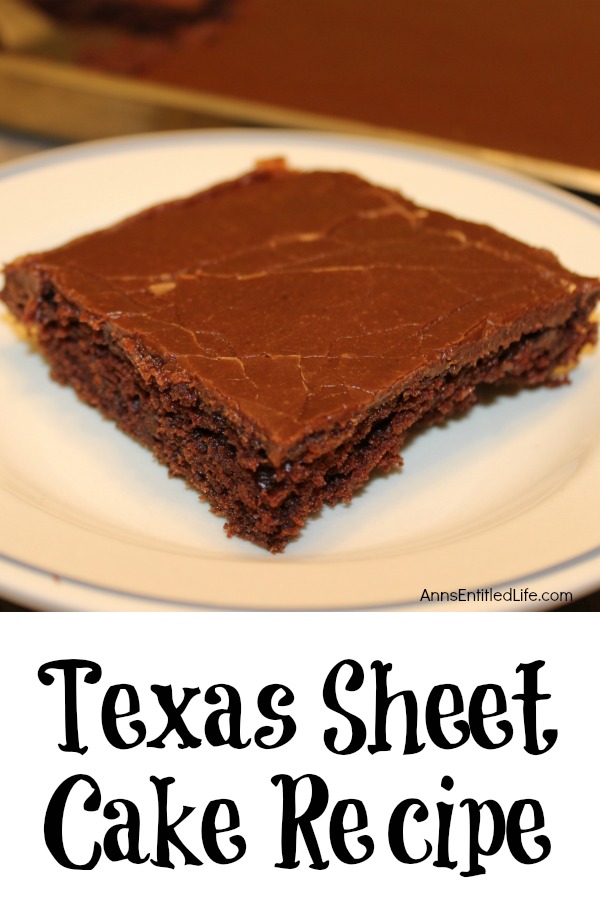 • To print the Texas Sheet Cake recipe, click here.
---
• Disclosure the links in this post may be affiliate links.
• For more Recipes on Ann's Entitled Life, click here.
• If you enjoyed this post, be sure to sign up for the Ann's Entitled Life weekly newsletter, and never miss another article!
---
---
FOLLOW US ON: