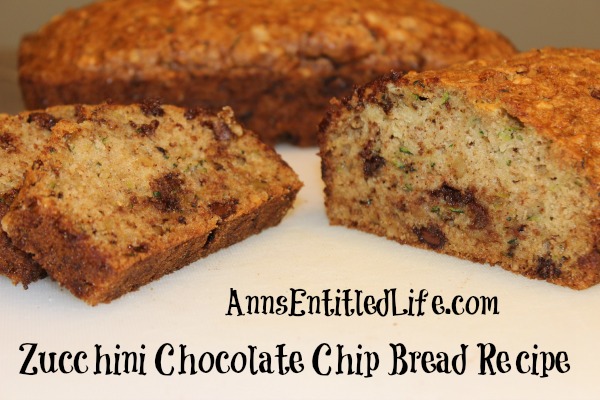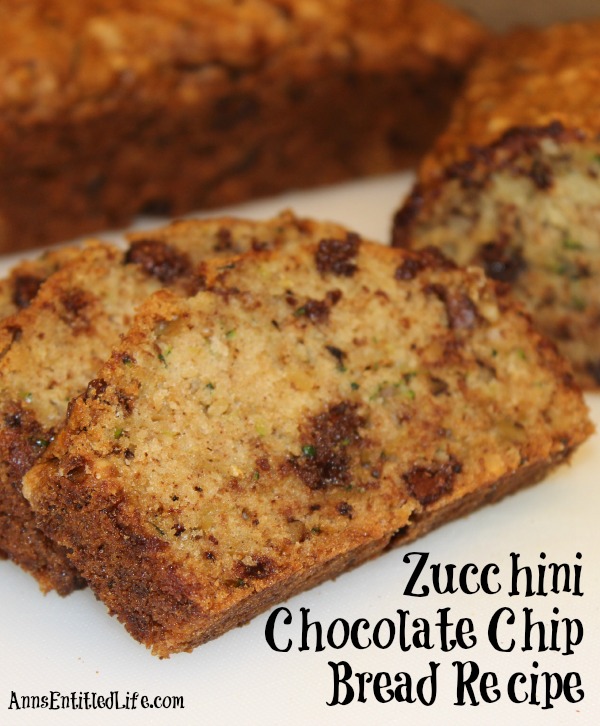 Zucchini Chocolate Chip Bread Recipe
By Ann
This moist and delicious chocolate chip zucchini bread is the perfect way to use your great garden zucchini in a wonderful, sweet treat.
Prep Time:20 minutes
Cook time:55 minutes
Ingredients:
• 3 cups Flour
• 2 cups Sugar
• 1 tsp Baking Soda
• 1/4 tsp Baking Powder
• 1/4 tsp Salt
• 3/4 tsp Ground Cinnamon
• 1 tsp Ground Nutmeg
• 3 Eggs
• 1 cup Vegetable Oil
• 1 tsp Almond Extract
• 1 tsp Vanilla Extract
• 3 cups Zucchini, shredded
• 1/2 cup Walnuts, chopped
• 1 cup Semi Sweet Chocolate Chips
Directions:

• Preheat oven to 350°.
• Prepare two (2) 8″x4″x2″ loaf pans by greasing and flouring, or spraying with a good non-stick spray.
• In a large bowl, combine flour, sugar, baking powder, baking soda, salt, nutmeg and cinnamon; set aside.
• In a separate, medium size bowl beat the eggs.
• Add oil, almond extract and vanilla extra to the beaten eggs; combine.
• Stir the wet mixture into the dry ingredients until just moistened. Do not over mix.
• Fold in shredded zucchini (you can keep all the skin on, or half the skin on the zucchini as you shred it, personal choice), walnuts and chocolate chips into the batter.
• Evenly divide the batter into the two prepared pans.
• Bake at 350° for 55-60 minutes, or until a pick comes out clean from the center of the loaves.
• Cool pans on a wire rack before removing breads from pans.
• Cool breads completely on wire racks before slicing and serving.
Makes 2 Zucchini Chocolate Chip Breads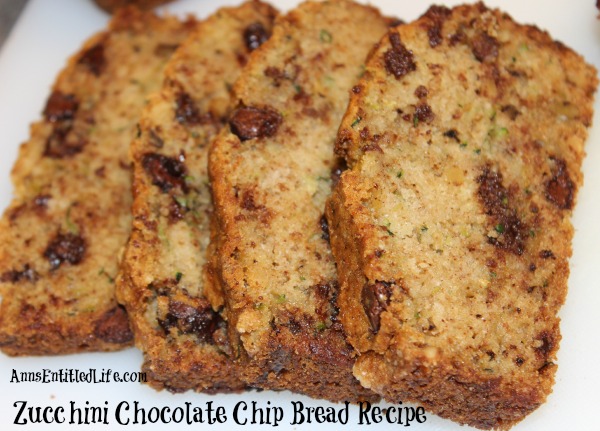 Got a lot of zucchini? We do. I try not to pick up too much from the CSA, but somehow, it still accumulates. While I love this Zucchini Carrot Bread Recipe, sometimes you want something different.
This is moist and delicious as a snack. I toast the Zucchini Chocolate Chip Breadand spread on a little butter for breakfast.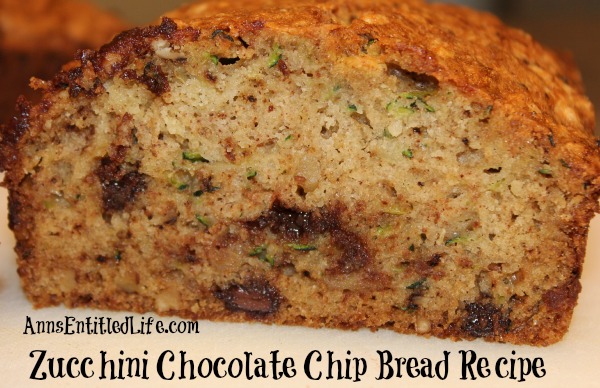 I freeze one loaf and keep the other in a bread-bag on the kitchen counter. The Zucchini Chocolate Chip Bread will keep moist for up to a week in the bread-bag.
---
• Disclosure the links in this post may be affiliate links.
• For more Recipes on Ann's Entitled Life, click here.
• If you enjoyed this post, be sure to sign up for the Ann's Entitled Life weekly newsletter, and never miss another article!
---
---
FOLLOW US ON: