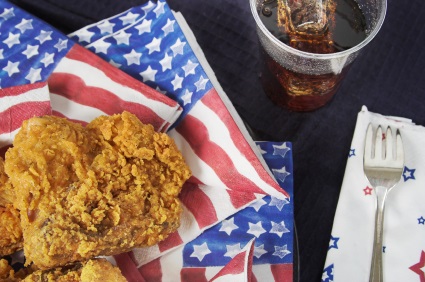 Since it has been so quiet on Ann's Entitled Life this week, I am guessing a lot of people are out of town, extending the 4th of July weekend to a week-long event! For those of us left behind…
What are your 4th of July Plans?
The Ann's Entitled Life household will be "enjoying" a full day of flooring renovations. Our hardwood floor installer told me he was planning on working tomorrow provided we had no plans to have people over.
Oh. My. Goodness. As if!
This place is a total disaster. We have 10 rooms, a full four are being renovated, and five of the other six are packed to the walls with furniture and dodads from those other four rooms. I swear it is going to take me longer to post the pictures and chronicle the process than the experience.
Our flooring guy budgeted two weeks for our project, and if he finishes today (hahahaha) he will be on time. We brought in my nephew to pull up the parquet floor in the family room yesterday, and he got it 2/3 done. Hubby got another portion done last night, and the rest needs to come up today if this project has any hope of being finished by the weekend. He will work Saturday too to get it done. I am pretty sure he is scheduled to begin another project on Monday.
We also have our CSA pick-up tomorrow. Judging by their blog post Monday, I was wrong last week, there will be produce on Thursday!
So, What are your 4th of July Plans?
Note, those of you in Buffalo, Niagara Falls, Western New York can click here for Buffalo and Western New York July 4th Fireworks Displays