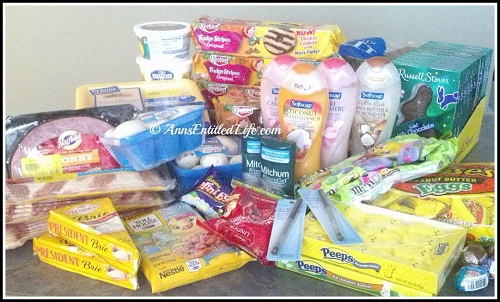 A few weeks ago I posted Sunday Morning Shopping making it very clear that I may not be out shopping on Sunday ever again (or at least not every week). This is a reader-driven post having little to do with me – except I may run out to get whatever good deals you all post in comments. 😛
I also added an email notification for additional comments. Definitely read this post so you know how to opt in or out.
I had no plans to shop this morning until my email delivered a $6/$30+ beauty coupon from CVS. That expired on the 10th, so I decided I would check out the ad and see if there was anything worthwhile to combine with the coupon. Well, after seeing the Softsoap bodywash, I decided the ad had possibilities and I just might go out. Then, Tops issued a $5/$35 coupon and Hubby started whining about rice pudding and I knew I was going to shop today.
So, I printed off 178 coupons.com coupons (yup, 178) and off to the store I went!
Highlights of my Sunday Morning Shopping Trip include:
CVS Order
(4) Softsoap $3.50
(3) Russell Stover Chocolate Bunnies 99¢ (50% off)
(2) Mitchum $1.99
(2) Almay Eyeliner B1G1 50% off ($8.79, $4.39)
= $34.13
– $6/$30 CVS coupon
= $28.13
– (4) $1 softsoap coupons
– (2) $1 mitchum coupons
– (1) $5 Almay $5/2 coupon
= $17.13
– $2 CVS almay coupon
= $15.13
– $2 ECB from my quarterlies
= $13.13 and I received $6 ECB
I scanned both mine and Hubby's CVS cards at the Kiosk. I got the stuff listed in the ad and not much else, but this is what he received (on 4 scans!!)
● Almay Cosmetic $2 expires 4/14/13
● Dixie PerfecTouch Cups B1G1 (value to $4.99 – these were $5.49 at my store, and they only had one on the shelf)
● Gold Bond Lotion or Cream $1 expires 4/14/13
● Got2B Hair Care (excludes trial size) $1 expires 4/14/13
● M&M Sharing Size, Snickers 2 to go or Twix 4 to go 75¢/2 expires 4/14/13
● Maybelline Cosmetic $1 expires 4/14/13
● Xtra Laundry Detergent $1
● Allergy Relief $5/$25 expires 4/21/13
● Cosmetics $2/$10 expires 4/21/13
● Deodorant $2/$8 expires 4/21/13
● Facial Skincare $6/$30 expires 4/21/13
● Greeting Card $2/$6 expires 4/21/13
● Pain Relievers or Sleep Aid (50c+) $5/2 expires 4/21/13
● Shampoo or Conditioner $2/$8 expires 4/21/13
● Vitamins $5/$25 expires 4/21/13
● 5 hour or sk energy shots $1.50/$5 expires 4/21/13
After that, Hubby and I went over to Walgreens where they had 75% off Easter candy!
Walgreens Order
(2) M&MS 99¢
(2) Reese's Big Bag Peanut Butter Eggs $1.74
(2) Peeps 44¢
(2) Cadbury Mini Eggs 44¢
(7) Russell Stover Bunnies 49¢
(2) Russell Stover Peanut Butter Eggs 12¢
(2) Cadbury Eggs 18¢
(2) Lindt Eggs 82¢
= $12.89
Hubby was most unhappy when he realized he paid 99¢ for chocolate at CVS that was 49¢ at Walgreens. He wanted to return the others to CVS, but instead I convinced him to buy the remaining ones at Walgreens.
Our final stop was Tops.
The only thing special about the Tops order was Hubby cruised the meat aisle and came away with 1# packs of ground chicken and 1# packs of bacon for $2.10. Most everything else was "Hubby stuff" including chip dip, cookies and rice pudding. Total before coupons and bonus card was $75.98, total after was $38.98 (no tax on this order).
So, all in all it was a good shop. Lots of snacks for Hubby. 🙂
How was your shopping this week? Did you go Sunday Morning Shopping? Did you find any great deals? Anything we should all run out for? Detail folks, details!