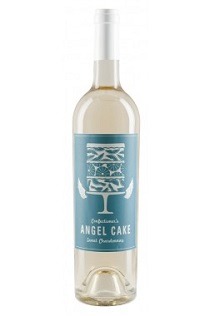 Today's discussion: Confectioner's Angel Cake Chardonnay
Vintner's Notes:
Inviting aromas of bright tropical fruit, mango and pineapple swirl in the glass and continue on the palate. Crisp acidity balances the sweetness on the finish. Enjoy on its own or pair with desserts that feature flavors of vanilla, spice, and caramel…or Angel Food Cake. Serve chilled.
Confectioner's Angel Cake is made from Chardonnay grapes picked at the peak of ripeness. We stop fermentation short to capture the natural sugars found in the grapes. The result is a wonderfully sweet and fruity white wine.
BRAND NAME Confectioner's
FANCIFUL NAME Angel Cake
VARIETY Sweet Chardonnay
ALC / 12.5%
RS / 7.0%
My Notes
I am not a huge Chardonnay fan. The sulfates tend to blow up my left leg. So, it is always with a bit of trepidation that I try a new Chardonnay. My biggest problem with the Confectioner's Angel Cake Chardonnay was waiting to see if it would blow up my left leg because I would have been really, really sad! Since I tend to enjoy sweet, fruity wines (especially moscatos), a buttery, oaky, Chardonnay isn't always up my alley.
The Confectioner's Angel Cake Chardonnay is delightful! Sweet, with a nice pear and tropical fruit taste, it reminded me of a sweet Riesling. Pale yellow in color, the aroma was pears mixed with apples, and it reminded me of nothing so much as a light dessert wine.
My recommendation would be buy, buy, buy if you like sweet wines! The next time this one is on sale, we will be getting a case, we (read I) enjoyed it that much!
Have you tried Confectioner's Angel Cake Chardonnay Wine? What did you think?
As always, drink responsibly and please don't drink and drive.
For more liquor and wine tips and reviews, click here.