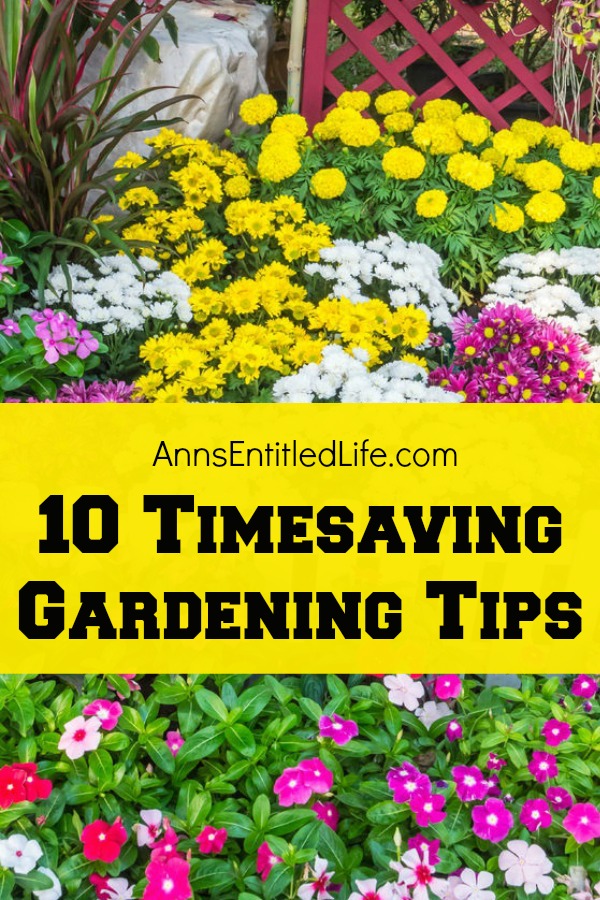 10 Timesaving Gardening Tips
A garden is the perfect way to add color to your landscape, and food to your fridge. A garden can provide you with so many benefits that growing one is definitely worth your while. But what if you want a garden, and just do not have the time or energy to care for it? Well the good news is there are ways to achieve a healthy and productive garden without a ton of effort or time. Take a look below at 10 Timesaving Gardening Tips, so you can grow the garden of your dreams without breaking your back.
● Make fast and easy garden markers.
Want to remember what you planted where? Just write the name on a wooden craft sticks
and poke the descriptive craft stick into the ground near those plants. Done! You can also tape the seed packet to the top of the stick and place it in the ground. Either way, you will not get your plants mixed up.
● Use containers with wheels on them.
If planting a container garden or patio garden, use pots with casters on them or place the pot on a caster platform.
This way you can roll the plant around as needed without a lot of effort.(I love my earth boxes for this very reason!) This will come in handy when you need to water or if you need to move the pot to find more sun or shade.
● Use quality mulch.
Make sure you top your soil with quality mulch. This will not only help keep the roots protected and keep moisture in, but it will keep weeds at bay. This means less watering and less weeding for you. Who could argue with that?
● Use a slow release fertilizer.
Use a quality, flower, scrub or vegetable appropriate, slow release fertilizer.
A slow release fertilizer
saves you time and effort feeding your plants, you need not worry about remembering to feed your garden, and your plants are fed in a timely manner! The plant food will release gradually as the plant needs it. Definitely less effort on your part.
● Stir egg shells into the soil.
Stir egg shells into the soil around your plants. The egg shells will act as a nutrient rich plant food and can also help with keeping slugs away. Just stir the shells around and you are done! Your plants will be fed and pest free.
● Choose hardy plants.
There are many hardy, easy to care for plants out there that need little care. Hostas are so durable and simple to grow, as are vegetables like tomatoes and peppers. Pick plants that aren't too sensitive or need a great deal of daily care, and you can still enjoy plenty of color and produce with less time.
● Plant perennials.
Perennials are ideal for the lazy gardener because you don't have to plant them each year, as they will come back on their own bigger and better! Choose from lilies, hostas mint (always plant mint in a container before planting in your garden to prevent spreading), lavender, roses and other perennials that are sure to put on a show.
● Make simple plant watering devices.
In a pinch, fill an empty soda pop bottle with water and stick it neck first deep into the soil. It will release water as the plant needs it, which is perfect for your container gardens and container flowers. This saves you the time of having to pull the hose out and water.
● Water plants early in the morning or at night.
This is when the air is coolest and you do not need to worry about the sun evaporating the water before the plants can drink. This also means you don't need to water as long as if you water during the heat of the day. So water plants early in the morning or at night and save yourself a few extra minutes and water. Practical Tips to Save Water in Your Garden
● Try this handy tool storage trick.
Fill a flower pot with sand and a little mineral oil
– enough to dampen the sand. Store your hand shovels and tools the mineral oil sand. The sand will help your gardening tool blades clean while the oil will keep your gardening toll blades from rusting. This is an easy way to keep your gardening tools clean and rust free.
Are you ready to give these time saving gardening hacks a try? Give these 10 Timesaving Gardening Tips a try and see how easy it can be.
---
● Disclosure the links in this post may be affiliate links.
● Click here for more How Does Your Garden Grow Topics on Ann's Entitled Life.
● Enjoy this post? Sign up for the Ann's Entitled Life FREE Weekly Newsletter to stay connected.
---