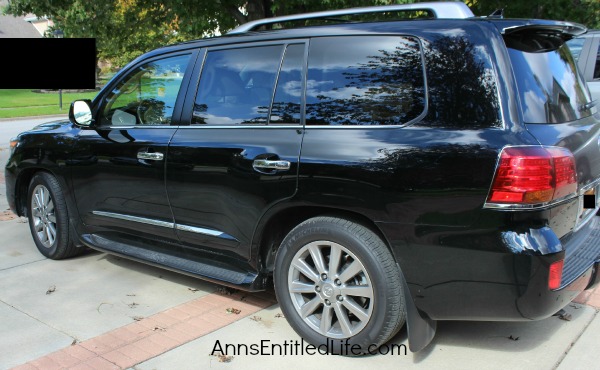 Before we begin let me refresh for you the name of this blog: Ann's Entitled Life.
So, our (my) current vehicle is now four years old. We purchased it in November 2011. It has a 4 year "bumper to bumper" warranty. It was time to either trade it in or go with the extended warranty we have been paying Geico for since Day 1.
Just so you don't have to squint at the photo above, I will tell you it is a Lexus LX 570. A seven-passenger entry-level luxury SUV.
It is – by far – the most expensive vehicle Hubby or I have ever owned. It came about like this…
Hubby bought me a Santa Fe in 2004. We thought that it was a terrific bang for the buck! (Just a note, when I say "we" I mean "me". Hubby has his own vehicles.) We drove that for about five years before it started to rattle so much that I couldn't take it anymore. We had started looking for a new vehicle when that Santa Fe was closing in on four years old and searched for over a year before we settled on a Ford Edge.
Now, I will admit I did not mind the Edge at all. Hubby hated it. Hated it with a passion. There was nothing he liked about it, but we ended up with it because I refused to move from a Santa Fe to anything that remotely resembled a luxury vehicle. I thought $40K+ was plenty for an SUV, and thought spending more was absolutely nuts.
Well, Hubby hated that Edge so much and complained about it so frequently, that I gave in and two years later we got the Lexus LX 570.
That vehicle cost more than my first house! (Not kidding!)
There have been things we have really liked about the Lexus including the quiet ride, the cooler, the keyless entry and the rear lift.
Now if you are scratching your head and asking "cooler!?", let me explain:
When we bought this car there was one left on the lot. Hubby wanted a seven-passenger vehicle. His Mom was coming into town, he expected her to visit frequently (she has visited a few times, but not "frequently"), and he thought with all my family in the area we'd get a lot of use out of the third row (we didn't, and it ended up being one of the things we disliked about the vehicle as those spare seats took up so much room – they folded up sideways, not down flat).
The lot-car came with a cooler in the front between the passenger and driver's seat. Hubby and I thought this was the stupidest accessory we had ever seen on a vehicle!
Four years later? I was considering buying the same vehicle again just to get another cooler!!
We used that cooler more than just about any other feature in the SUV. Leftovers!? Cooler! Pop for a road trip? Cooler! Max needs food on a road trip? Cooler! Buy a quart of milk on the way home in the summer? Cooler! The cooler is hands-down our favorite feature in the Lexus.
Some of the things we hated about the Lexus LX 570?
Third row (our issue, not the vehicle's problem).
The GPS system – after all, who expects the Japanese to manufacturer good electronics? We paid for Lexus Inform to make it someone else's headache to find and program the GPS. We also paid to have the GPS maps updated at the dealer since that was the only way to get the updates. People were complaining about the Lexus GPS systems years before we bought our vehicle, and they are still complaining about how bad they are. Apparently Lexus does not listen to what their customers want.
We also hated the back-up camera. Hubby's truck's camera is only two years newer than that 570 and that truck has a 1000% better back-up camera! When we looked at a new Lexus LX 570, they had put in a "box" to help with the back-up. It still blew.
I hated the idea of paying all that money for the same vehicle – four years newer – with no upgraded camera or other safety features. Now don't get me wrong, the Lexus LX 570 is a nice vehicle. It just isn't as nice as it should be for the money.
This sent us a search for a new vehicle via … a Jeep (nice, but a downgrade from the 570), a BMW (OMG loved the ride!!), an Infinity (too big, if it had air shocks that would lower the car, we would have considered it), a Volvo and a Land Rover. On our last search, I wasn't thrilled with the Mercedes, so we skipped it this time.
Hubby and I liked the new safety features on so many of these vehicles. The front and rear cameras (the 570 has them, but it is not as good as the Infinity, Volvo or Land Rover) and bird's eye views are great (not available on the Lexus LX 570)! The cameras on those other vehicles have the lines that show you exactly where you are going. Some had driver's assist so when you drifted lanes, it would notify you. You get notified of oncoming cross traffic while backing up, and an automatic adjustment in cruise control to flow if there is slowing traffic ahead (adaptive cruise control). The Land Rover will parallel park for you! (You have to break.)
It is clear that the self-driving car is coming. I think that is fabulous from a safety perspective. It will also help a lot of elderly people stay independent longer. I hope it is a real thing for us when we buy our next car because I would definitely consider it.
After all our searching I was resigned to keeping the 570. It was in no way a bad vehicle, but we felt that there should have been something out there with the safety features we wanted that was comfortable with a decent ride.
Hubby had one last vehicle left for us to look at at the Porsche dealer – even though he felt the ride would be too "rough" for me (I like an "old lady" smooth ride). The local Porsche dealer is in the same building with the Volvo and Land Rover dealer. When we had been there prior to test drive the Volvo and Range Rover Sport, we just didn't look at the Porsche. We decided to also take another look at the Range Rover Sport since we had test-driven a diesel, and wanted to try the gas version.
The salesperson we had had prior was on vacation (same guy across all three brands), so we ended up with a new guy. We had mentioned the vehicle we needed had to be under 200″ long, and under 74″ high (or lower with air shocks) to fit in our parking area in our Florida condo. The guy that was currently on vacation had originally lead us to the Sport which wasn't quite what we wanted (although the price worked). The second guy lead us to the full-sized Range Rover, and that was a hit with us!!
Now, all we needed to find was one with the safety features we wanted.
We went home and Hubby did some more research. Turns out the full-size Range Rover offered a cooler!!!
Oh, Happy Days!!
Unfortunately, the combo of the three safety feature packages plus the cooler was pretty hard to locate, and the guy at the local dealership had no luck.
Backing up a little…. before we had hooked up with the local Land Rover dealership, Hubby had filled out one of those "find your vehicle" things on Edmunds site. And the dealer from the next city over responded to his inquiry. Hubby was very upfront with him that we were working with the local dealership. The next-city-over guy backed off.
Once the local guy could find nothing and told us we would have to order what we wanted if we wanted a Range Rover, Hubby told the next-city-over guy the four things we wanted, and that guy started a search over the United States. He also searched what was coming over from the UK in the next month.
Welp, I have no idea what the local guy looked for (or did not look for), but the next-city-over guy located a few vehicles that fit our criteria, and he located them very quickly.
After some back and forth, we decided we wanted one that was landing in Kansas in a few weeks.
The next day, we were told the Kansas vehicle was not available (my guess is it was a special order and already sold).
There was one on Long Island and one landing Florida within a few weeks that met our criteria.
We decided based on accessories (Max has never watched the back seat DVD player in the Lexus, I doubt he'd ever look at one in a Range Rover) and vehicle color to go with the Range Rover in Florida. Unfortunately, it could not be rerouted from the port it landed in (probably Baltimore via the UK), so once it was received at the Florida dealership, they had it shipped up to the next-city-over.
That vehicle should arrive by the end of the week!!
So, while car shopping is not easy, it turns out that if you have a persistent husband who can hook up with a good car salesperson, you can get what you want. Well nearly. There are a few more accessories and gizmos on this vehicle than we wanted to pay for, but nothing we are vehemently opposed to. I am sure we will be well pleased with our new vehicle. There is plenty of cargo space, a massive safety feature upgrade, a front window heads-up display (which we loved on our rental in Europe!), the back hatch door not only has the touch close on the top but also on the tailgate, as well as a "foot wave" to open that back hatch handless… and it also has a cooler.
Now, all we need to do is read the manual to see how all these bells and whistles in the Range Rover work.
*sigh* I gotta do everything.
---
● To sign up for the Ann's Entitled Life weekly newsletter, and never miss another article, click here!
---