A few weeks ago I asked for camera recommendations and help. I would like to thank everyone that responded!
Kim H sent me a few detailed email, and Aarn from Grocery Shop For Free at the Mart, who used to work at a camera store for years and years, also gave me some good advice, and I ended up choosing the Canon EOS Rebel T3i
and the Telephoto Zoom Lens,
along with a 64 GB sandisk.
The boxes arrived a few weeks ago. I opened them all and this is what I received:
Ummmm yeah.
I put off delving into the box for a few days. I am what is commonly referred to as electronically-challenged. Give me a computer and no problemo! I can do most anything necessary. Give me a phone, DVD player or, now apparently, an electronic camera, and my eyes glaze over and I am looking for the nearest 10 year old to show me how to work the thing. But, I paid all this money for a new camera, and knew I'd have to give it a go. Whether I wanted to or not.
I was watching Love It Or List It one night, and decided to open just the camera box and start reading the instructions during commercials. With such dedication to learning, is it any wonder I am electronically-challenged?
This was all packed into a tiny, little camera box: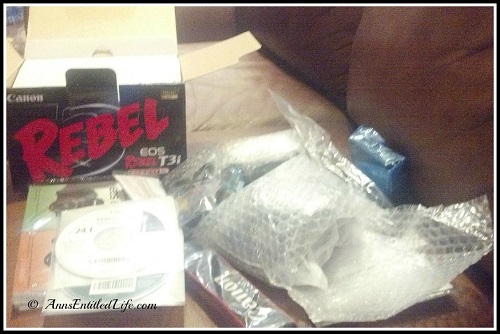 Ummmm yeah.
I got out the booklet and started reading.
First things first, plug in the battery. That I could figure out!
Next, attach the lens. Long complicated process with several pages of instructions, and it took me all of 2 seconds to do.
Hmmmm things are looking up! Or so I thought.
I had to insert the SD card. I swear it took me 10 minutes to find the opening!!
After that experience, I decided that was enough for one day, and besides I rationalized, there wasn't much I could do until the battery charged.
So, the mess sat on the sofa for two days while I waited for the battery to charge.
Ok, ok, the battery was charged in a few hours. I waited for two days to gather my courage and give this camera-thing another go.
I got the battery, read the instructions, and after a small amount of fumbling to get the battery housing opened, inserted the battery.
Eureka! I now had a (supposedly) functioning camera!
I opened up the back photo-thingy on the camera that shows the pictures and gives a lot of options and instructions (which I of course ignored), took aim and clicked… something. Apparently not the button that snaps a picture, because nothing showed on the screen. So I decided to snap this! And that! And the other thing!
Nuthin'.
Back to the instruction manual diagram.
Hmmmm after studying the pages for a few minutes, I figured turning the dial to "on" would help. Then, I located the actual picture-snapping-depression-button – which was no where near what I was pressing and depressing during my initial tries (hey, my choices were logical, truly!).
So I take aim at Mr Max and took a picture if his grubby ole self.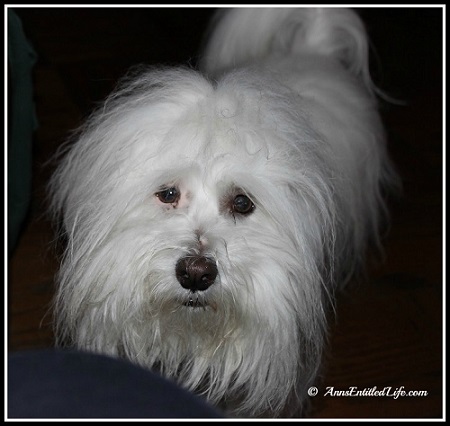 Hmmmm the subject may be scuzzy looking, but the real point is the picture is pretty clear! You can compare it to my Droid pictures above and see the tremendous difference.
Deciding I could do this, I proceeded to snap another 50 or so pictures, deleting 47 of them because they had "problems". Apparently I still have to work on not cutting off heads and on centering people and stationary objects. This camera, despite my expectations, is not magical.
So with my new found picture taking skills well in hand, only one more item was on the list! Uploading the pictures to my computer. Now since this was a software issue, I knew it would be easy for me – and installing the software was very easy to deal with! Finding out where to insert the cable into the camera to transfer pictures to my computer? Not-so-much.
I scanned the camera visually. Nuthin'.
I touched every bit of the camera hoping to find the secret passage that reveled the hidden port!
Nuthin'.
I reread the manual, did a google search, went to youtube – all in the hope of finding the jack to insert the cable to connect the camera to my computer to transfer those three fabulous pictures!
Nuthin'.
I don't know how I found it, but I do know that after 15 minutes I was about to give up. I think the camera-gods realized they had toyed with me long enough, and if they didn't allow me to find that port right now I was going to be the proud owner of a Canon EOS Rebel T3i that sat in the closet and gathered a lot of dust.
And just in the nick of time, I found the teeny-weeny cover to the cable jack. Crisis averted.
Since that initial photo-shoot (hey, doesn't that sound professional?) I have taken a few hundred more pictures. And they have – for the most part – come out fairly well. I am still doing a lot of cropping, but I think that will abate as I become more familiar with when to use the telephoto options on this lens, and how to use the real telephoto lens I purchased. If nothing else, these pictures are a lot clearer, and you all should be seeing much improved pictures on Ann's Entitled Life going forward.
Thank you all for the camera help!
Disclosure the links in this post may be affiliate links