Those of you that have been reading one of my blogs for a while know that I run them by a schedule. Once I get that schedule down, I really try and stick to it. The second post on Friday is supposed to be a yappy post… you know some crap Hubby said/did, something new we tried, an update on some aspect of our life, a complaint, compliment, etc. Something we can all chat about, have an opinion on, and agree or disagree about, here on Ann's Entitled Life.
Well, even for just a yappy post, I got nuthin' for today. We've spent the week shopping, doing minor repairs, trying to find a groomer for Max (the one we had lined-up said he didn't like her and bailed), and finishing up small condo details before we move on to a few big (relatively speaking) renovation projects.
It was a pretty boring week.
Oh! The weather here in northeast Florida has been up and down – cold at night (40s- 30s down into the 20s with the windchill some evenings), 70s one day, 50s the next. That is my big news. I hope your weather has been tolerable!
I will leave you with a picture of Mr. Max on the day I took the Ice Storm Photographs: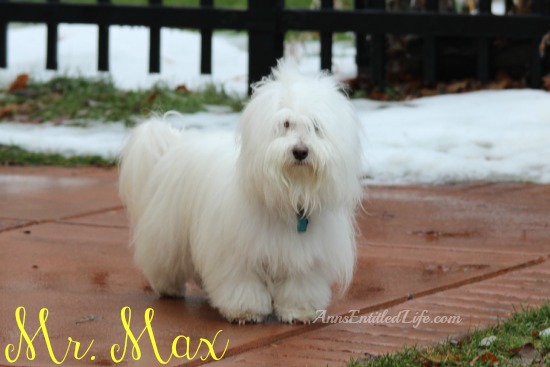 Right now, he more closely resembles a panda as his paws and legs are so filthy. I was really disappointed when that groomer bailed.
So how goes life for you? Anything new and special going on?
---