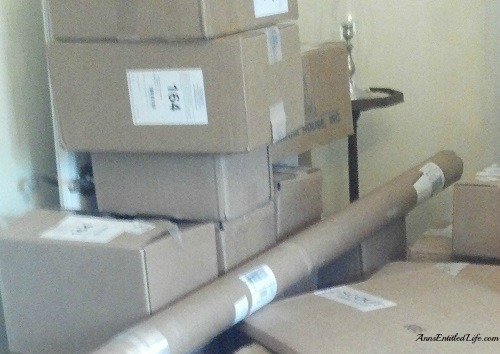 My life has been consumed by house renovations since March. The planning and prepping went on long before the hiring and the work. When prepping, we had to move all the furniture out of the rooms where our hardwood floors were being installed. This mean that not only did I haul furniture, the knickknacks got packs away in boxes too… and so the troubles began.
I carefully wrapped up all my knickknacks in bubble wrap, packed them in boxes and thought to myself, "Oh, I'll remember where that goes!"
Ummm no.
So as I was putting the living room back together, I was scratching my head where to put the sparkly stuff. My nephew found a box up in my office, and brought it down. I proceeded to unwrap everything and place the items on tables and the china cabinet. I wasn't past the first row before I started with that… "That goes here, no here… wait…"
And so it went though that entire box. Eh, rearranging keeps things interesting, right?
I still have two more boxes to find. I have torn my office apart, looked in the spare bedroom, found nothing in the dining room… it really is a mystery! I know (uh huh) that I didn't put them down the basement, but I fear that is where they might be.
Why "fear" you may ask? Well if you could see our basement, you would be afraid too! The bottom of the stairs is once again a dumping ground. Around the back is a wide open space with just a eight set and air hockey table – and not much else. The logical place to store things would be in that space? But nooooooooooooo. I had to store these boxes "where I'd remember I put them". And since my memory can't be faulty, the obvious conclusion is that those boxes have decided to hide.
🙂