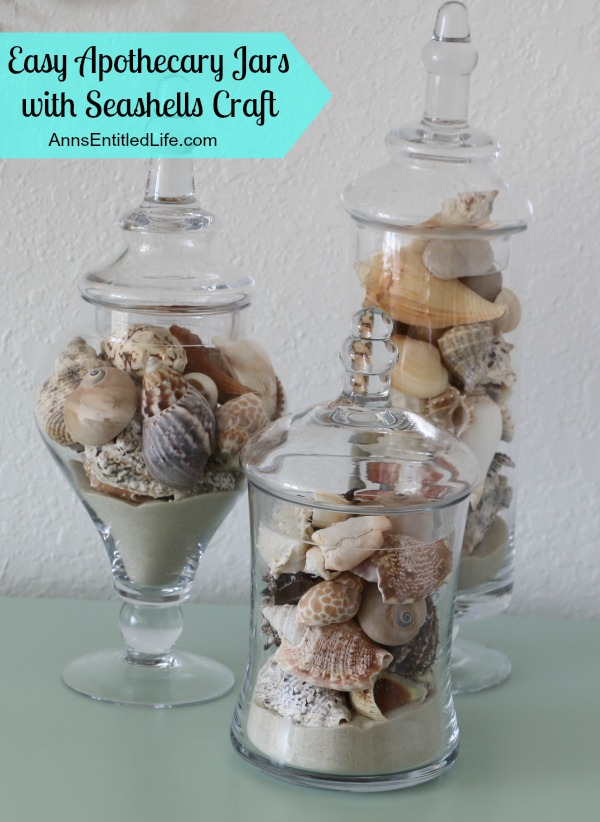 So the burning question for the past week was what I was going to do with all the seashells leftover from making my seashell mirror? Come on, you know you were wondering.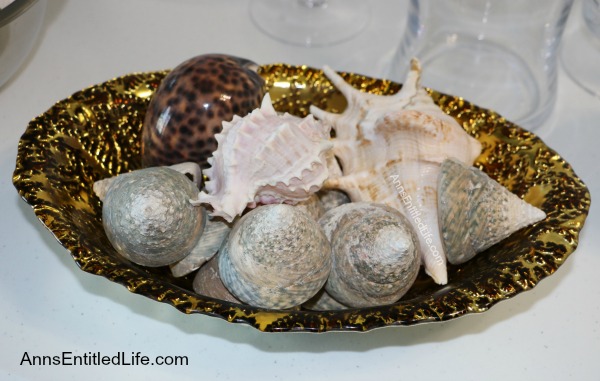 Well, some I just plopped in a bowl. There were some beautiful, large shells in what I purchased, and I had a simple gold bowl I bought at Home Goods last year just sitting around gathering dust. I figured if it was going to be dusty, why not be dusty with pretty seashells sitting in the bowl?
This looks spectacular in person. It never ceases to amaze me how something so simple can look so good. Sometimes, less truly is more.
This bowl now sits on the small table next to the couch in out TV room/office in our condo.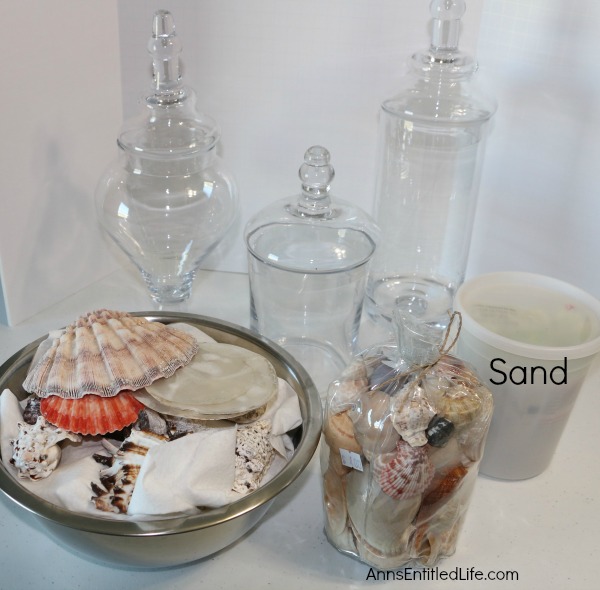 I still had a lot of leftover seashells, and I wanted to use them as decor instead of pushing them into a closet for a future project that will never happen, where you just know they will get broken.
I like the look of Apothecary Jars. My grandmother had a small set she kept scented, decorator soaps in for years. Since Apothecary Jars are so versatile, I figured, "Why not seashells!?"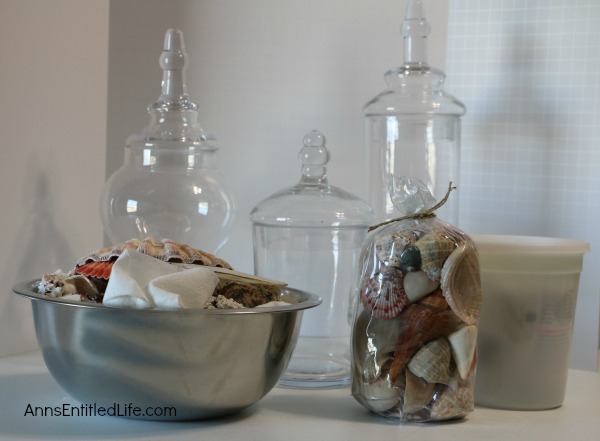 The first thing I did was give the Apothecary Jars a good wash, and dried them thoroughly.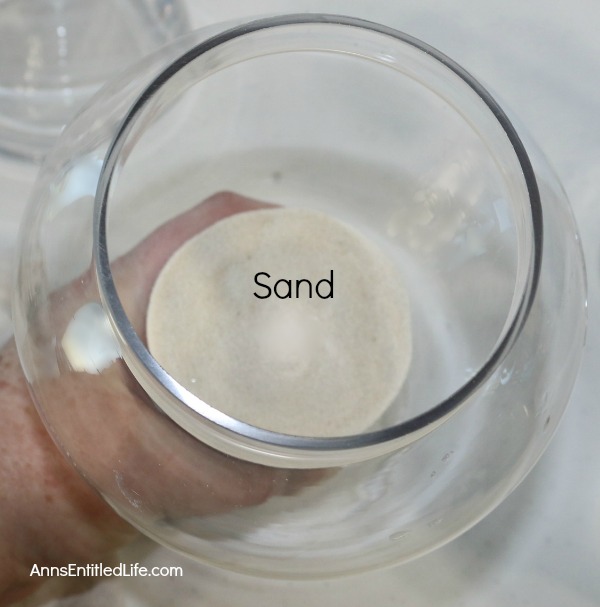 I then poured a bit of sand at the bottom of each Apothecary Jar so the seashells would have some "cushion". I wasn't looking for them to move around and/or break in the jars.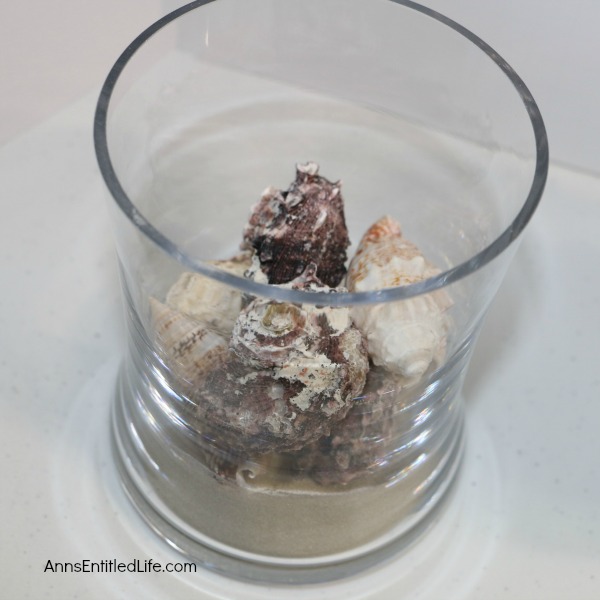 I then started layering seashells in the Apothecary Jar, making certain the "interesting" parts were showing outward. At this point I tried to pour in more sand hoping it would spread around the seashells, but no luck; it just buried them. Out went the excess sand, and I settled for a base.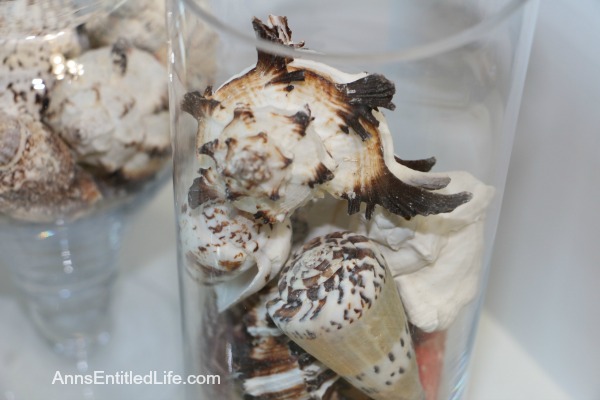 I repeated the process for all three Apothecary Jars.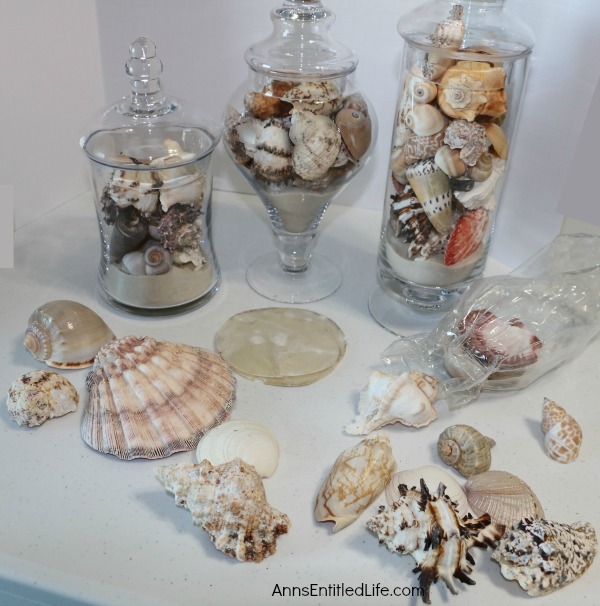 I had purchase a bag of smaller (not tiny) shells when I was at a local store a few weeks ago. Hey, it was only four bucks! Aand yes, I fully recognize I have the making of a "seashell problem" and need to stop.
And I will.
Soon.
I am glad I purchased them though, because they filled in what would be gaping holes between the medium sized seashells I put in the Apothecary Jars. Very large seashells did not fit in these Apothecary Jars at all.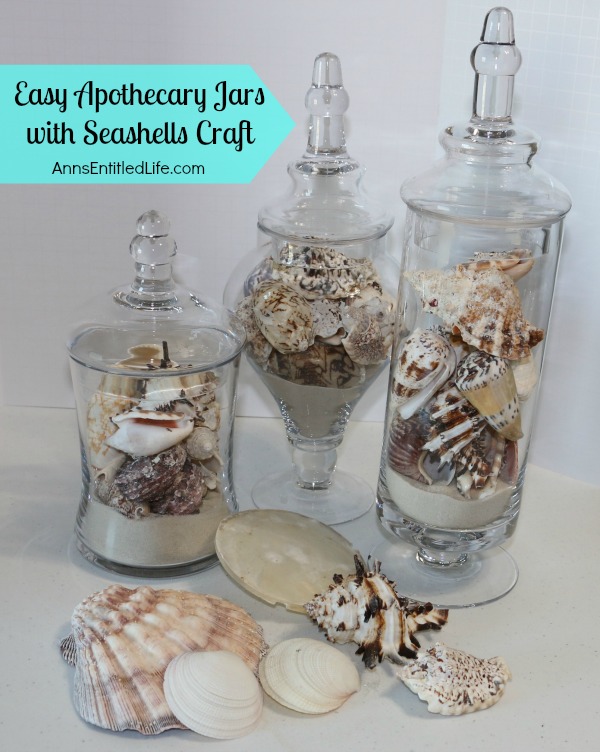 There was a bit of finagling at the top between filling the jar, and closing the lid. In the end, I settled for one larger (still medium sized, but on the larger end of medium) at the top for interest, and so I could place the lids on the jars.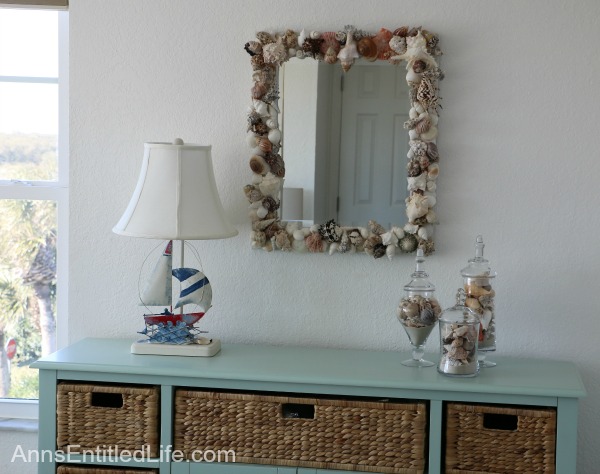 The decor around the beachy minty green dresser is coming along now. This is in the guest bedroom, and I am really aiming for a Florida/Beachy/Ocean feel in that room. Almost there! (No, nothing is cockeyed, I was just standing off to the side to take the photo and it came out looking a tad off.)
Used to make this craft:
● Activa Décor Sand Floral Candle Sand, 28-Ounce, White – you can get by without the sand. I used it more on my second project. And "white" is definitely in the eye of the beholder on this one. More like er, sand color.
● The remains from: U.S. Shell, Inc. Large Designer Bag– I purchased two bags of these, and I was glad I did. They were larger, and covered a great area. They were an excellent value for the money, and I did a pick-and-choose out of both the bags leaving the leftovers for two other projects.
● The remains of: U.S. Shell, Inc. Shell Mix
● Small seashells purchased locally
● Designer Clear Glass Apothecary Jars (3 Piece Set)
Last week I had spent $125 on seashells plus a mirror. This week I sent an additional $40 on Apothecary Jars, $4 on another bag of shells, and the bowl was $13 (last year). To date I have spent $182 and I have made up: a Seashell Mirror, a set of Apothecary Jars with Seashells, a Decorative Bowl filled with Seashells, and I still have some leftover seashells that I hope to showcase in a super simple craft in a few weeks.
All I can say, is that is a lot of decor for the money!!
---
● If you enjoyed this post, be sure to sign up for the Ann's Entitled Life weekly newsletter, and never miss another article!
● For more Florida posts on Ann's Entitled Life, click here.
● Disclosure: the links in this post may be affiliate links.
---