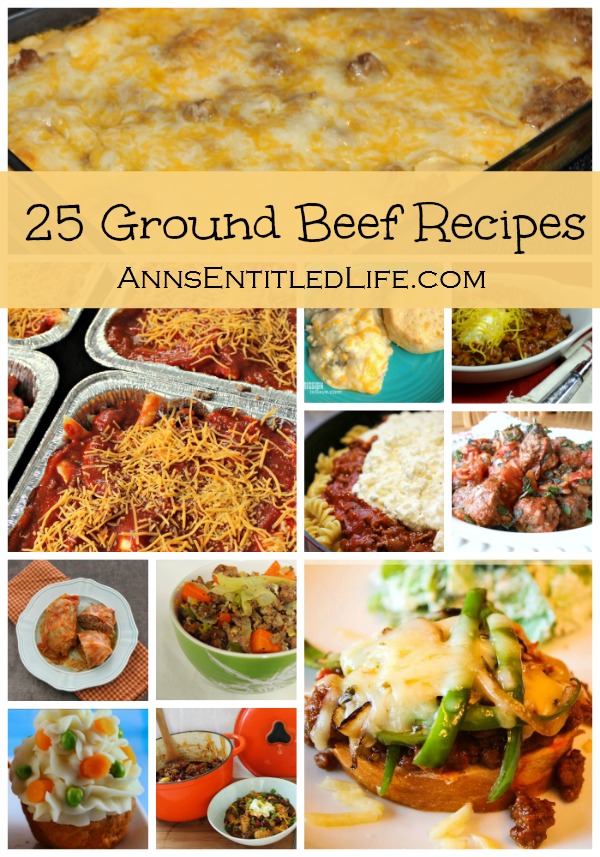 25 Ground Beef Recipes
Quick and easy ground beef recipes: Casseroles, Soups, Sandwiches, Stews and more. Try one of these fantastic 25 Ground Beef Recipes for dinner tonight.
● 3 Ingredient Crock Pot Chili Recipe – Simply Southern Mom
● Bacon Cheeseburger Roll-Up Recipe – This Simple Home
● Best Ever Sloppy Joe's Recipe – Two Healthy Kitchens
● Cabbage Rolls Recipe – See Mom Click
● Cheesy Burrito Casserole Recipe
● Chili Relleno Casserole Recipe
● Chili with Gnocchi Recipe – Awesome on $20 A Day
● Clean Out The Fridge Loaf Recipe
● Cornbread Taco Casserole Recipe – Parenting Chaos
● Firehouse Spinach Meatloaf Recipe – Family Living on a Budget
● French Bread Cheeseburger Sandwiches Recipe Laura Sue Shaw
● Ground Beef and Carrots Stir-Fry Recipe – The Cooking Hat
● Hobo Dinner Recipe – Brittany's Pantry
● Pasty Pie Recipe – How To Have It All
● "Kitchen Sink" Shepherd's Pie Recipe – Mission To Save
● Lasagna Bowl Recipe – Simply Stacie
● Meatloaf Burgers Recipe – Faithfully Free
● Million Dollar Casserole Recipe – Cleverly Simple
● North African Meatball Stew Recipe – Housewives of Frederick County
● Open Face Sloppy Joe's Recipe – My Abundant Life
● Sensational One Pot Chili – My World Simplified
● Slow Cooker Philly Cheesesteak Sloppy Joe's Recipe – Spend With Pennies
● Stuffed Pepper Soup Recipe – Mom vs The Boys
---
● If you enjoyed this post, be sure to sign up for the Ann's Entitled Life weekly newsletter, and never miss another article!
● For more Recipes on Ann's Entitled Life, click here.
---