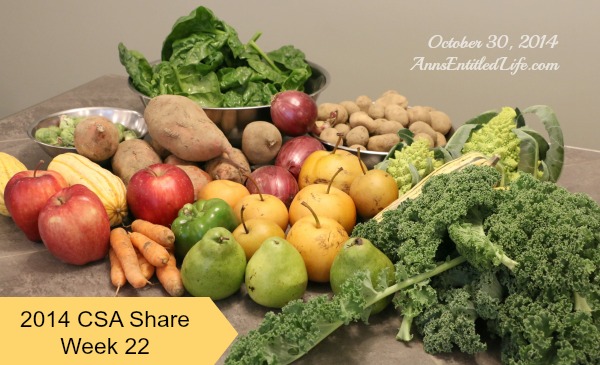 This is the diary of our 2014 CSA share. The cost of our full share is $545 for 22 weeks (this CSA offers a winter share) which will bring us to the last week in October, and works out to $24.75 per week. Western New York weather is such that June is lightest CSA month. September and October will be more than abundant! Usually I feel I don't get my money's worth the first few weeks (which will be predominantly lettuces), but the fall bags more than make up for that.
We also purchased a Fruit Share this year for $180, lasting 18 weeks which works out to $10 per week. The local fruit included in the fruit share starts with cherries, apricots, plums, peaches, nectarines, blueberries, and moves into pears, raspberries and of course apples! This portion of the share begins in July.
---
Well, I'll tell ya, the CSA certainly went out on a high note this year. The bag I hauled out of there yesterday must have weighed 30 or so pounds! There was 7 pounds of fruit (Asian pears, pears and apples), and the fall vegetables easily added another 25#. This was one of the best weeks we received this year.
We did sign up with the same CSA for next year, and I explained the reasons why last week. It is interesting to me to look at the weekly CSA shares (click here to see them all) and how what we received in 2014 compared to what we received in 2013.
To me the fruit share was a smashing success! Hubby and I didn't go for a ride for produce once this year, which was both good and bad. While I do enjoy the drives (especially up by Lake Ontario), we just didn't have the time this year with Max's illness taking over much of our lives. Hubby is also trying to finish rehabbing a rental for December 1st, so many is the week he is out there 6 days a week installing floors, kitchens and whatnot. Once football started, there was no way I was taking a ride on a Sunday, so all in all the fruit share was not only a great value (at $10 per week), but it kept me out of the grocery store, and off the road.
What I took for our final share of the 2014 CSA season…
2014 CSA Share Week 22
● Apples*
● Asian Pears*
● Beets
● Broccoli
● Brussels Sprouts*
● Cabbage
● Carrots*
● Cauliflower
● Chard
● Delicata Squash*
● Daikons
● Fennel
● Kale*
● Onions*
● Parsnips
● Pears*
● Peppers, sweet* and hot
● Potatoes*
● Radicchio
● Radishes
● Romanesco Broccoli*
● Spinach*
● Sweet Potatoes*
● Turnips
● Various Greens*
* took for share
Do you belong to a CSA? If so, what type? How much? Do you find it as worthwhile as I do?
---
● For more CSA posts on Ann's Entitled Life, click here.
● Mind Your Peas and Cukes pinterest board: All things CSA, Produce, Farmstead Fresh – community supported agriculture, farmstand fresh produce, organic produce, more from all over the United States.
● CSA posts
● Find a CSA
● Porter Farms CSA (we belonged for years)
● Root Down Farm CSA (our 2013 and 2014 CSA)
● NYS Fruit and Vegetable Harvest Calendar
● US Agricultural Data
---