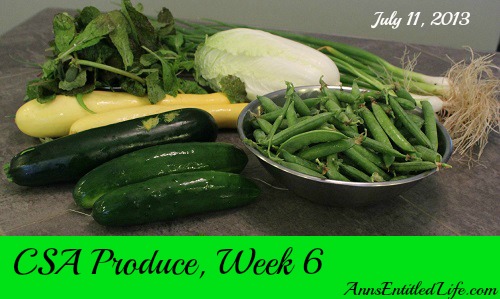 This is the diary of our CSA share this year. The cost of a full share is $545 for 22 weeks (this CSA offers a winter share) which will bring us to the last week in October, and works out to $24.75 per week. Western New York weather is such that June is lightest CSA month. September and October will be more than abundant! Usually I feel I don't get my money's worth the first few weeks (which will be predominantly lettuces), but the fall bags more than make up for that.
This week there was a big sign that the squash crop took a beating with all the rain, and the zucchini and yellow summer squash was limited. They weather prediction is sun for the next week, and these poor farmers can really use it!
The peas apparently liked the rain though, because we were each allowed two quarts! That's a lot of peas. We liked what we received so much last week though, that I took all shell peas.
This week we had a choice of:
● Cucumbers
● Garlic Scapes (to be used as garlic, scallions, or onions)
● Kale
● Kohlrabi
● Napa Cabbage
● Peas
● Scallions
● Various Salad Greens
● Yellow Summer Squash
● Zucchini
Since Hubby didn't pick up with me, I got what I would eat plus a lot of scallions for him to cook with – hint hint! He hasn't been cooking much, but I have an idea in my head for dinner tomorrow including Kohlrabi chips and grilled zucchini. Now let's see if I can pull it off. Hubby's off to another auction, and that may mean he's very late to home, and that may not happen until Sunday.
Do you belong to a CSA? If so, what type? How much? Do you find it as worthwhile as I do?
● Past CSA Shares
● Find a CSA
● NYS Fruit and Vegetable Harvest Calendar
● US Agricultural Data