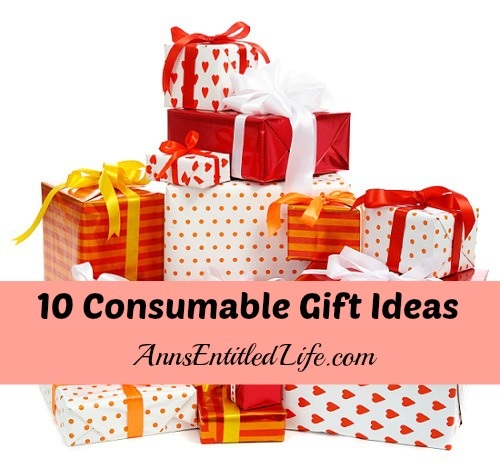 Consumable Gifts are ideal for the special someone who has everything! Do you have a of of "stuff" and need more like you need a hole in your head? When someone asks you for a gift list, do you look at them like a deer in the headlights? Have you been told by your: mother, grandmother, father, grandfather, siblings or other relatives "Don't buy me anything", but you feel "funny" arriving empty handed?
Here's a list of 10 consumable gift ideas you can either ask for, or give, when "stuff" is an issue:
● Your time: Lunches, dinner, day trip, a movie or donate a few hours for household repairs or painting, a day of babysitting or adult care so the caregiver or parent can run errands, the gift of our time is the most precious we can give.
● Housecleaning Services: Whether a weekly service gift, monthly, or one time cleaning gift, many people will appreciate the luxury of having someone else clean their home.
● Lawn Care: We give this to my grandfather every year. He hasn't been able to take care of his lawn for years, so we found and hired a service to do it for him. This makes him happy, and we are thrilled to give him such a worthwhile gift!
● Flowers or Plants: If your special someone isn't allergic, a flower of the month club, a one time bouquet, bulbs for the garden or an indoor plant might be just the thing to brighten their day!
● Birdseed: Is a Bird watcher someone you give a gift to? Do they feed the cardinals and blue jays from their back porch? Birdseed is no longer inexpensive, and suet cakes or special feed might be most welcome.
● Fruit of the Month Club: a fruit basket, or an edible arrangement! All lovely ideas for getting fruit to your favorite people.
● Livestock: Yeah it sounds odd, but it really is a great gift.
● A CSA Share: Community Supported Agriculture is a wonderful way to give local produce.
● Wine, Beer or Liqueur: Whether to bring to a holiday dinner, or give as a gift, a nice bottle of wine, a craft beer or a favorite liquor or liqueur can be a great idea!
● Memberships: A gym, the zoo, the science museum the local spa! Memberships to various organizations can motivate and entertain the entire year.
● Postage stamps: Not everyone pays their bills online, and some people still send cards, letters and rebates through the postal service.
When giving a service present or donation, a note in a card is a wonderful way to let the recipient know what you did for them.
Do you ask for, or give, consumable gifts? What great consumable gift idea do you have?
---