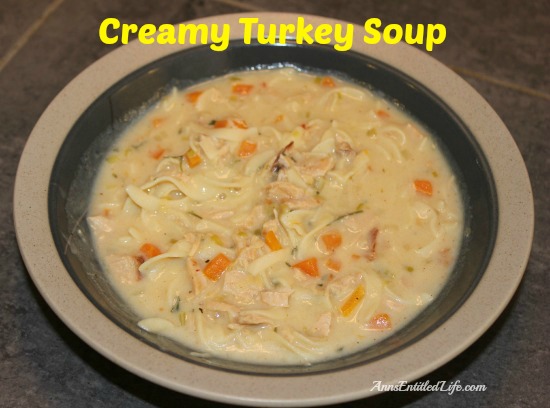 Creamy Turkey Soup
By Ann
A great use of leftover turkey, vegetables, noddles and more this Creamy Turkey Soup is easy to put together and tastes delicious!
Prep Time:25 minutes
Cook time:25 minutes
Ingredients:
• 1 cup minced Celery
• 1/4 cup Butter
• 1 cup Onion, mined
• 2 cups Carrots, diced
• 1/4 cup Wondra
• 7 cups Turkey Broth, divided
• 2 cups Milk
• 1 tsp No Salt Cajun Seasoning
• 1/2 tsp White Pepper
• 1/8 tsp Cayenne Pepper
• 1 tsp Dried Parsley
• 3 cups Cooked Turkey, chopped
• 8oz Wide Eggs Noodles
Directions:

• Sauté onions, celery and carrots in the butter until soft, but not brown.
• Add Wondra and mix well.
• Gradually add in 2 cups of turkey broth, and the milk.
• Cook until thickened, stirring constantly.
• Add in remaining broth, stir.
• Stir in remaining ingredients.
• Simmer 10-12 minutes until the egg noddles are tender, stir occasionally.

Makes 9 cups of Creamy Turkey Soup
• For a list of all recipes available on Ann's Entitled Life, click here.
---
---
FOLLOW US ON: