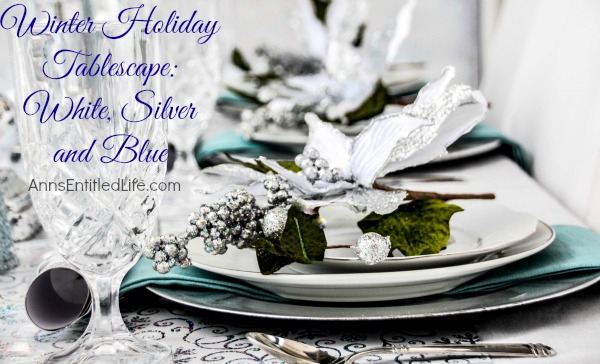 Hosting a holiday party? Dressing up the table for Christmas, New Year's or just because? Break away from the traditional green and red Christmas colors and try something entirely different. This beautiful winter holiday tablescape features white, silver and blue. A lovely cool theme to compliment the winter landscape.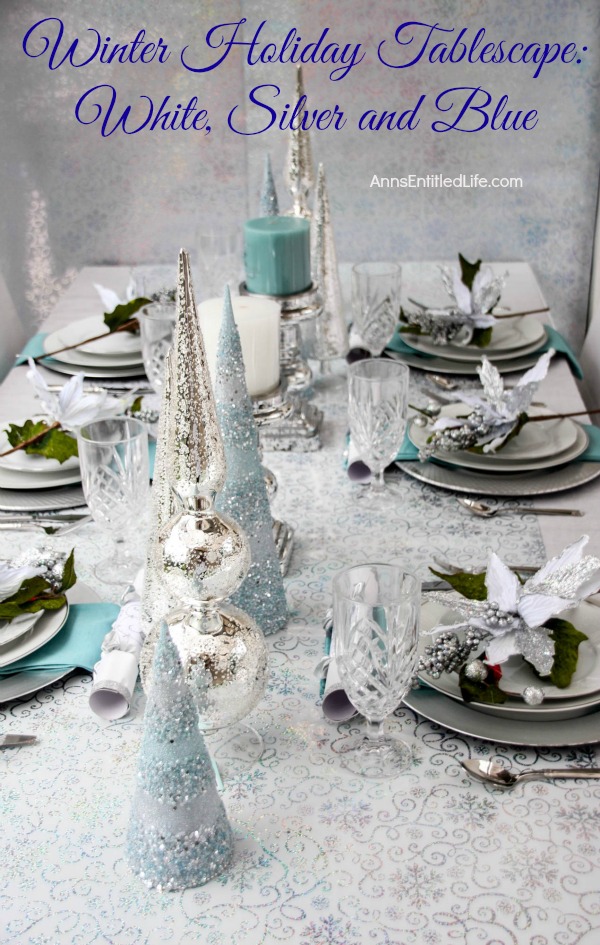 Winter Holiday Tablescape: White, Silver and Blue: Supplies and Resources
Note: this is a setting for six. Adjust according to your specific needs!
1 White Tablecloth
1 Roll of Fancy, White/Silver Wrapping Paper
6 Silver Chargers
6 White Plates with a silver trim (or you can do plain White Plates or White China)
6 Salad White Plates (or you could do silver or a light blue color)
6 Crystal Glassware
6 Sets of Nice Silverware
6 Blue Cloth Napkins
6 Silver Flower Assortments
6 Silver Holiday Poppers (these are great to use as name holders)
1 bag of Jingle Bells
Assorted Table Decor
● White Tablecloth

● Fancy, White/Silver Wrapping Paper: Hobby Lobby, Home Goods, Kohl's, Target
● Silver Chargers

● White Plates with Silver Trim

● Crystal Glassware

● Blue Cloth Napkins
● Silver Flower Assortments

● Silver Holiday Poppers

● Jingle Bells
● Tall Cylinder Glass

● Light Blue Christmas Cones – Hobby Lobby (I could not find them online, but these are gorgeous alternatives: Feathered Cone
or Silver Cones
● Silver Candle Holders- Hobby Lobby
● White and Blue Candles

● Silver Coffee Pot

● Clear Short Hurricane Concave Glass Vase

● Blue Rocks

● Silver & White Angels – Home Goods (I could not find this online, but these
look like a beautiful substitute)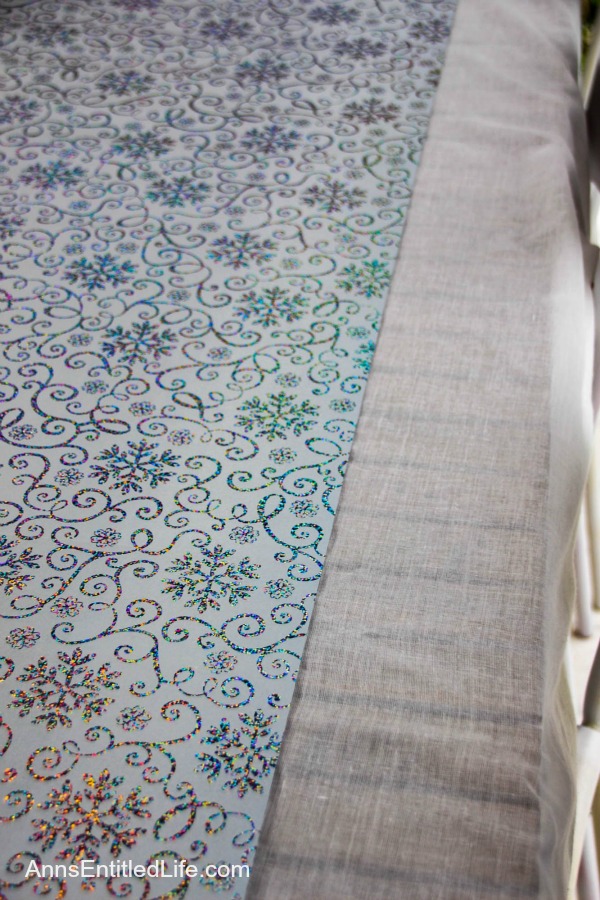 ● Spread out your White Tablecloth.
You may have to iron if very wrinkled before spreading out. If there is still a crease or two after laying on the tables, I have been known to put a hand-towel under the wrinkly, and iron it out directly on the table. Use extreme caution though; you don't want to burn your table!
● Roll out Fancy Wrapping paper across the table, making sure it stays in the center. This acts as a table runner as well. Using wrapping paper is an easy way to decorate your table without a little effort.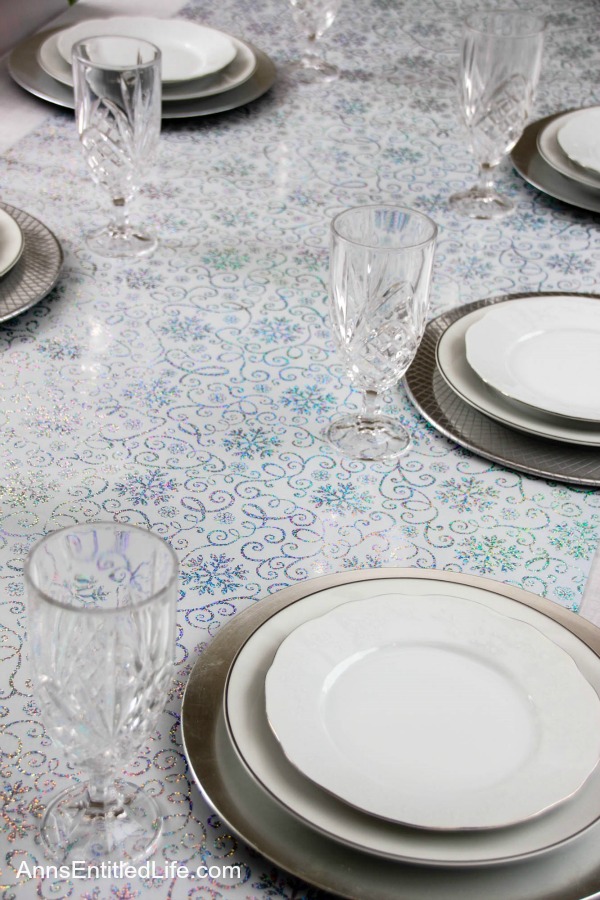 ● Make each place setting. The silver charger comes first. Followed by the blue napkin. Then the White Plates with Silver Rim. Next the salad plate, followed by the silver flower assortment on top.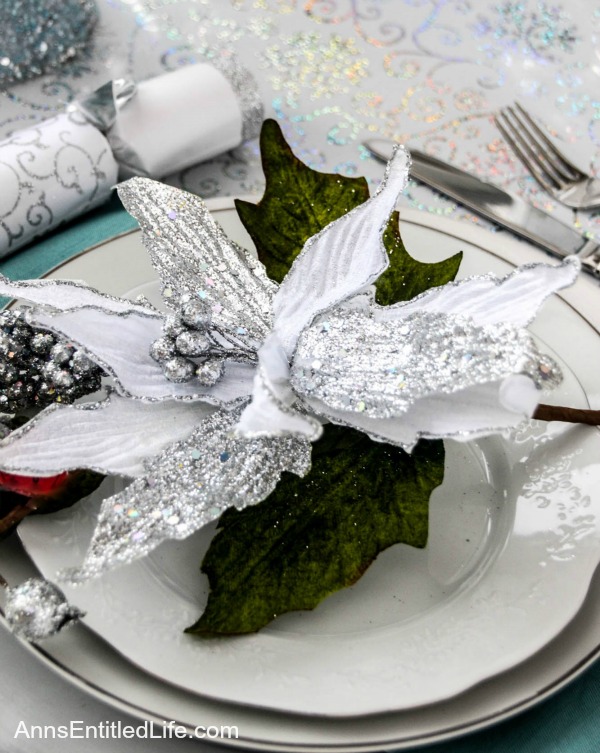 ● Set your silverware forks on top of the napkin on your left, or place your napkin between the charge and dinner plate draping forward and above, and place your forks to the left on top of the Faux Wood Paper. Set your spoons and knives to the right. Alternatively, you can wrap your silverware inside your napkin (closing with a napkin ring if desired), and place on top of your place settings.
● Add your glasses. If you are offering wine as well as a cold beverage and/or water, you will need an extra set of glasses appropriate for those beverages.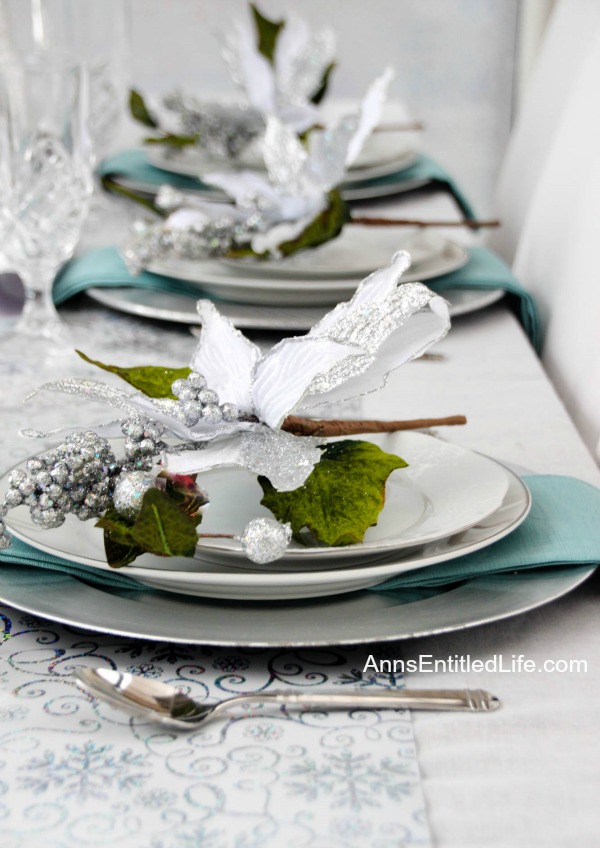 ● Finish with a floral piece on each plate.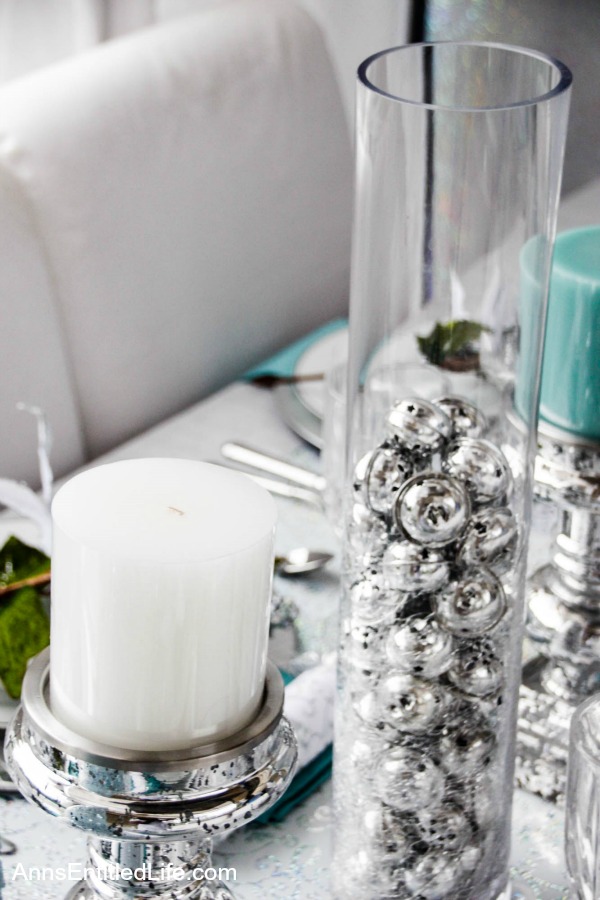 ● Center of the table: Start by adding a bag of jingle bells to the tall hurricane glass.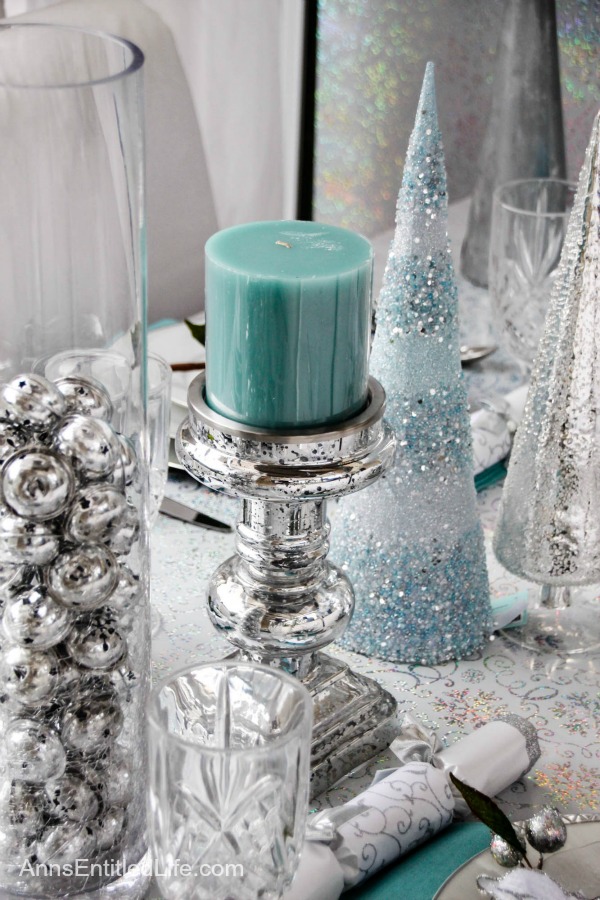 ● Place the Silver Candle Holders on each side of the Tall Cylinder Glass. Place Candles on top of each Candle Holder.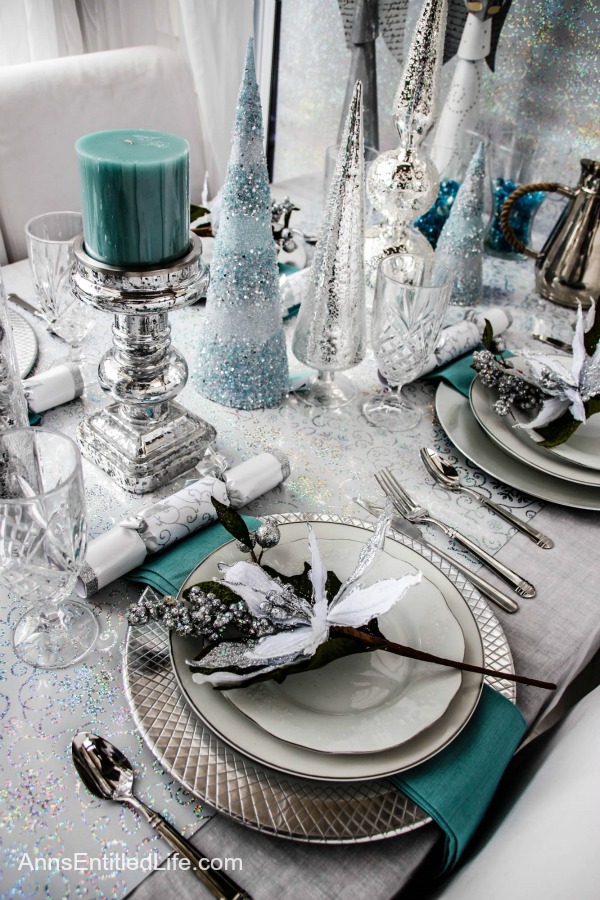 ● Next add the blue and silver Christmas Cones.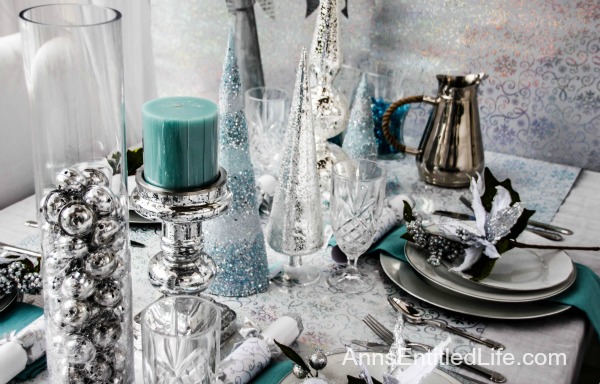 ● Add Silver Christmas assortments. You can mix or match these based on your own style.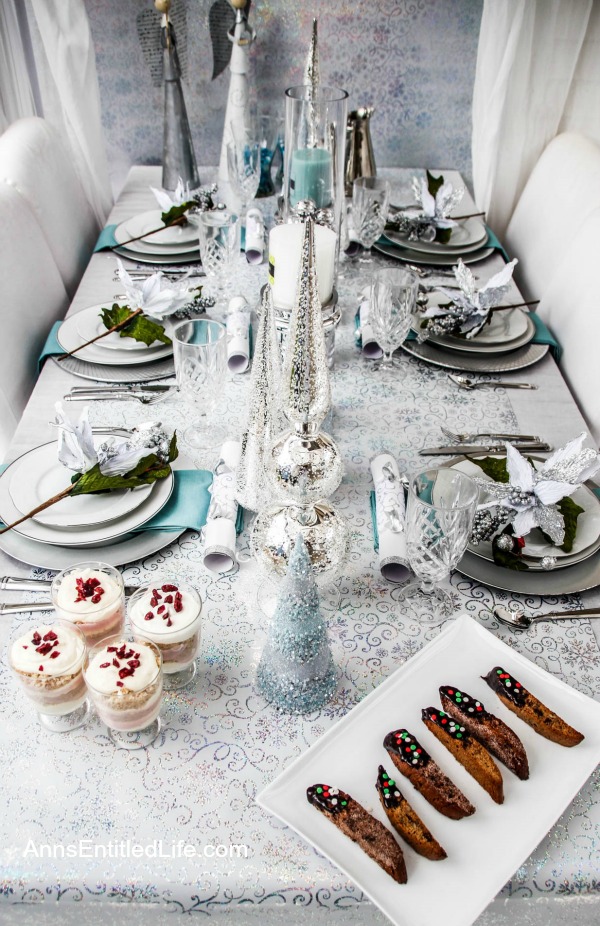 ● At the end of the table, add more fun Christmas assortments, such as the white Angels and glasses full of blue rocks.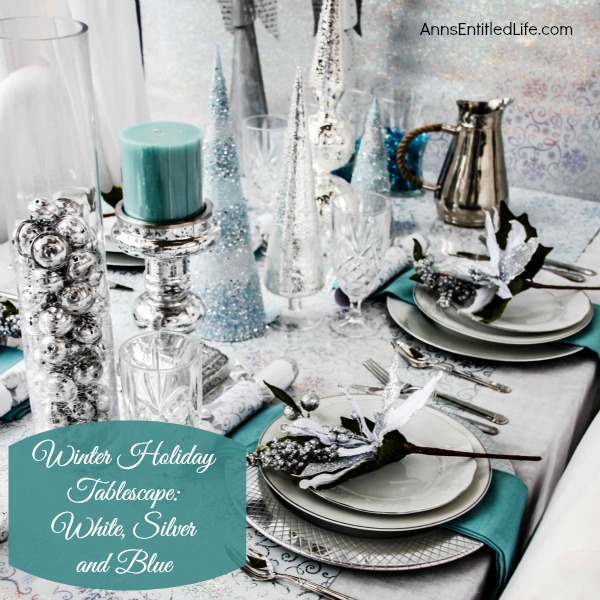 The two featured recipes shown in this tablescape:
● No-Bake Cranberry Cheesecake Parfait Recipe – no bake Christmas desserts are difficult to find. This one really works well for any holiday function!
● Gingerbread Biscotti Recipe Yum! A nice holiday biscotti that can be used for breakfast, lunch or dinner, as well as holiday parties. Nothing beats a biscotti and a hot cup of coffee on a chilly winter night.
---
● Disclosure: the links in this post may be affiliate links.
● For more Holiday posts on Ann's Entitled Life, click here.
● For more Craft posts on Ann's Entitled Life, click here.
● If you enjoyed this post, be sure to sign up for the Ann's Entitled Life weekly newsletter, and never miss another article!
---