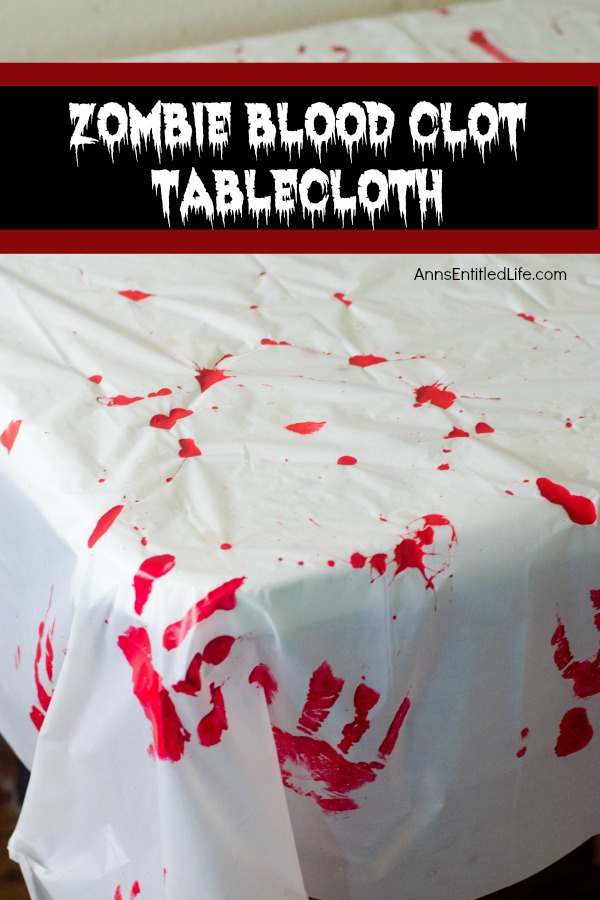 Instead of paying big bucks for a Halloween tablecloth, make this simple Zombie tablecloth. It adds a touch of spooky to your Halloween party table. Five minutes, plus dry time, and your Halloween table has a spooktacular covering!
Zombie Blood Clot Tablecloth
Notes:
• This is super simple to make! Choose a red color for blood. The hex color is 8A0707 for blood red if you want to have a color made.
• If you want a more "realistic", gory coloring, duplicate the colors found in this homemade Halloween wounds post. It will table longer than 5 minutes to do, but a purple/red/black combo will definitely be ghoulish.
If you need Halloween foods to go on your table, you may be interested in some of these items:
• How to Make a Halloween Cupcake Tree – a fun "centerpiece" for your Halloween table!
• How to Make a Halloween Bag Cake – this comes together fast and is a big payoff as a "wow"!
• Mummy Cookies Recipe – super simple "scary" Halloween cookie!
• Spider Cookies Recipe – creepy-crawlies never tasted so good! These "spooky" spider cookies are a huge hit with kids, and adults!
• Spooky Spider Treats – these easy to make Spooky Spider Treats will be a huge hit with your little – and big – witches and ghosts!
• Candy Apple Pumpkins Recipe – if you are hosting a Halloween party or brings in treats for an after-school functions, these Candy Apple Pumpkins are Jack o'Lantern scary.
• Cocktails for the over 21 crowd:
• Bloody Eyeball Cocktail Recipe – a ghastly Halloween cocktail that will creep out your guests!
• Sewer Water Cocktail Recipe – absolutely revolting – in the best way!
• If you prefer jello-shots, you may want to make one of these 20 Halloween Jello Shots Recipes!
• And to go with your Zombie theme… a Zombie Cocktail Recipe – an old fashioned cocktail that can be served lit or unlit.
• For more Halloween-centric cocktail recipes, click here!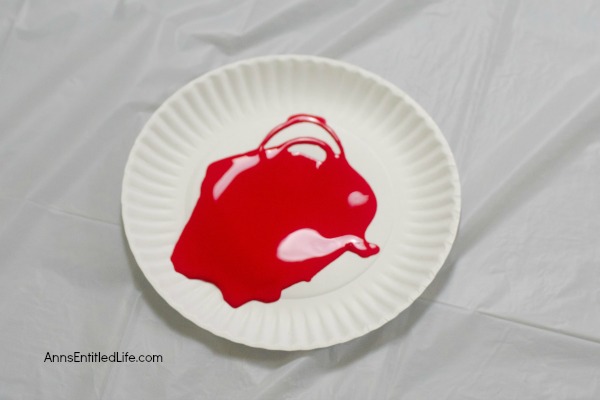 Zombie Blood Clot Tablecloth Materials:
• 1 White Plastic Tablecloth
• 1 True Red Acrylic Craft Paint (close to blood)
• 1 Paint Brush
• Paper Plate
• Latex Glove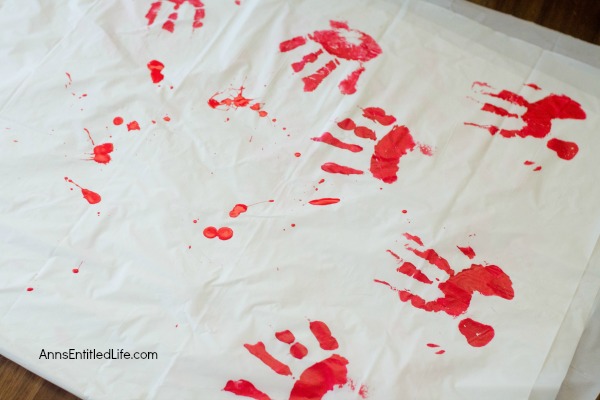 Zombie Blood Clot Tablecloth Instructions:
• Lay tablecloth out in a well-ventilated area (outside is great) and fold in half (you can do the whole tablecloth at once if you have a big area to lay the tablecloth).
• Pour paint onto paper plate.
• Place your hand in a latex glove (or do this with your hand uncovered), place your hand onto the paint on the paper place making sure you cover your palm and fingers and then press your hand along the table cloth in different places.
• Repeat until you are satisfied with the appearance of your tablecloth.
• Wash hands.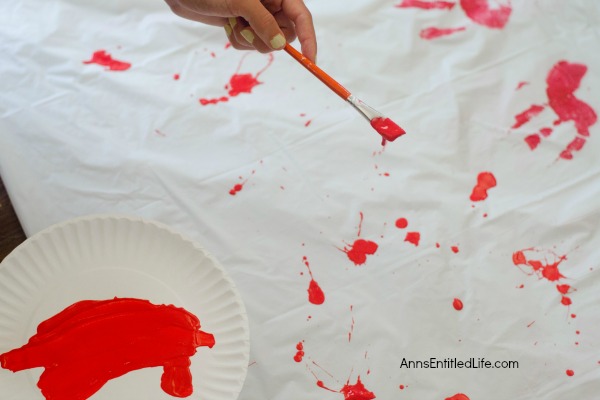 • Take a paint brush and dip in paint. Splatter it onto table cloth with a flick or a drip to make the paint look like splattered blood.
• Allow to dry. Do not use a hair dryer to hasten as the plastic could melt. If you are doing this on a cloth tablecloth, you could use the hair dryer at low temp, not too close to the paint.
• Repeat for the opposite side. Once both sides of the tablecloth are dry, place on a table. Or you can use to hang in windows with lights behind them to make it look like zombie windows.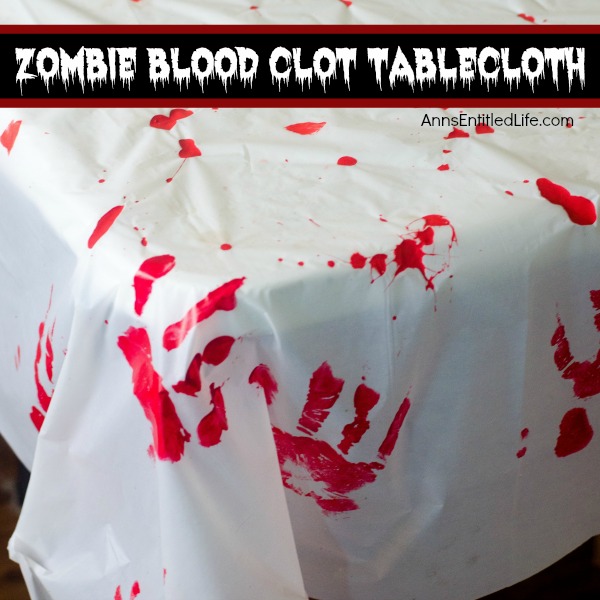 This is a super easy, fairly quick, Halloween decor upgrade to make your Halloween table more interesting.
---
• Disclosure the links in this post may be affiliate links.
• For more Craft posts on Ann's Entitled Life, click here.
• For more Recipes on Ann's Entitled Life, click here.
• If you enjoyed this post, be sure to sign up for the Ann's Entitled Life weekly newsletter, and never miss another article!
---