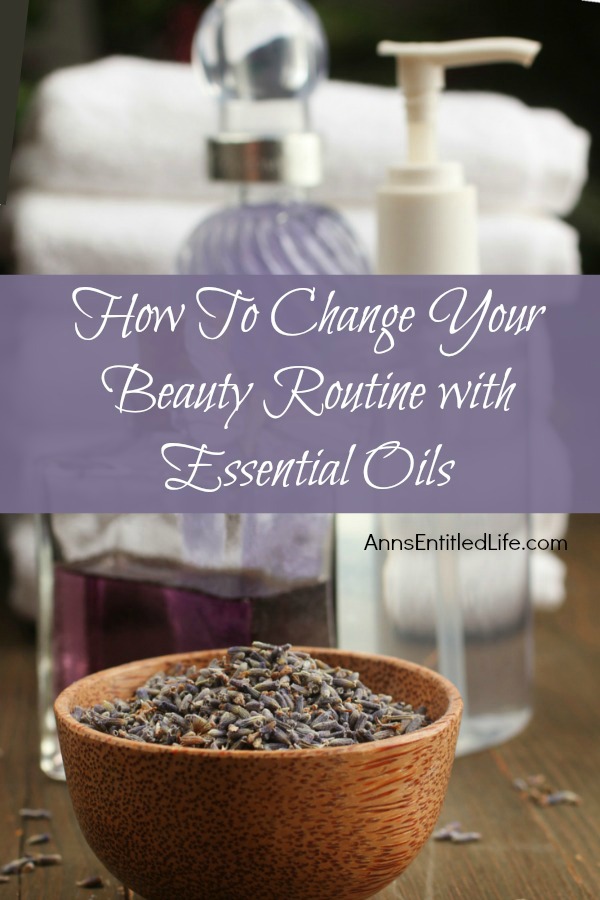 How To Change Your Beauty Routine with Essential Oils
Looking to change your beauty routine by adding essential oils? Here are some essential oil beauty tips and recipes to make the transition easier.
If you have ventured into the world of essential oils you know that these oils are addicting; it is pretty amazing at how they can change your life. I no longer spend as much on cleaning products, over the counter medicines or beauty essentials.
There are so many ways you can add essential oils to your beauty routine. If you have sensitive skin or skin conditions that are hard to treat you may want to investigate changing your beauty routine to include essential oils. As with any new regime, do a test area on your skin to test for allergic reaction. Consult your physician if you are unsure about a new beauty therapy routine. It is always better to be cautious when using new products.
Here are some of the great mixes and tricks I have found when changing my beauty routine with essential oils.
Essential Oils as a Morning Energy Boost: Diffusing oils in the morning makes you feel pampered almost like you're in a spa. Turn on your diffuser in the morning while you are getting ready for work or school. It can really help make a difference in your daily outlook. Add 2-4 drops of any of the following oils to achieve an uplifting, positive and energetic attitude for the day.
● En-R-Gee Essential Oil
● Peppermint Essential Oil
● Lemon Essential Oil
Homemade Makeup Remover:
In a glass jar mix
● 1 cup Extra Virgin Organic Coconut Oil
● 4 drops Purification Essential Oil
● 4 drops Elemi Oil
Whip together in your mixer for about 4-5 minutes to mix well until a creamy consistency forms.
Apply to your face to cleanse.
Use a warm wash cloth to wipe clean.
This smells wonderful, helps remove make-up, cleanses your face and leaves your skin feeling so soft.
Eyelash Thickening Serum: Ever notice how little kids have the fullest, longest eyelashes? This tip may help you get those beautiful eyelashes back. Eyelashes naturally go through a cycle of loss and regrowth, but it's often hard for them to regrow well since we are constantly smothering creams and mascara on our lashes. The chemicals may very well be impeding regrowth. So how can essential oils make a difference to regrowth? This one little tip is amazing! Simply add 2 drops of Lavender oil to your mascara tube, shake it up a little and use your mascara like you normally would. In about 2 weeks you should start seeing longer, fuller lashes coming back. (As with any treatment, YMMV of course!)
All Natural Curly Hair Spritz: If you have curly hair you're going to LOVE this all-natural curly hair spritz. It works to reduce frizz. It is lightweight so it doesn't weigh your hair down or make your hair feel crunchy.
● Aloe Vera Gel
● Lavender Essential Oil
● Water
In a glass spray bottle mix a 50:50 ratio of water to Aloe Vera gel, if you want a thicker spray use more Aloe.
Add 2-4 drops of Lavender Essential oil.
Shake to mix and spray on hair when damp.
Chemical Free Mouth Wash: Keep your breath smelling fresh and clean with this awesome natural mouth wash. It works better than store bought mouthwash, and is much cheaper too!
● 2 cups Water
● 10 drops Peppermint Essential Oil
● 5 drops Thieves Oil (optional)
Mix together and store in a glass jar.
Swish and go as needed!
I am always looking for new ways to use my essential oils I would love to hear how you are changing up your beauty routine using essential oils!
Note: None of this is meant as medical advice. I am not a doctor, and do not play one on the internet. Please consult a physician if you have any questions about using essential oils so your doctor can better explain to you the benefits, possible side effects, and any warnings about essential oils.
---
● Disclosure the links in this post may be affiliate links.
● For more Household Tips on Ann's Entitled Life, click here.
● Click here for more Library Topics on Ann's Entitled Life.
● Enjoy this post? Sign up for the Ann's Entitled Life FREE Weekly Newsletter to stay connected.
---