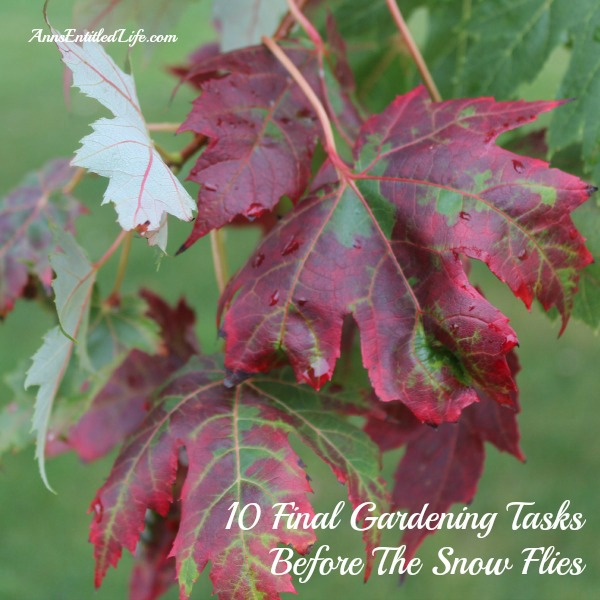 10 Final Gardening Tasks Before The Snow Flies
I put my garden beds to rest a few weeks ago, but there are still some final tasks to be performed before winter. Here are my 10 Final Gardening Tasks Before The Snow Flies you should not forget to do:
● Remove spent stems, dead branches from your garden beds (and lawn) and clean out old annuals and weeds before seeds drop.
● Remove all rotten fruit from the ground around trees and bushes.
● Remove your garden ornaments such as gnomes, painted stepping stone, bird baths and more and pack them away in the garage, garden shed or basement. This is to prevent cracking, and wear and tear over the winter.
● Mulch, mulch, mulch. Try Shredding Your Fall Leaves For Gardening Compost
● Plant cover crops after harvest to revitalize soil.
● Protect ornamentals, shrubs and bushes from deer with deer netting (and deer-off you use sprays).
● Cut back your perennials where slugs, snails, and other pests might hide.
● Wrap young trees and shrubs with burlap for the winter. The wrap will reflect the sun and keep the bark at a more constant temperature.
● Clean tool blades with vegetable oil and handles with sandpaper. Store hand tools in a bucket of sand.
● Blow out the sprinkler system and drip lines. Shut off water to the outside to prevent a blown line.
---
● If you enjoyed this post, be sure to sign up for the Ann's Entitled Life weekly newsletter, and never miss another article!
● For more How Does Your Garden Grow posts on Ann's Entitled Life, click here.
● Follow my How Does Your Garden Grow pinterest board
---