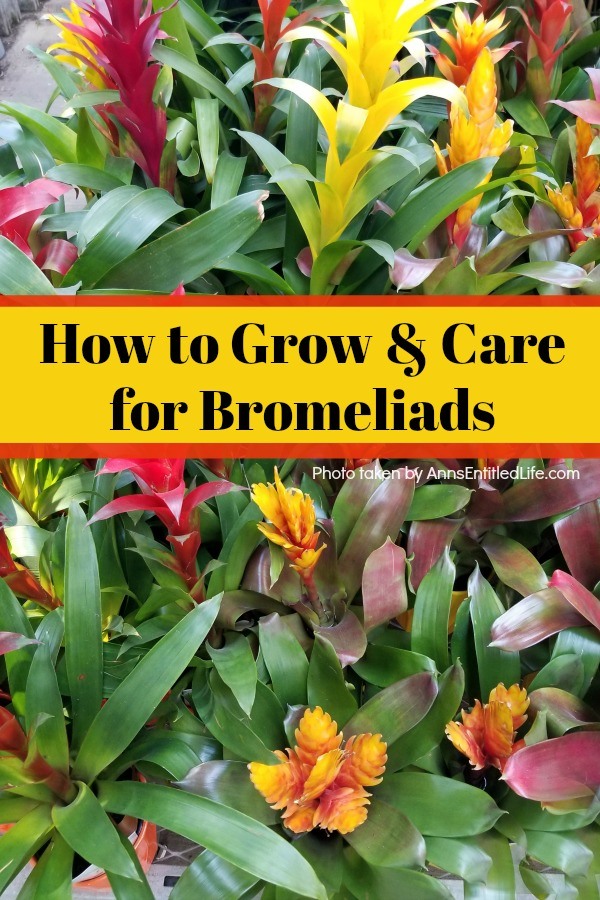 If you want a beautiful addition to your plant collection, then adding bromeliads to your garden is a must. These plants are colorful and give an attractive and tropical feel to your outdoor garden. They add an exotic look to any room indoors when grown inside your home. These plants bring gorgeous colors and an interesting texture indoors or outside; a true gardening winner!
Bromeliads are easy to grow but compared with an average house plant; they require a bit of special care. There are many different types of bromeliads that come in a variety of bright colors. This tropical plant can be a great addition to your garden or indoor plant stand. The bromeliad flower is unique looking, yet very beautiful and can brighten your home environment. No matter what type of bromeliad you choose from the bromeliad family, with a little bromeliad care and attention, you can grow just about any of the bromeliad varieties out there!
How to Grow and Care for Bromeliads
Bromeliad plant care and growth; how to grow and care for Bromeliads! Learn how to take care of your bromeliad plant and how to maintain a long-lasting collection of bromeliad plants with fairly low maintenance using the tips in this post.
These plants grow under the canopies of other plants in their natural habitat where they can get limited bright, but direct light. Even under lower light conditions, it can still flower. Like other indoor plants, a bromeliad plant needs bright light. However, it does not like prolonged periods of light from the direct, heat of the sun.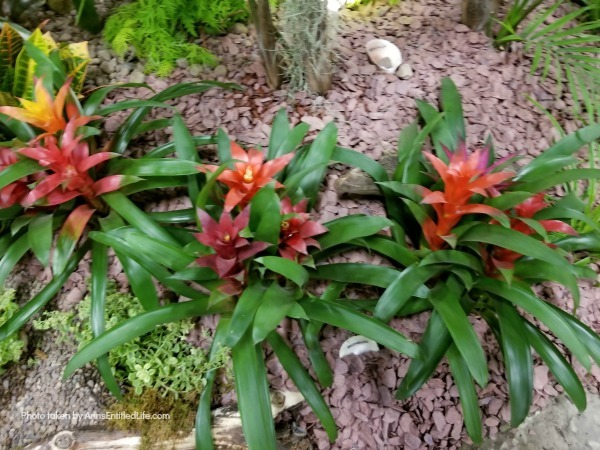 Where to Purchase Bromeliads?
You can purchase Bromeliads at most garden centers, Home Depot, Lowes, or online at Amazon! Bromeliads come in a variety of colors so they are easy to incorporate in any landscape, or in indoor decorating décor color scheme.
What Does a Bromeliad Need to Grow?
Keeping a Bromeliad plant in your garden or indoors is not complicated. Just like any other plant, it requires basic needs: fresh water, appropriate temperatures, light, and soil.
Bromeliad Watering Needs:
Bromeliads are tolerant of drought conditions. When you are keeping them inside, it is not necessary to overfill the planter with water.
Bromeliads have a "tank" in the center of the plant that looks a bit like a cup. The tank takes in all the water. Be sure to water the plant through the tank to be sure it gets what it needs.
When watering your Bromeliad, flush the tank often to remove any built-in salts. It's enough to water these plants weekly during the summer and growing season with reduced watering during the winter months.
Never water your Bromeliad with any metal containers, they are sensitive to metals, especially copper, so just be aware of that when caring for your Bromeliad. Do not allow excess water or stagnant water to accumulate.
If you are growing your plant outside of soil in a log or on a rock, you can use a spray bottle and mist the plant in place of watering with a hose or watering can.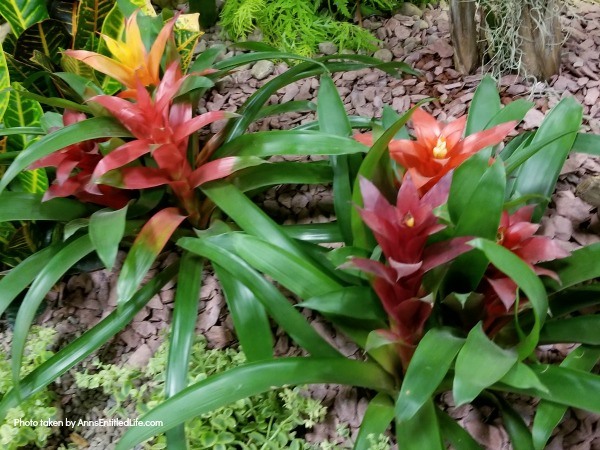 Bromeliad Temperature Needs:
Bromeliads can tolerate a wide range of temperatures. They can grow outdoors during the winter months or during the hot summer days.
However, since these tropical plants are native to the tropics and subtropics, the humidity level is important. Unless you live in a tropical climate, if your home or the place where you are keeping the plants is dry, try and mist them at least once a week. You may also grow them over a tray filled with pebbles and water to increase the humidity.
Bromeliad Lighting Needs:
Like the temperature, bromeliads are not sensitive when it comes to lighting. These plants can grow great even in low lights.
However, keep in mind that direct sunlight can actually burn the leaves. But, keeping the plants indoors every day without any sunlight can wilt and dry the mother flower. In other words, indirect light is important.
Place the bromeliad plant in a spot where it can get at least medium to bright light. If you don't have enough bright light in any areas of your house, you can use a small grow light as a substitute.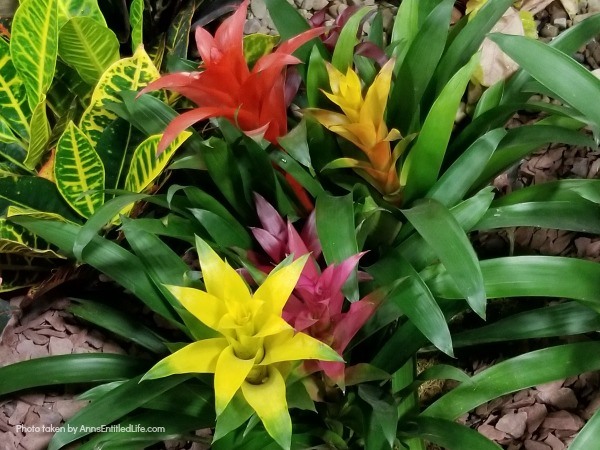 Bromeliad Soil Needs:
These indoor plants love rich and organic matter in their soil so having excellent drainage is a must. Make sure the growing medium is loose and not compacted so that the soil drains well. Use a plastic pot, not a metal container.
When creating a mixture, you can try a 2/3 peat-based soil mix and 1/3 sand. These plants can also grow in logs.
If you want to make your own potting mix, you can also mix a fast-draining soilless mix with bark, moss, perlite, and other organic materials.
Bromeliad Fertilizer Needs:
You might be surprised to hear that bromeliads do not need much fertilizer to feed them properly. During the growing season, you can use a liquid fertilizer with at one half its normal strength.
You also have an option to use a slow-release pellet fertilizer and water. A single pellet might last the whole season. It can also be mixed into the soil compost.
How to Propagate Bromeliads:
In a natural growth cycle, a mature bromeliad will start sending up a flower spike, including tiny insignificant flowers with bracts. These bracts are long lasting surviving for several months.
Once the flower dies, the plant dies along with it, too. But, before it starts to completely decline, the mother plant will send out one or more smaller bromeliad pups or offshoots at the plant's base.
These pups can be cut off with sterile gardening shears and you can pot them individually. Be sure to cut as close to the mother plant as possible without harming the mother plant. Sometimes there is a shielding leaf in the way and you can peel that back to get closer to the base of the pup to get a good clipping.
When transplanting your pups be careful not to bury them deep within the soil, use supports to hold them in place until their root system has become strong enough to hold itself up.
The pups require bright, indirect sunlight but, less light than a full-grown Bromeliad requires. You'll also need to pay close attention to watering your pups as they require more water but, not overwatering that can lead to root rot causing your newly born pup to die. (Tap water is of course, fine.)
How to Prune Bromeliads:
You do not need to consistently prune your bromeliad. The dry or dead leaves can be cut off anytime.
Once the mother plant dies back, you can start pruning it and leave the pups to grow. You can also remove the pups from the main plant and pot them individually when ready.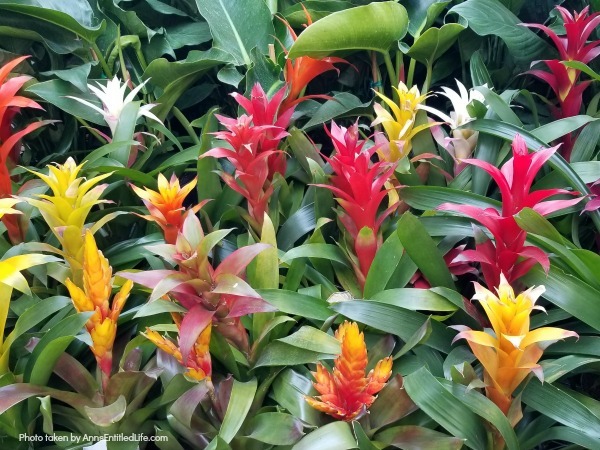 What Are The Common Problems In Taking Care Of Bromeliads?
Improper Pot Size
A Bromeliad's root system is not deep or large, so a 4″ – 6″ pot is sufficient for growing these plants in containers. If you plant them in containers that are too large, you run the risk of root rot because the soil will hold too much water.
Bromeliad Color Is Fading or Turning Brown
Once the bract's color starts to fade or turn brown, it means that the plant is done blooming and has begun to die.
Do not panic as this is a normal life cycle for a Bromeliad. Once the plant starts dying, there is nothing you can do to save it. But, before you throw away the whole plant, check the base to see if there are any pups growing.
Hair-like Blossoms Are Growing Out of the Flower
The small, hair-like blossoms that are growing out of the flower are the flower themselves.
A lot of flowers are tiny and may look insignificant — others may even look weird once they start to grow. But, you should not be alarmed.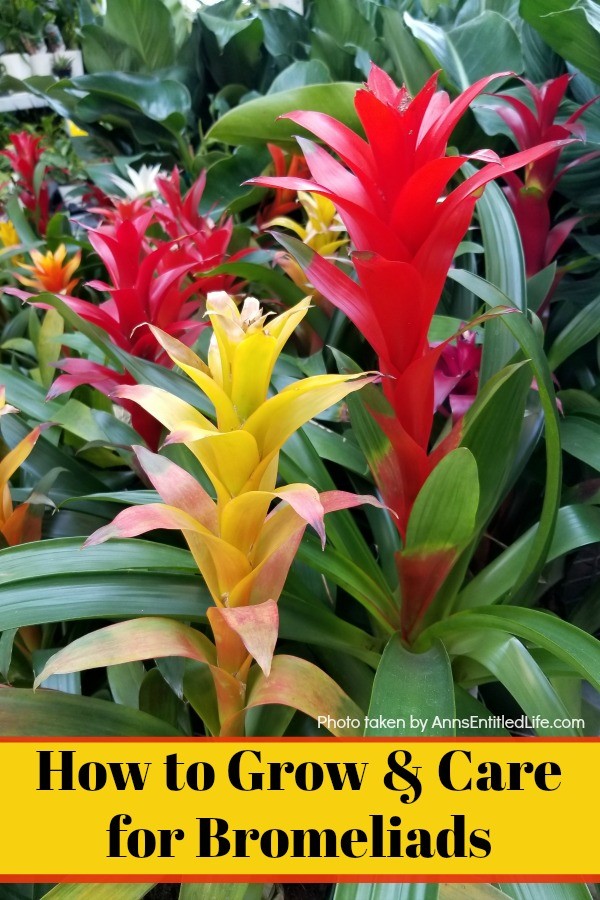 Are There Any Pests I Should Keep An Eye On?
These plants don't usually have problems with bugs. But, during your plant care routine, keep an eye on mealybugs or houseplant scales.
If you spot any bugs, an effective way to get rid of them is by using neem oil. Mix 2 teaspoons of organic neem oil with 2 teaspoons of mild liquid soap and 1 quart water. Spray the solution on your plants as needed.
Organic insecticidal soap or horticultural oil should work too. You can also use a cotton swab dipped in rubbing alcohol to remove any pests from the plants.
Keep in mind to stay away from any chemical pesticides to kill any pests as these solutions can build up a resistance in the plant. They can make the pest problems worse and can damage the plant in the long run.
If you are thinking of keeping a Bromeliad, give it a try! These plants may look hard to grow and take care of but, once you start getting the hang of it, they can be pretty easy. Plus, remember they are gorgeous additions to any garden indoors or out.
If you would like more information on great flowers to plant in your garden, check out these posts:
● Impatiens Flowers: Tips for Growing Impatiens – Impatiens are the perfect plant for those limited on space, sun, and time. They are one of the most forgiving plants you can grow, and can quickly add a pop to color to even the smallest of growing spaces. If you are curious about growing impatiens, look below at some helpful growing tips. You will find that these tips for growing impatiens can help you achieve the yard of your dreams!
● Why Your Garden Needs Nasturtiums – Check out the many benefits on why your garden and containers can benefit from planting and growing nasturtiums this gardening season!
● 10 Tips for Growing Daylilies – If you are a gardener on a budget, daylilies are one of the best plants you can grow. A small investment in daylilies will give you blooms for many years to come, and these quick-growing plants can fill your yard up fast. Daylilies are fairly simple to grow too. Look below at some helpful tips for growing daylilies, and see why this is a plant you should add to your yard this year!
---
First Published: April 03, 2019 Last Updated: March 02, 2022
---
● For more Gardening posts on Ann's Entitled Life, click here.
● Enjoy this post? Sign up for the Ann's Entitled Life FREE Weekly Newsletter to stay connected.
---