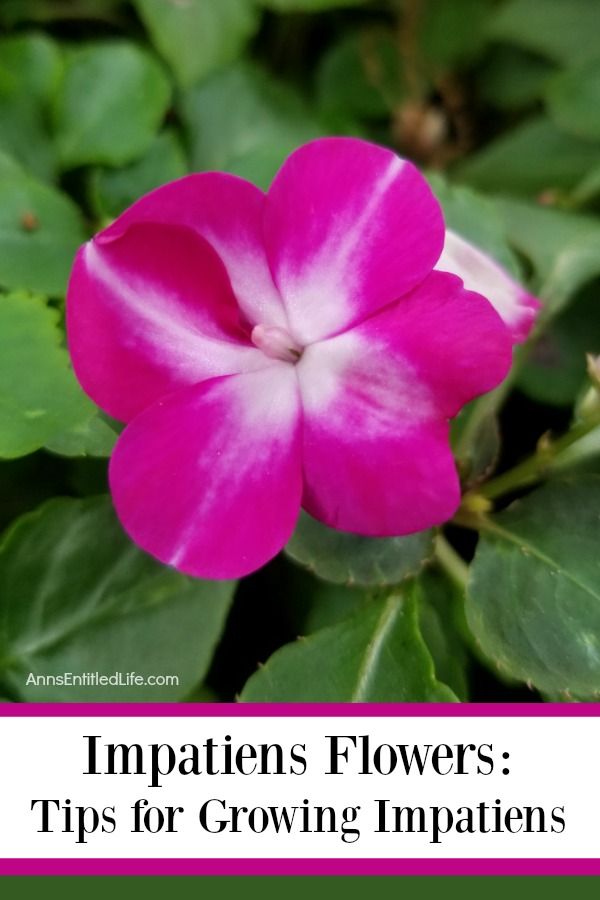 Impatiens are the perfect plant for those limited on space, sun, and time. They are one of the most forgiving plants you can grow, and can quickly add a pop to color to even the smallest of growing spaces. If you are curious about growing impatiens, look below at some helpful growing tips. You will find that these tips for growing impatiens can help you achieve the yard of your dreams!
Impatiens Flowers: Tips for Growing Impatiens
Question? Who else calls Impatiens impatients? LOL I know I do because I cannot wait for them to grow into their full beauty!
Most Impatiens species are annual or perennial herbs with succulent stems, however, impatiens are popular garden annuals. Some species, like busy Lizzy (Impatiens walleriana), grow as perennials in US plant hardiness zones 10 and 11, mostly impatiens are usually treated as annuals in the United States.
I love impatiens and grow them in my backyard garden planters. They do great in my "just under" the backyard patio roof – enough sun to make them happy, but not dry them out.
Impatiens are available in most any color you can think of (except blue). It is any wonder they are such a popular bedding and pot flower!? Some of the most popular impatiens are:
● New Guinea Impatens – New Guinea Impantiens sport larger flowers and are considered great speaders (they will grow in and look lush and full). They are what we in the United States most likely think of when we think "impatiens".
● Impatiens Balsamina is easily grown in evenly moist, organically rich, well-drained soils in full sun to part shade. This species is native to southern Asia in India, Sri Lanka, Bangladesh and Myanmar and not what you would think of as a traditional impatien in the United STates. I could only find them in seed form.
● Impatiens Glandulifera is a large annual plant native to the Himalayas. Very exotic, I could only find them for sale in seed form.
Plant Impatiens from Seedlings
You will experience success quicker if you plant impatiens directly from seedlings. You can typically buy flats for as little as $8 each (24 plants), making each seedling plant quite inexpensive. The plants can then be added to window boxes, planters, or added directly into flower beds and gardens.
If instead of buying seedlings you would prefer to grow your Impatiens from seed, here's a great post: Growing Garden Seedlings Indoors
Choose to Plant your Impatiens in Well-draining, Nutrient Rich Soil
Impatiens are durable, but you still need to provide them with well-draining and nutrient rich soil. Potting soil with some compost mixed in is ideal, and always use planters and pots with proper drainage. This way, the roots stay dry and well fed.
And don't forget to …
Give your Impatiens a Little Food
You can feed your impatiens liquid plant food every few weeks to keep them thriving. This will help increase your blooms, and help your plants fill out nicely. It can also help keep their foliage nice and green. While it is generally thought that bedding impatiens do not need extra food if your soil is well prepared with nutrients prior to planting, your impatiens in pots and boxes will need to be fed.
Do not Crowd Your Impatiens
You might get the itch to fill your pots up fast, but don't overcrowd. Plant your impatiens a good 3 inches from each other so they can spread out naturally. This way, they also won't be fighting for nutrients and they will grow in nice and full.
Sun or No Sun, Impatiens Will Thrive
Impatiens are a shade loving plant, so you do not have to worry if you get less than 6 hours of full sun a day, they will do just fine in shade, and continue to bloom all season. If you do not have shade, your impatiens will still thrive (provided they are not in full sun where their flower growth may be stunted) just be sure to keep the soil moist to prevent wilting and drying.
Dead Hhead Impatiens Regularly
Impatiens are one of those plants that will do better if dead blooms are pinched off. This way the plant can put its energy into new blooms and not reviving dead ones. You do not have to get fancy, just pinch old blooms off and toss them in your compost! I use my thumbnail if they need to be "cut", but generally just pull off the flower heads (hence the term "dead head").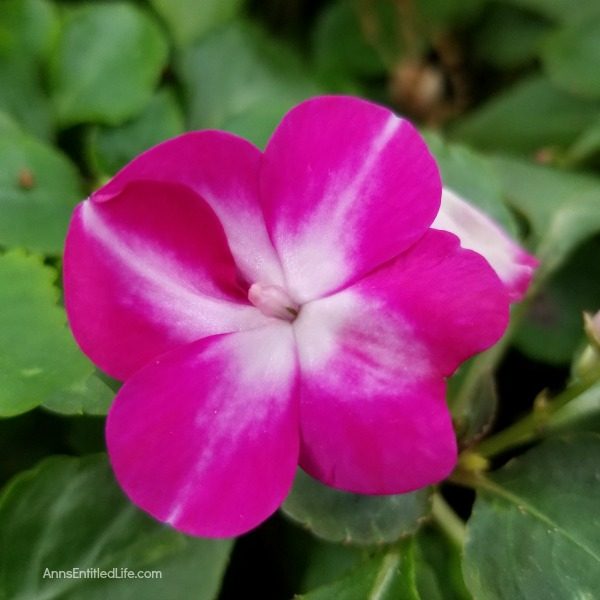 Keep the Impatiens Soil Moist
You should give your impatiens watered well, with a good 2 inches of water per week. Impatiens like moist and crumbly/loose soil, and regular waterings should help. If you notice foliage turning yellow, hold off on ading water as it can be a sign of overwatering.
Watch the Impatiens Temperature
Impatiens are an annual, so they do not like cold weather. Cover plants at night if the temperatures dip or a frost is predicted. At the end of the summer season, you will either need to bring plants in or add them to compost. They will not regrow the following season unless you replant.
Impatiens are such sweet little flowers, and a great way to add color to your yard. Try these tips for growing impatiens and see how they can help!
Need more flowers that are partial to shade? These flowers may be just what you are looking for:
● 7 Reasons to Grow Vinca Vines – Perennial Vinca vines sure do pack a garden punch. These little flowers are beautiful and mighty, thriving even in less than ideal growing conditions. If you are looking for some colorful ground cover, vinca vines may be just the plant you are looking for.
● 8 Great Reasons to Grow Hostas – Hostas do not get nearly enough attention for being the amazing plants they are. They are so simple to grow and can provide endless beauty for your yard. Aside from their easy care and beauty, there are even more reasons to grow these wonderful perennials.
● 10 Best Low Light Houseplants – If you have a darker room without a lot of natural sunlight, do not despair – you can still grow houseplants indoors! Here is a list of the 10 Best Low Light Houseplants to grow inside.
---
● Disclosure the links in this post may be affiliate links.
● For more Gardening posts on Ann's Entitled Life, click here.
● Enjoy this post? Sign up for the Ann's Entitled Life FREE Weekly Newsletter to stay connected.
---