25 new and delicious ways to use up your leftover Easter or Christmas ham with these fabulous ham casseroles, soups, sandwiches, and breakfast recipe ideas. If you have leftover ham, you will want to keep this list handy. These ham recipes are some totally tasty recipes the entire family will enjoy!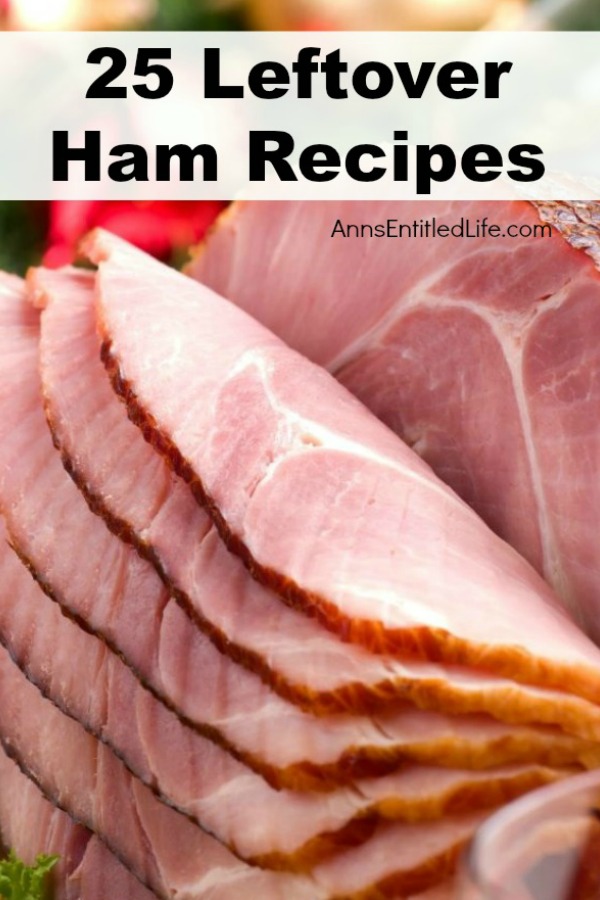 If you purchased a ham for the holidays – or anytime – you probably have leftovers. A plain ham sandwich is great, but there are only so many plain ham sandwiches a person wants to eat. I love leftovers myself, but confess that sometimes I am stumped as to what to do with a lot of the same leftovers… and that is often the case with ham. Yummy the first two days, but after that, I usually want something different. And that is where these recipes come in.
25 Leftover Ham Recipes
From easy leftover ham recipes that are freezable for later use to today's lunch and dinner meals, these 25 Leftover Ham Recipes are sure to make using up that leftover ham a breeze!
Delicious dinners are a breeze with these favorite leftover ham recipes. If you have leftover ham from a holiday dinner you are probably wondering what to do with it! These favorite recipes listed below are some of the best leftover ham recipes you will find on the internet. From an easy breakfast recipe to ham soup to egg bakes and hearty casseroles, this list of leftover ham recipes will provide plenty of delicious meals for you and your family.
Note: these recipes can be made with a classic ham, spiral ham, slow cooker ham, or whatever type of holiday ham you made for your Christmas dinner, Easter brunch, or just because you enjoy ham! Remember that many recipes can be modified to fit you and your family's taste. Invention and creation is the spice of life!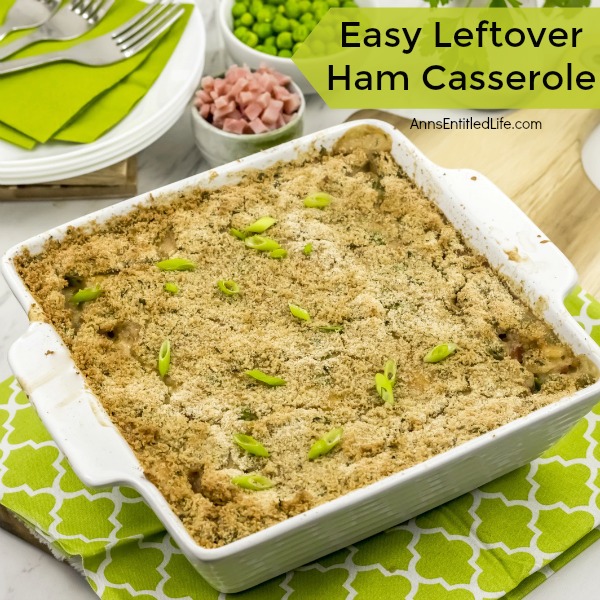 ● Apple, Ham, and Cheese Instant Pot Breakfast Casserole Recipe – This yummy instant pot breakfast recipe is perfect for cooler days. If you have leftover ham, an apple, and some cheddar cheese, you are going to want to make this outstanding Apple, Ham, and Cheese Instant Pot Breakfast Casserole Recipe for breakfast today. Yum!
● Broccoli and Ham Quiche Recipe – Use up your ham leftovers to make this easy quiche recipe! Broccoli, ham, cheese, and mushrooms combine for an easy-to-make flavorful, delicious, and satisfying Broccoli and Ham Quiche. Breakfast, lunch, or dinner, this versatile quiche dish is sure to please your entire family.
● Broccoli, Ham, and Mozzarella Baked with Eggs Recipe | Kalyn's Kitchen
Broccoli, Ham, and Mozzarella Baked with Eggs has lots of broccoli with a little ham and mozzarella baked in a delicious egg casserole! And this is a low-carb breakfast.
● Crockpot Potato Soup (Cheesy Delicious!) | On My Kids Plate
This hearty soup recipe is delicious! Packed full of tender potatoes, ham, and vegetables all mixed into a creamy base, the whole family loves this recipe. Make this cozy soup to warm you up on a cold night or rainy day.
● Cuban Ham Sandwich Recipe – An easy, quick, and simple variation of the traditional Cuban Ham Sandwich Recipe. This easy recipe is a great use of leftover ham.
● Dutch Split Pea Soup Recipe | "Cents"able Momma
Use your leftover ham, green split peas, leeks, and potatoes to make this delicious soup recipe.
● Fresh Pineapple and Shaved Ham Pizza Recipe | Farm Fresh Feasts
Thinly-sliced fresh pineapple and shaved ham atop a red sauce & mascarpone-spread honey wheat crust. It's the little touches that elevate a common pizza.
● Ham and Cabbage Soup Recipe | My Life Cookbook
This ham and cabbage soup recipe is a family favorite. It's the perfect dish to make after a big ham dinner. Use the ham bone to make a flavorful ham stock and lots of healthy vegetables to make this warming soup.
● Ham & Cheese Breakfast Casserole with Spinach | The Kitchen Is My Playground
Delicious Ham and Cheese Breakfast Casserole with Spinach gets extra flavor punch from a surprising ingredient – seasoned croutons.
● Ham and Potato Chowder Recipe | Mission to Save
Looking for a way to use leftover ham- instead of just for a sandwich? This Ham & Potato Chowder Recipe is so good. Honestly, sometimes hubs asks for me to cook a ham, just so we can use the leftovers for this soup recipe!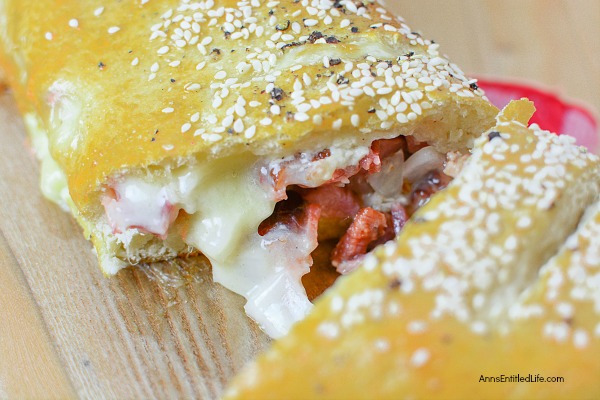 ● Ham and Swiss Bread Pudding | The Wicked Noodle
A wonderful way to use leftover ham for an entirely new, delicious meal!
● Ham and Swiss Lasagna Rolls Recipe | My Suburban Kitchen
These Ham and Swiss Lasagna Rolls are filled with ham and Swiss cheese and then covered in a cheesy white sauce! A great twist on a traditional lasagna recipe.
● Grandma's 7 Layer Salad | Savvy Mama Lifestyle
An easy spring salad! A perfect leftover ham recipe.
● Ham and Potato Casserole Recipe – This Ham and Potato Casserole Recipe is a great freezer meal! Easy to make, you will want to double the recipe making one for dinner tonight, and one to freeze for later. This leftover ham recipe is an easy, delicious dinner your entire family will enjoy.
● Ham and Cheese Stromboli Recipe – This delicious, easy to make, ham and cheese Stromboli is a great lunch, dinner, or party food. This can be cut into sandwich-size portions for a few people, or cut into inch slices as a party food to help feed a crowd.
● Ham Casserole Recipe – Got leftover ham? This is a delicious, easy-to-make leftover ham casserole recipe! This homemade ham casserole freezes very well too. If you have leftover ham, try this simple to make ham casserole for dinner tonight!
● Ham Salad Recipe – Leftover Ham? This easy-to-make ham salad recipe is perfect for sandwiches, on a bed of lettuce, or on crackers. As hors-d'oeuvres or meal, this ham salad is sure to please. This was my favorite leftover ham sandwhich as a kid, and I still make it to this day. It is a classic ham holiday leftovers recipe.
● Ham, Asparagus & Swiss Biscuit Cups | Simply Stacie
These biscuit cups stuffed with ham, asparagus, and Swiss cheese are great for breakfast or breakfast-for-dinner! Use refrigerated biscuits to save time making these fluffy egg cups with all your favorite fillings.
● 30 Minute Instant Pot Ham and Potato Soup Recipe | With a Splash of Color
This Instant Pot Ham and Potato Soup will become your next favorite meal. It's the perfect way to use up leftover ham and to bring a delicious meal to the table in less than 30 minutes.
● Ham-ocado Egg Bites | Mashup Mom
Ham-ocado Egg Bites is an easy gluten free, low carb recipe using leftover ham that your whole family is sure to love!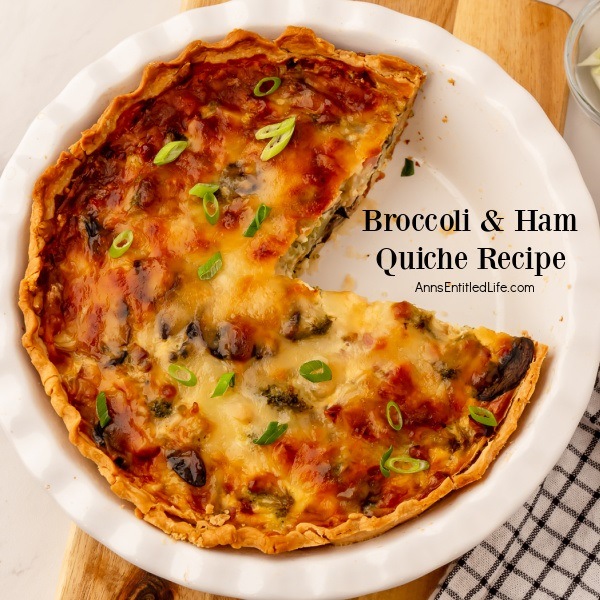 ● How to Make Ham & Beans: Frugal, Delicious Comfort Food | Medium Sized Family
With a little advance planning, you can make this easy and delicious leftover ham recipe.
● Baked Ham Penne Recipe | Miss in the Kitchen
Penne pasta, savory ham and a rich and creamy garlic – cheese sauce is a hearty and delicious meal perfect for leftover ham!
● Spinach, Ham, and Potato Frittata | Thrifty Diva
This melted cheese, spinach and ham combination makes it a winning combo the whole family will love!
● Farmhouse Ham, Swiss and Ranch Party Sliders | Plowing Through Life
Our family likes these ham and cheese sliders with brown sugar so much we couldn't stop eating them.
● Pressure Cooker Scalloped Potatoes | The Fervent Mama
Potatoes, cream, cheeses, ham, sausage, and onions, all smothered together to create the perfect bite. The perfect homestyle recipe for a dinner party, a friend, or just to tickle your own taste buds. You can't go wrong with these!
Bonus Ham Recipes:
● How to Smoke a Ham
● Roasted Raspberry Ham Recipe
---
● For more Recipes on Ann's Entitled Life, click here.
● If you enjoyed this post, be sure to sign up for the Ann's Entitled Life weekly newsletter, and never miss another article!
---