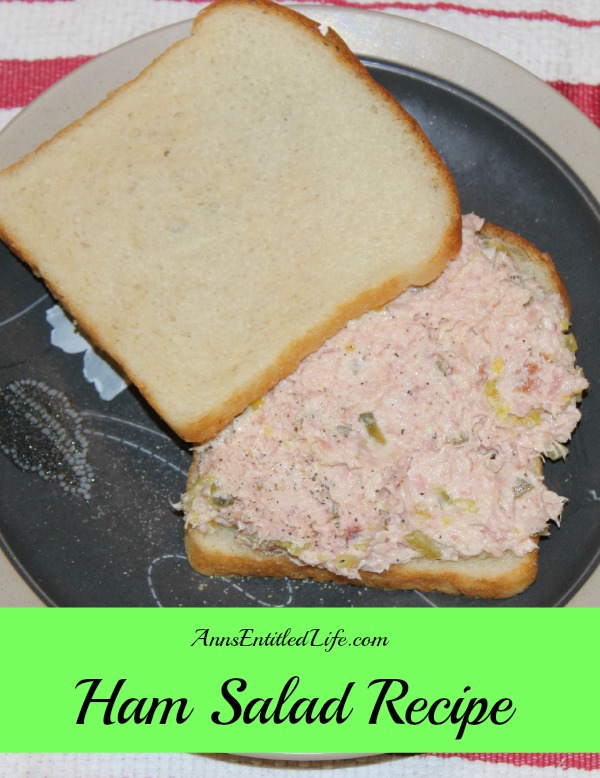 Ham Salad Recipe
By Ann
Leftover Ham? This easy to make ham salad recipe is perfect for sandwiches, on a bed of lettuce or on crackers. As an hors d'oeuvres or meal, this ham salad is sure to please.
Prep Time:10 minutes
Ingredients:
• 1 cup Ham, cooked and minced
• 1/4 cup Mayonnaise
• 1 TBSP Sweet Relish
• Pepper to Taste
• Optional: 4 Slices Bread
Directions:

• Mince enough cooked ham in a food processor (a mini-prep processor works great!) to make 1 cup of minced ham
• In a bowl, combine mayonnaise and mined ham by hand until well mixed.
• Scoop 1 tablespoon of relish and go over to the sink. Press your (clean) finger on top of the relish in the tablespoon so the excess liquid flows over into the sink.
• Mix the relish into the ham mixture.
• Pepper to taste.
• That's it, you are done! You can now use the ham for sandwiches, a meal or hors d'oeuvres on crackers or in cherry tomatoes.
• Refrigerate leftovers
Makes 1.25 cups of Ham Salad Spread
---
• For a list of all recipes available on Ann's Entitled Life, click here.
---
---
FOLLOW US ON: