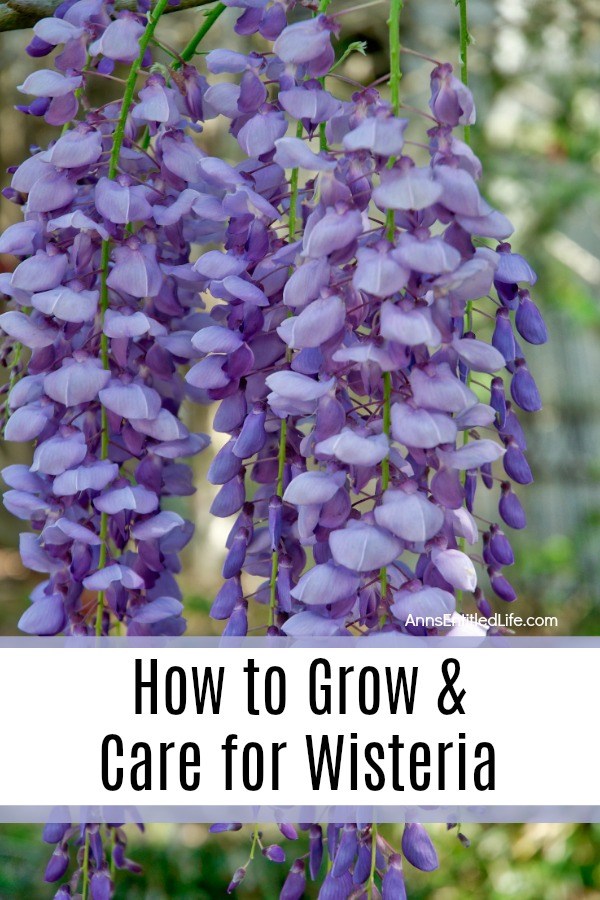 Anyone who sees wisteria in a garden will quickly appreciate its beauty. The cluster of purple, pink, blue, and/or white blooms are not only attractive to look at, they also give off a sweet fragrance that perfumes the entire garden. Growing wisteria is a fairly easy task, but does require some maintenance so it does not take over your entire yard. Here's some information on how to grow and properly care for your wisteria!
How to Grow and Care for Wisteria
Note: without proper care, your wisteria can knock down trellis and fences, kill your plants and trees, and even take over the roof of your house! Wisteria loves to climb, so you do need to care for your wisteria.
Where to Plant Wisteria
Wisteria Location Is Important
The most important factor to consider when you are planting wisteria is the location. Since wisteria is a twining vine, it requires a sturdy support and regular pruning is needed to keep everything under control. ">
An open area which is surrounded by a lawn that can easily be mowed is ideal for growing wisteria. Position your plant in a place where it can get an ample amount of sunlight, at least six hours a day.
Even though wisteria can grow in partial shade, they will not bloom, so it is essential to choose a sunny area of you want to experience its full beauty.
The ideal places where your wisteria will thrive are:
● A sunny spot with at least six hours of sunlight on a daily basis.
● An area which is easily accessible.
● Near a strong arch or pergola.
● On an aluminum fence.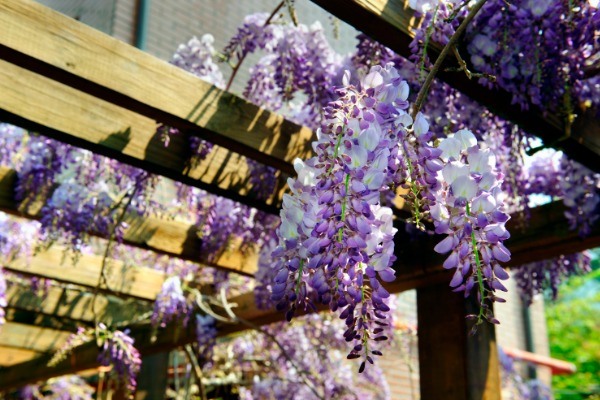 When to Plant Wisteria
The best time to plant wisteria is during spring or fall.
Since this plant does not fair well in the cold season, make sure that the area receives plenty of sunlight.
Type of Soil to Use When Planting Wisteria
Wisteria plants can do well in most types of soil. However, it requires enough nutrients to sustain it.
It can tolerate most soil conditions but the vine requires deep and rich soil that is moist.
If your soil is in poor condition, fertilize it using organic compost.
How to Plant Wisteria
Once you are ready to plant, dig a hole just as deep as the existing root ball. It should measure about 2 to 3 times as wide as the root ball.
Since wisteria grows fast and tends to spread, make sure to plant them at least ten to fifteen feet apart giving your wisteria plenty of room to grow.
How to Fertilize Wisteria
Feed your wisteria plant by giving it a layer of organic compost. To keep the moisture in and discourage weeds and pests, apply a two-inch layer of mulch around the plant.
If you are planting wisteria during autumn, you can help prepare your plant for winter by amending the soil with one to two cups of soft rock phosphate. You can also use bone meal.
How to Water Wisteria
Like many perennials, wisteria only needs regular watering during the first few weeks after planting, until they are well established. After that, you only need to water your plant during the dry periods. During dry spells or drought, water your plants at least once a week until the soil is completely moist.
How to Prune Wisteria
Pruning the vines of your wisteria plant is a game changer in making or breaking your plant.
One thing to keep in mind in planting wisteria is that it can propagate and get out of hand quickly, which is why pruning and training your plant is important.
Prune your plants in late winter. Remove at least half of the year's growth and leave a few buds.
To avoid your wisteria plants growing out of hand and to encourage a good flowering, here are some things that you can do:
● Select an upright stem and attach it to the support of your choice.
● Cut back the rampant shoots every two weeks during the summer season.
● If you notice a new wisteria sprouting, cut the vine back immediately after planting. The next year, cut the main stem or stems back to 3 feet of the previous season.
● If you want a formally trained plant, cut the side shoots back to 6 inches during summer then shorten them again to 3 buds during winter.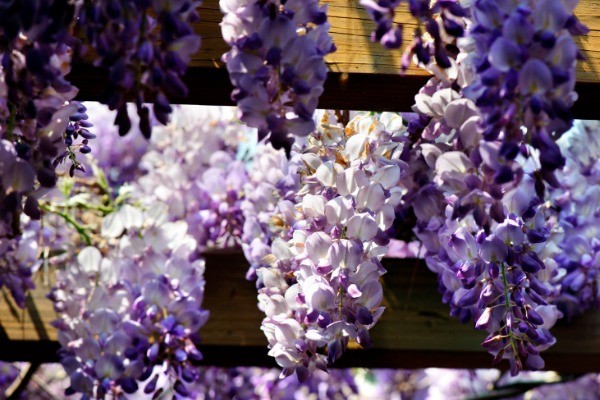 Common Problems When Planting Wisteria
Wisteria Pests and Diseases
The problems that you might face when growing wisterias are:
● Japanese beetles
● Leaf miners
● Plant scale insects
● Wingless, sucking mealybugs
● Aphids
● Leaf spots
● Crown gall
● Viral diseases
Can You Grow Wisterias In Pots Or Containers?
Yes, you can grow wisteria in pots or containers. If you want to grow wisteria in a pot, just be sure to transplant it into a larger container then what it came in when you purchased it.
As the plant grows and develops, you will need to repot it.
Growing wisteria in a pot is easy if you use a single set plant as it is easier to train just one trunk. If you have limited space and container gardening is your only option, here is how you can grow a wisteria plant in a pot or container:
1. Get a pot that is slightly larger than the original container your plant came in.
2. Install a sturdy stick or stake as tall as the plant you are planting.
3. Tie the stem of the wisteria to the support as it grows. Once the stem gets to the top of the support, remove the tip. Your plant will start to branch out in a rounded shape.
4. Every winter, trim the shoots.
What to Do If My Wisteria Will Not Bloom?
Wisterias are notorious for taking a long time to start blooming. It might take several years for a wisteria plant to become well-established enough to bloom.
Lack of sunlight, not enough water, too much water, too much nitrogen in the soil, any of these could be the culprit. The most likely cause is too much nitrogen. You can either add phosphorus to the soil to help balance it out, or you can try "root pruning".
You can try to damage about half of the roots and the bush will start flowering. Grab a shovel and drive it 8 to 10 inches into the ground and about 3 feet away from the main trunk to slice into the roots all around it. Just be sure to stay at least 3 feet away from the trunk so you don't kill it.
Hopefully that should be enough to cause it to start blooming.
If you choose the right location and care for your wisteria correctly, you can keep the plant under control. Once you see your plants in full bloom, you will revel in the beauty your wisteria plants will provide.
Like garden flowers? You may want to read up on caring for some of these great flowers for your garden:
● How to Grow and Care for Bromeliads – Bromeliad plant care and growth; how to grow and care for Bromeliads! Learn how to take care of your bromeliad plant and how to maintain a long lasting collection of bromeliad plants with fairly low maintenance using the tips in this post.
● Impatiens Flowers: Tips for Growing Impatiens – Impatiens are the perfect plant for those limited on space, sun, and time. They are one of the most forgiving plants you can grow, and can quickly add a pop to color to even the smallest of growing spaces. If you are curious about growing impatiens, look below at some helpful growing tips. You will find that these tips for growing impatiens can help you achieve the yard of your dreams!
● 10 Tips for Growing Daylilies – If you are a gardener on a budget, daylilies are one of the best plants you can grow. A small investment in daylilies will give you blooms for many years to come, and these quick growing plants can fill your yard up fast. Daylilies are fairly simple to grow too. Look below at some helpful tips for growing daylilies, and see why this is a plant you should add to your yard this year!
---
● Disclosure the links in this post may be affiliate links.
● For more Gardening posts on Ann's Entitled Life, click here.
● Enjoy this post? Sign up for the Ann's Entitled Life FREE Weekly Newsletter to stay connected.
---