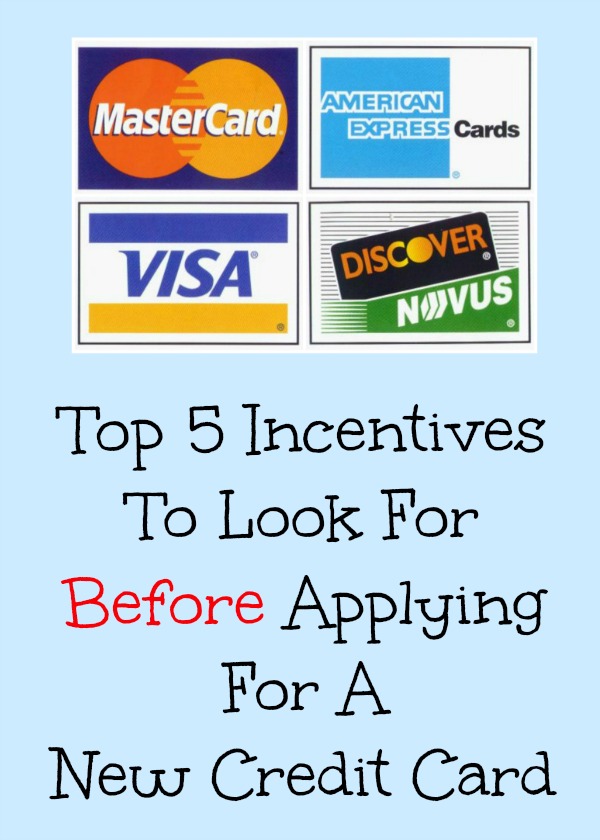 Top 5 Incentives To Look For Before Applying For A New Credit Card
Looking for a new credit card option? Just beginning to establish credit? Here are the top 5 incentives offered by credit card companies to look for before applying for a new credit card.
A change in credit score status leads many credit card offerings to your mailbox. Similar to receiving these offers while in college, you may feel overwhelmed by your choices. However, don't be tempted to take any and all offers on the table just because they appear to have a low-interest rate or the rewards listed are high. Also, don't rush into the application because you don't want the great deal to expire. Take your time and review these top five incentives of a credit card offer before you apply.
1. A Balance Transfer Offer:
If you have a current balance on another credit card, pay special attention to any balance transfer offers. Of course, you'll need to take into account more of the following information, but 0% interest rate cards are popular among many creditors to lure in new customers. Be sure to calculate the total amount you would transfer over and divide that by the number of months they are offering you for the introductory rate. If you can comfortably make those payments, that's a good decision to make.
2. ATM Withdrawal Fees
Many credit card companies realize that consumers use their cash advance options rather than taking other high-risk loans. This is perfect for emergency situations. So instead of punishing their consumers with cash withdrawal fees and ATM fees they are networking with other financial institutions to reduce or waive ATM fees. Verify if some of these cash stations are within your area.
3. Loyalty Rewards and Points
Be careful in choosing your credit card based on the rewards they offer you. An airline reward program is only useful for a frequent flyer. If you drive to your vacation and business destinations, you want to find one with gas rewards. Or perhaps you travel frequently and stay overnight in hotels a lot; a hotel reward program may be just what you need. If looking for a rewards program, choose one that best fits your lifestyle.
4. Cash Back Incentives
There are a few types of cash back incentive programs that credit card companies offer. Be sure to examine each offer to determine which will bring you the most value. Common cash back incentives include:
● A one-time bonus after spending a predetermined amount of purchases
● Unlimited cash back on any purchase you make
● Unlimited cash back on rotating categories, such as fuel, groceries, and travel
Whatever you choose, do ensure you understand if there is a limit to your cash back rewards or if the cash back expires. For many of these offers, you can cash this reward out or use it towards your monthly statement.
5. Potential for Increase in Credit Limit
Some credit card companies offer to increase your credit limit after three months to a year of on-time payments. This is worthwhile to have if most of your credit limit offers are all the same dollar amount.
As you can see, there is more to a credit card offer than what the best APR is. So take your time in selecting the best one for you and not applying for each one that comes in. Applying for too many credit cards at one time is alarming to creditors and makes you appear to be desperate for credit.
What incentives do you look for before applying for a new credit card?
---
● What To Do If Your Credit Card Information Is Stolen (It happened to me!)
● For more Library Topics on Ann's Entitled Life, click here.
● For more Holiday posts on Ann's Entitled Life, click here.
● If you enjoyed this post, be sure to sign up for the Ann's Entitled Life weekly newsletter, and never miss another article!
---