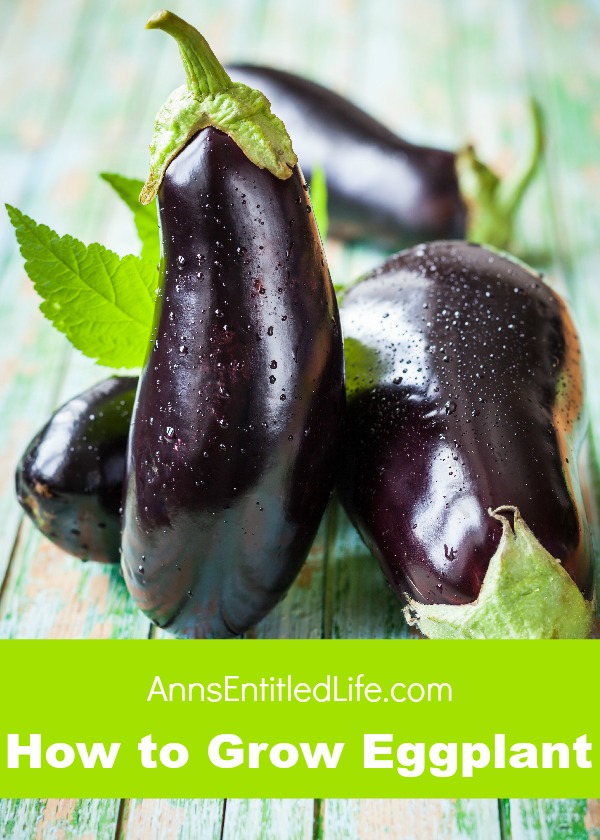 How to Grow Eggplant
Eggplant comes in many different varieties and colors. Some of them even bear fruit. No matter what type of eggplant you choose to grow, there are several things that you should consider before making a decision on what type you should plant.
Here are some tips for growing eggplant
● Weather Conditions – Eggplants thrive in areas that are sunny and warm. If you are located in an area that has long summer days, then planting this type of vegetable would be a good choice.
● Space Allotment – Another thing that you should take into consideration before choosing an eggplant variety to plant, and that is your space allotment. If you plan on growing these vegetables, you need at least 24 inches between each plant. The area in which you choose to plant should not have had any other types of nightshade vegetables planted in the same location for over two years.
● Choosing the Type – Once you have made a decision where you want to plant these vegetables, it is time to choose the type. Long and oval-shaped eggplants are good choices where you have ample space. If you lack area size, there are ones that grow faster, are smaller in size, and yield less. These varieties grow very well in containers as well. If you are looking for an eggplant that grows fast, then choose the Japanese variety. These grow quick and are long and slender.
● Starting from Seeds – Timing your seed growth is also important for you to be successful. You should start your seeds approximately six weeks before the last frost and after your peppers and tomatoes. The ideal temperature for sprouting seeds is 80 degrees Fahrenheit. While sprouting seeds, it is vital that they receive 14-16 hours of fluorescent light each day.
● Transplanting Your Seeds – Once you see that your seeds have sprouted and have grown three leaves, it is now time to transplant them. You should transplant them into 4-inch containers.
● Fertilizing – About 2 weeks before you plan on planting your vegetable plants, it is important that you get the garden bed ready. Remove any old deadfall, loosen the soil, and add in some soil along with some organic fertilizer. Water the soil well after you have added in the new soil and fertilizer.
● Planting Your Eggplant – Once your plants have been growing for about 8 weeks, it is now time to plant them. You should plant one plant per person as it will yield about 5 pounds per plant. Remember to space them 24 inches apart to encourage growth and eliminate overcrowding.
Row covers should be used to protect the young plants from insect infestation. These row covers can be removed once they are 14 inches in height. Once the covers are removed the plant can be pollinated.
● Harvesting Your Eggplant – Once the fruits from your eggplant have reached full size, it is now time to harvest them. Use the thumbprint test to help you to decide if they are ripe for picking. To do this, choose a fruit that you think is ripe, leave it on the vine and press your thumb firmly into the flesh. Remove your thumb after a minute or so. It should bounce back quickly. Those that are under-ripe will not take a thumbprint. Over-ripe ones will be left with a bruise.
● When removing the fruit from the plant, use pruning shears. Cut them above their cap. In other words, leave the cap intact.
Do you have any tips for growing eggplant?
Starting a garden? Here are a few other gardening posts you might enjoy:
● Best places to buy gardening seeds – if you are starting from scratch, these are the best places to go!
● Growing gardening seedlings indoors – how to get those seeds started so they will be ready to plant in the ground or pots as soon as your growing season allows.
● 11 Gardening tips for beginners – we all have t start somewhere!
---
● Disclosure: the links in this post may be affiliate links.
● For more Gardening posts on Ann's Entitled Life, click here.
● If you enjoyed this post, be sure to sign up for the Ann's Entitled Life weekly newsletter, and never miss another article!
---