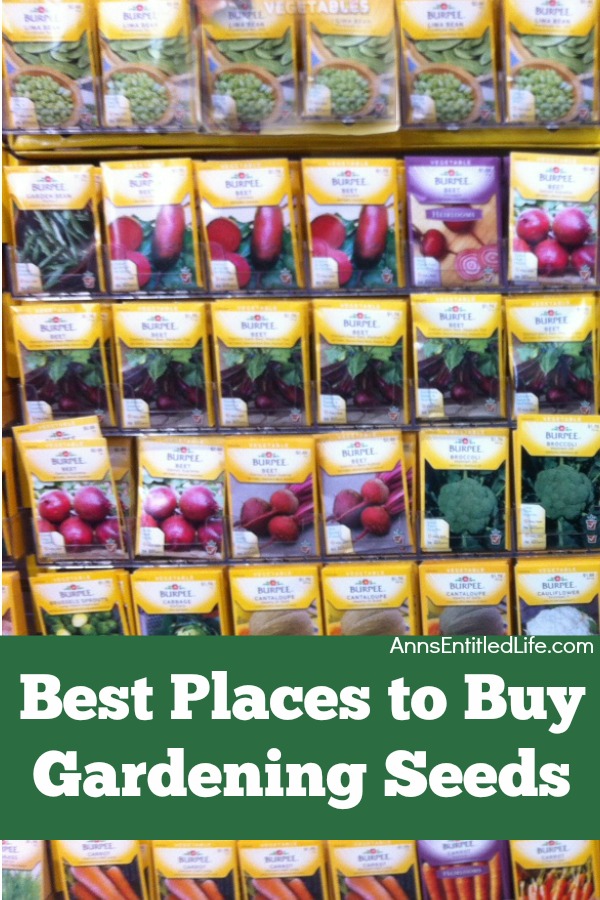 This is a list of options for the purchase of gardening seeds locally, as well as the online purchase of your vegetable seeds, flower seeds, and herb seeds.
Best Places to Buy Gardening Seeds
It is that time of year! Time to start growing your garden seedlings for spring planting. You may have already decided what you are going to plant, and now are wondering where to get your seeds. If you are wondering where to buy gardening seeds, I am here to help! Below are a number of options for the local purchase or online purchase of your vegetable seeds, flower seeds, and herb seeds. I did break down where you can get good organic seeds online.
First, an explanation of the types of seeds available for purchase:
● Non-GMO Seeds: As far as I know, you are only able to purchase GMO seeds if you are a farmer. As a regular gardening consumer, you are buying non-GMO seeds online and at the local garden center (if you worry it is possible to have some contamination, or some money going to a GMO company some seeds are labeled non-GMO as an assurance).
For those that are looking for a definition of GMO seeds (because we have heard it a lot the last few years), it is a genetically modified organism that is the result of a laboratory process where genes from the DNA of one species are extracted and artificially forced into the genes of an unrelated plant or animal. Here is more information about GMO if you are curious. And this Popular Science article tells you how to do it!
● Hybrid seeds – a hybrid seed is a seed produced by cross-pollinating two (or more) plants. An F1 hybrid is a variety that has been produced by the carefully controlled cross-breeding of two-parent plants specially chosen for their different desirable qualities such as plant type, disease resistance, uniformity, crop yield, unique color, and so on. Hybrid seeds can also be produced organically (by insect, bird, wind, humans).
● Open-pollinated seeds – when pollination occurs by insect, bird or wind.
● Heirloom seeds – is the plant heritage. They generally have been passed down from generation to generation (thought of as 50+ years old). An heirloom variety is open-pollinated, but not all open-pollinated plants are heirloom varieties.
● Organic seeds – organic seeds are harvested from plants grown without synthetic chemical fertilizers, pesticides, or fungicides. They, therefore have no residues from those chemicals.
You will need to decide what type of seeds you want to plant. If you would like to convert to an organic garden, you would purchase organic seeds. Here are some tips for how to convert to an organic garden.
If you are planning a theme garden, such as a patio garden or perhaps a salsa garden, you have more options.
Many people are all about heirloom tomatoes, but I have to tell you, blight took such a toll on my heirloom tomatoes a few years ago that I had to switch to a hybrid tomato because the variety was heartier. Last year, we went with cherry tomatoes.
Just be aware that there are pros and cons to each type of seed. Heartiness, taste, ease of growth as well as your local climate, all should factor into what type of plants and seeds you grow in your garden.
Where to buy gardening seeds locally:
● Home Depot – make sure you sign up for the Home Depot Gardening Club for coupons and discounts.
● Lowes Garden Center – sign up for the Lowes Garden Club
● Your local Garden Nursery!! You can also get expert advice from the Master Gardener on hand to help you determine what fruits, vegetables, and herbs will grow best in your climate and local soil (once transferred).
● Your local Gardening Co-op There are not too many nationally, but they are growing. (haha, get it? they are gro… er, nevermind)
● Ask at your local CSA! – there are specific seed and plant CSAs, as well as the everyday variety community supported agriculture farms that may/may not sell you seeds.
Where to buy gardening seeds online:
These are some of the foremost names in online gardening seeds. Many of these places online sell Non-Hybrid and Organic seeds- vegetable, herb, and flower seeds.
● Burpee – they definitely have a lot of product and have been around a long, long time.
● R.H. Shumway – specializes in heirloom varieties of vegetable and flowers. Many of the farm seed were developed in the 1940s and 1950s.
● Rare Seeds – they offer over 1850 fine varieties of seeds, some of which you have probably never heard of! They claim to be America's top source for heirloom seeds.
● Seed Savers – a non-profit organization dedicated to the preservation of heirloom vegetables, flowers and fruits. They sell Non-GMO Vegetable Seeds, Heirloom Vegetable Seeds, Organic Vegetable Seeds.
Seed Savers Exchange is a tax-exempt 501(c)3 nonprofit organization dedicated to the preservation of heirloom seeds.
They offer membership and membership benefits.
● Johnny's Seeds – one of the nine original signers of the Safe Seed Pledge.
This is the safe seed pledge:
Agriculture and seeds provide the basis upon which our lives depend. We must protect this foundation as a safe and genetically stable source for future generations. For the benefit of all farmers, gardeners, and consumers who want an alternative,
We pledge that we do not knowingly buy, sell, or trade genetically-engineered seeds or plants.
The mechanical transfer of genetic material outside of natural reproductive methods and between genera, families, or kingdoms, poses great biological risks as well as economic, political, and cultural threats. We feel that genetically engineered varieties have been insufficiently tested prior to public release. More research and testing are necessary to further assess the potential risks of genetically engineered seeds. Further, we wish to support agricultural progress that leads to healthier soils, genetically diverse agricultural ecosystems, and ultimately healthy people and communities.
Johnny's Seeds sellsCertified Organic Seeds, F1 Hybrid Seeds (seeds that are a cross, not an open pollinated strain), Open-Pollinated & Heirloom Seeds.
If you are looking for more seed catalog places to buy from (it is not a recommendation, it is merely a list), The Farmer's Almanac has a pretty extensive list here.
● Safe Planting Times in Your Area
● How to Grow Garden Seeds
Where is your favorite place to purchase gardening seeds?
---
● For more Gardening posts on Ann's Entitled Life, click here.
● If you enjoyed this post, be sure to sign up for the Ann's Entitled Life weekly newsletter, and never miss another article!
---