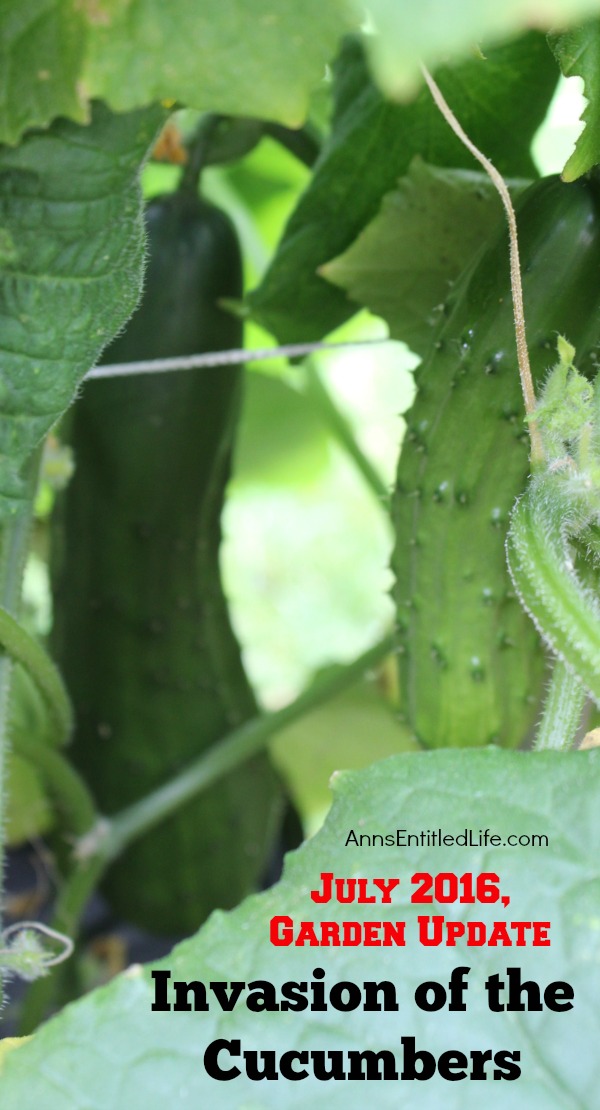 It is time for a mid-summer gardening update!
As I mentioned previously, Hubby and I are looking for a new home. That means I wasn't going to go bonkers with the gardens this year just in case we actually did find something, and had to move. I didn't want to begin growing plants and then leave them to languish or die. That meant I was confining the 2016 gardening to containers and the perennials that were already in the ground.
Summer in Western New York has been hot and rain-free. By hot I mean a LOT of 90s. That isn't usual for this area. There are plenty of years we never hit 90°, and I am very happy about that. We all start whining when it hits 85° around here. If winter runs from the end of November through March wellllllll summer better be super awesome.
And it usually is.
High 70s to low 80s are the normal daytime highs in the area in the summer months. When I am telling you I have traveled all over the United States and never found better weather from May – October anywhere in the US, I am not kidding. Summer here is fantastic!
We have been in "near drought" this year. The snow stopped in February, and there wasn't much of the white stuff before that this winter. That isn't great for ground-water levels. When May rolled around, our lawns were brown, not green. That is highly unusual. I mean highly unusual. There are plenty of years where the lawns never brown here in August – greening up in spring is nearly unheard of! That just does not happen in this area.
So, with the lack of rain and high heat you'd think the local gardens wouldn't be producing, right?
Far from it.
Everyone I know with a backyard garden is having a banner year! A few things aren't producing well… my blackberries for example. They look terrible and have no fruit. Hubby and I went for a ride for raspberries last month and I asked the guy where we purchased (we have bought at this farm stand before) when his blackberries were going to be ready. He told me "next year". LOL Oh well, at least I felt a bit better knowing that my blackberries were not alone in having a rough year. In the meantime, Hubby and I thoroughly enjoyed that fruit farm's raspberries and blueberries!!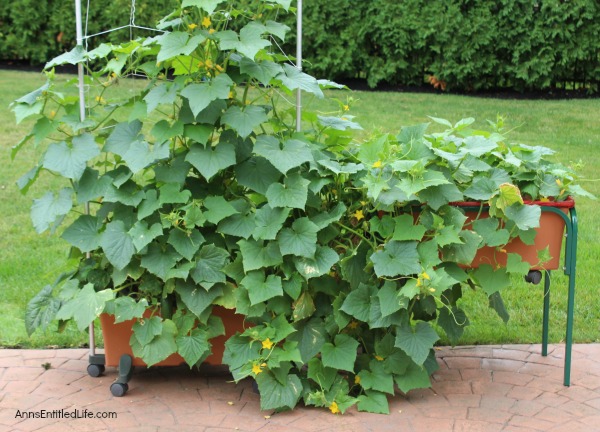 The front of two earth boxes. The cukes have taken over!
Let's start with this post's name… invasion of the cucumbers.
Since Hubby and I winter in Florida, I need to purchase my plants ground-ready at the local nursery. I go to the same place every year. This year I decided to buy 9 bean plants (we love beans!) and 3 cucumber plants. Wellllll someone mis-marked something at the nursery. I ended up with 3 yellow beans, 2 green beans and 7 cucumber plants!
That's a whole lotta cucumbers.
I planted in my earth boxes as normal. We had yellow beans early, and they really produced. The cucumbers have done their level best to crowd out those yellow beans the last few weeks, but we are still getting a few every day.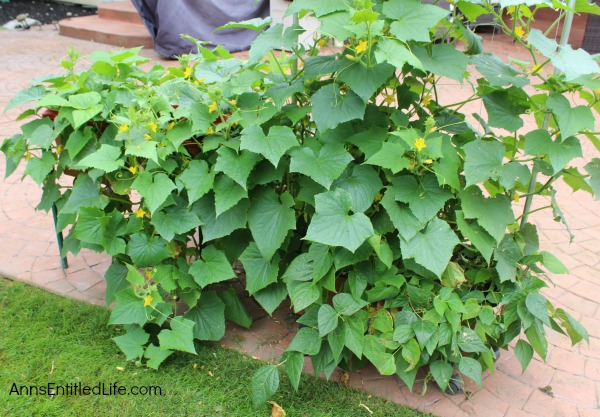 The back of two earth boxes. Tons of cucumber flowers!
The green beans I planted in the earth box with the stand ended up ended up being two green beans and four cucumber plants (this was the mis-marked 6 pack). I did get some green beans from those two plants, but not many … those cukes really like their space!!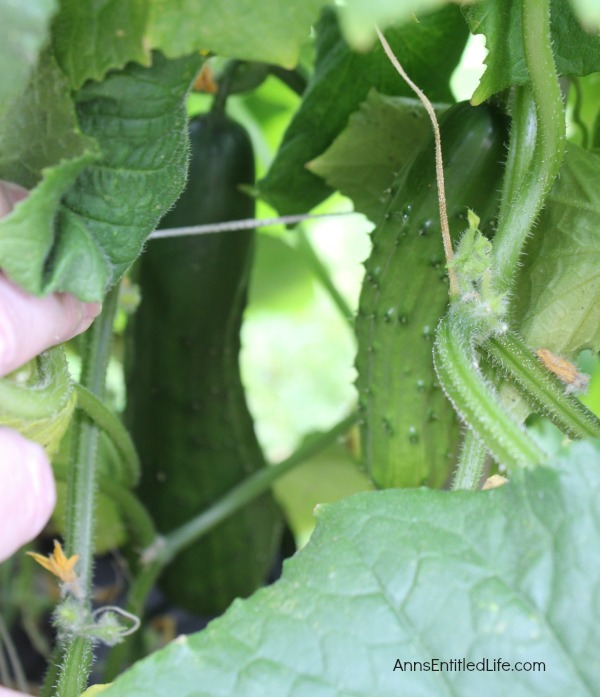 The cucumbers, they hide!
To date we have harvested about 25 cucumbers. There are at least 25 more little ones growing outside with at least 100 more blooms. We are over-run with cucumbers, and it is only going to get worse. I've made cucumber caprese salad, cucumber salad and freezer pickles. We've given away cucumbers. It is the never-ending cucumber yield.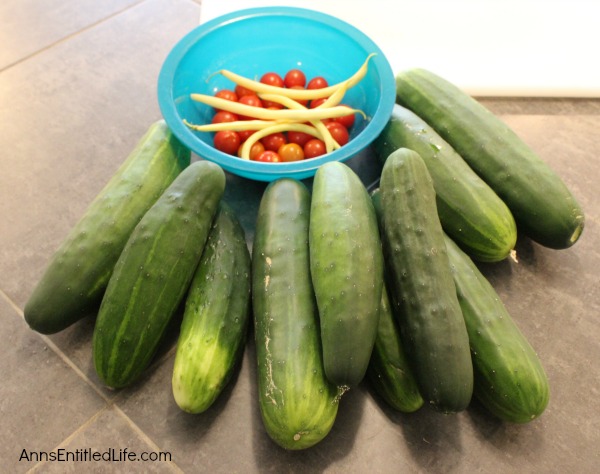 Those were picked Friday and Saturday. Hubby went out Friday morning and brought some in, I went out Friday afternoon and brought more in. Every day we go outside and see how many more cucumbers we have! And we can only give so many away before people will start ducking us.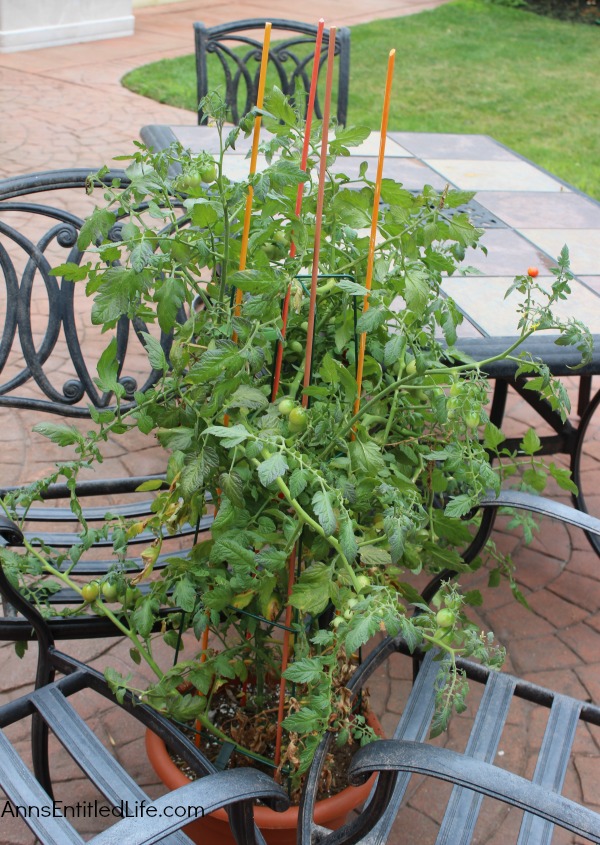 We have a single cherry tomato plant. It is so top heavy we had to get out some snow plow sticks to support the cage, and then support the entire base with the chairs from the outdoor table set. We tried a heavier pot with chipped marble, but it still fell over. Next year I will just plant it in the heavier pot to begin with, and maybe hope for a lesser tomato yield? There have also been a ton of cherry tomatoes!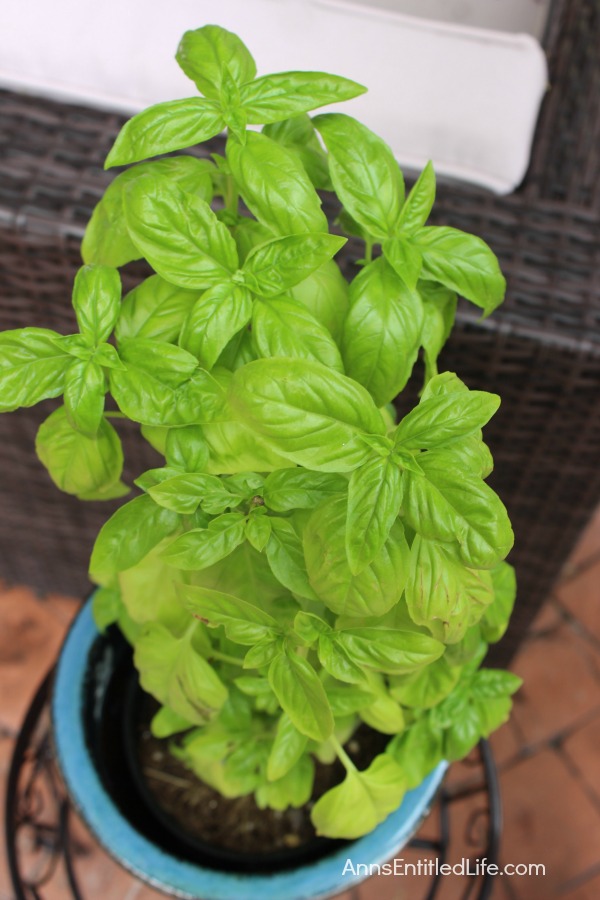 Hubby bought one basil plant, and that has pretty much been kept in check. I will end up drying whatever is not used fresh.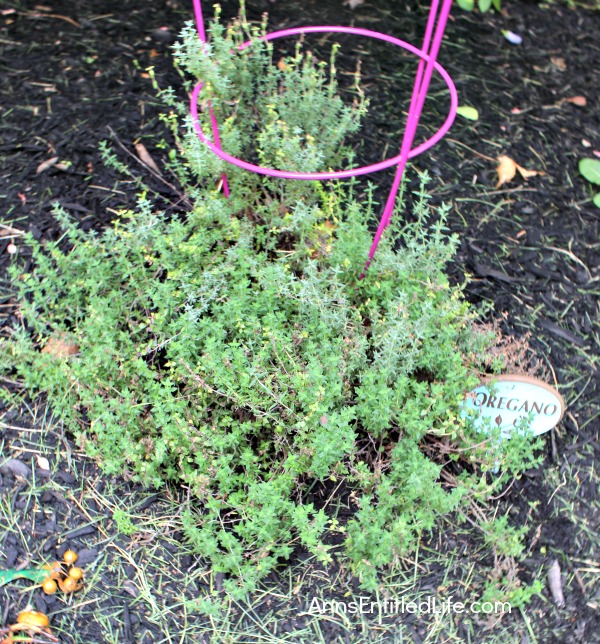 The oregano bolted early (due to the heat).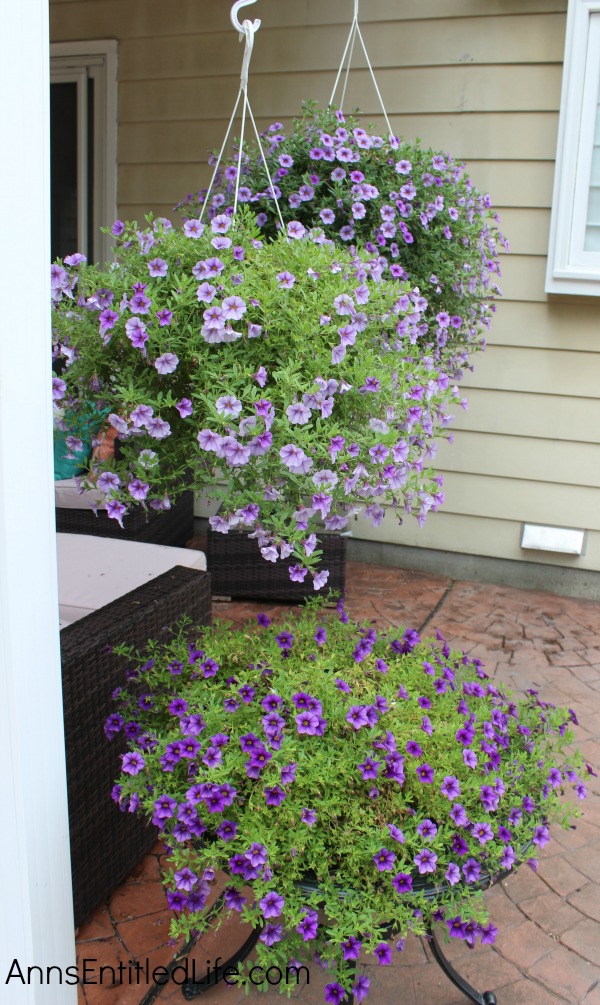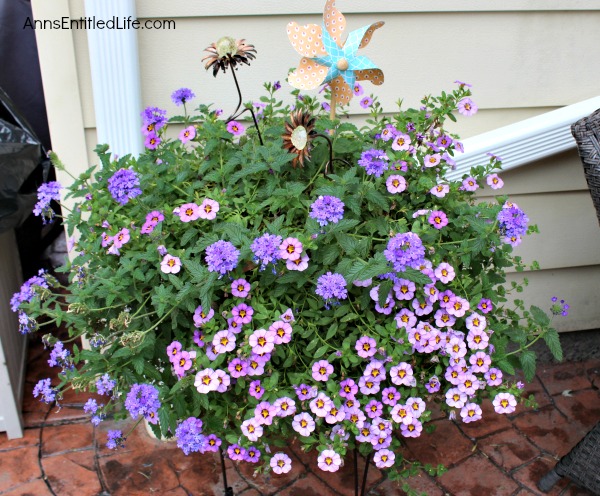 The patio flowers are doing very well.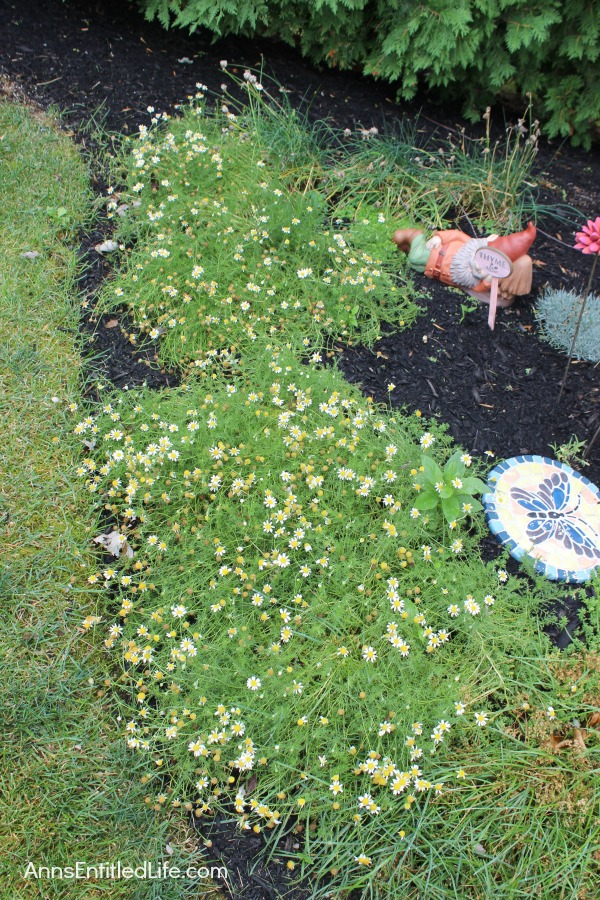 The chamomile is also going crazy!! Even if I don't harvest the flowers, I just love the smell when I go near that area of the backyard.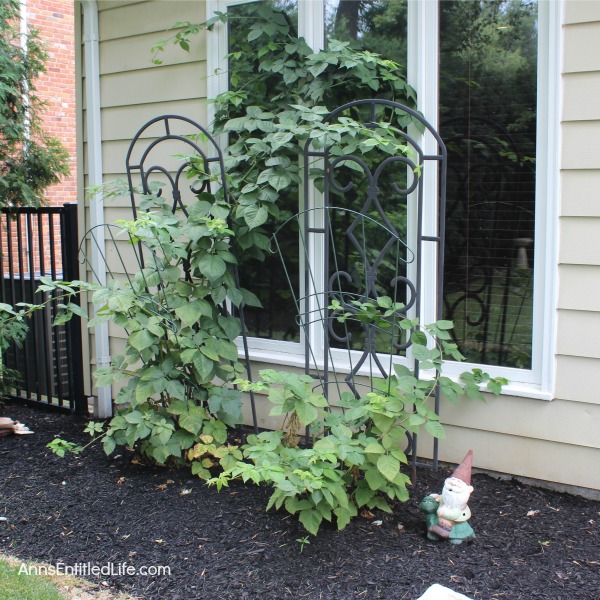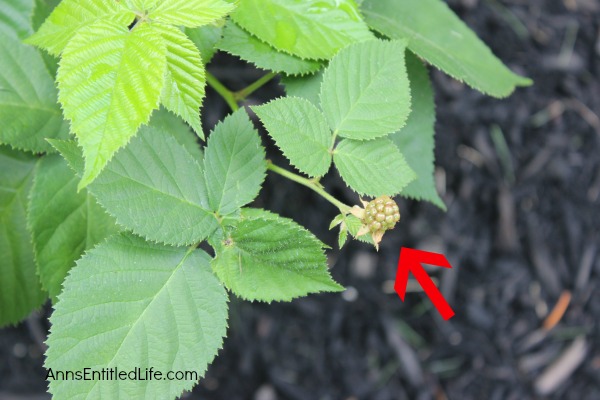 Those are the sad blackberry bushes with one whole piece of fruit. I really hope what caused the blackberries to not produce this year (the weather? a fungus (even though I don't see one)?) rectifies itself next year. I am considering having Hubby dig them up and put them on his hunting land near the apple and pear trees (but not too near). He said there are wild grape vines there too. On the other hand, one of his garages (yes, I wrote "one of" – Hubby has a lot of junk) has raspberries growing in the yard, so maybe that would be a better choice?
All-in-all the growing season is moving along very well. While I planted little, my perennials – sans blackberries – are doing as well as I could hope during this hot, dry summer.
How is your garden growing this year?
---
● Disclosure: the links in this post may be affiliate links.
● If you enjoyed this post, be sure to sign up for the Ann's Entitled Life weekly newsletter, and never miss another article!
● For more Garden posts on Ann's Entitled Life, click here.
---