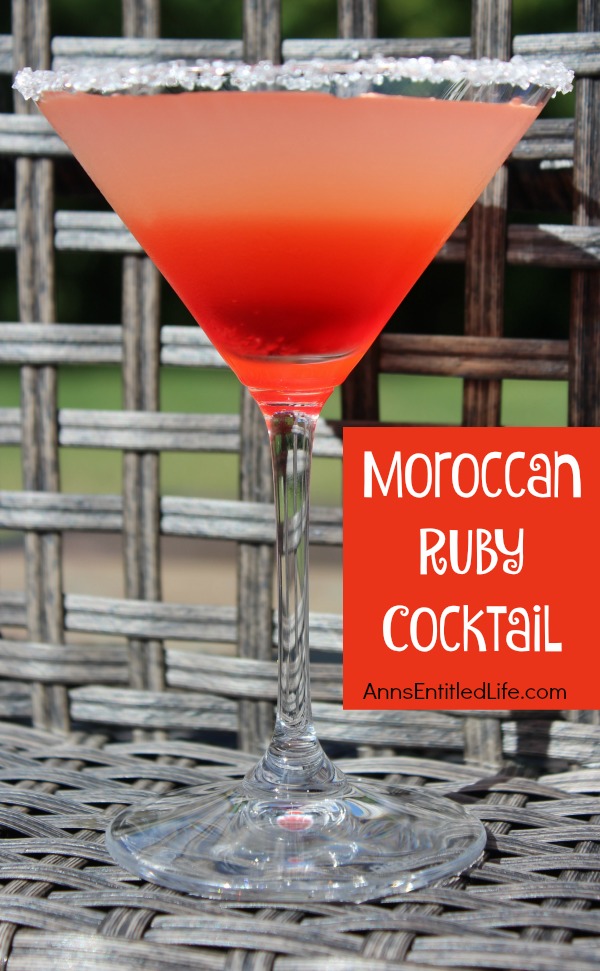 Moroccan Ruby Cocktail Recipe
By Ann
A flavor explosion on your tongue, this Moroccan Ruby Cocktail is citrus-y, sweet, and totally delicious. Combining grapefruit and cranberry, the Moroccan Ruby is an excellent year-round cocktail to serve at a party, get-together, or as a special treat.
Prep Time: 3 minutes
Cook Time: 0 Minutes
Ingredients:
• ¼ tsp Coarse Sugar
• .5oz Simple Syrup
• Ice
• 2oz Ruby Red Vodka
• 1.5oz Pink Grapefruit Juice
• 1oz Cranberry Juice
• Splash Maraschino Cherry Juice
Directions:

• Rim a martini glass with coarse sugar using simple syrup for the wet.
• Place 5-6 ice cubes in a cocktail shaker.
• Combine ruby red vodka, pink grapefruit juice, simple syrup and cranberry juice in the shaker; shake 8-10 times.
• Strain into prepared martini glass.
• Add a splash of maraschino cherry juice.
• Serve.
• Makes 1 Moroccan Ruby Cocktail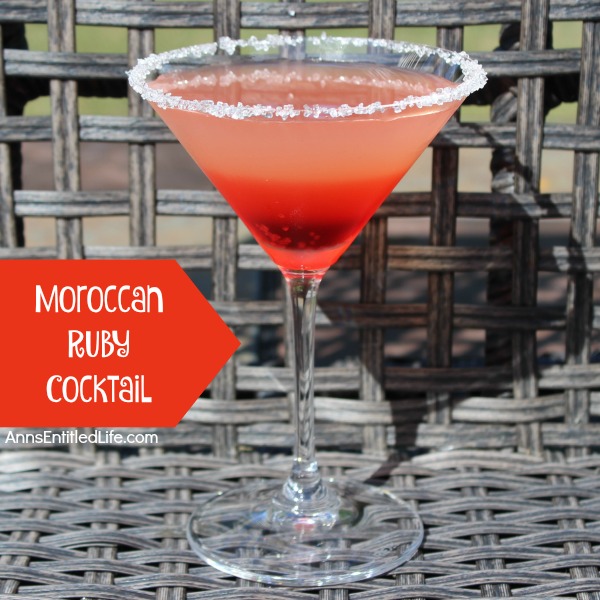 Note: You can stir the drink if you like to disperse the maraschino cherry juice. It actually tastes more uniform if you do (instead of very sweet for the last sip). The maraschino cherry juice will sink to the bottom though, and the drink looks beautiful that way!
OMG, Hubby and I were experimenting with this one. He had purchased this drink during a night out last month. We decided to try and replicate or improve upon it at home. While experimenting, we each drank at least two of these (in some combination of measurement). About 45 minutes later they hit me like a ton of bricks! Be wary of this one. It packs a greater punch than you might think when your are consuming it.
A few days later when I made a few more Moroccan Ruby cocktails to take photographs, I knew enough to not drink more than one!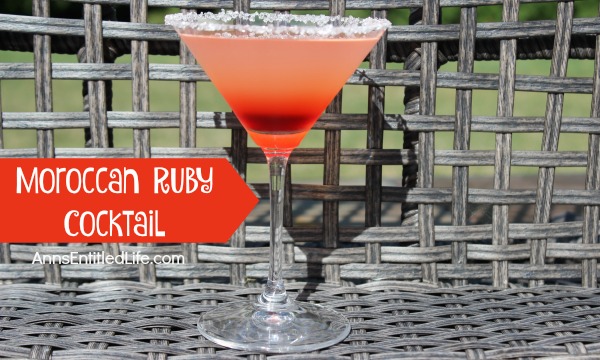 Moroccan Ruby Cocktail Mise en Place:
• Martini Glass

• Measuring Spoons

• Cocktail Shaker

• Jigger

• Cocktail Strainer

• Cocktail Pick
As always, drink responsibly and please don't drink and drive.
• To print the Moroccan Ruby Cocktail recipe, click here.
---
• Disclosure: the links in this post may be affiliate links.
• If you enjoyed this post, be sure to sign up for the Ann's Entitled Life weekly newsletter, and never miss another article!
• For more liquor and wine cocktail recipes, tips and reviews, click here.
• Ultimate Guide to Non-Alcoholic Bar Basics
---
---
FOLLOW US ON: