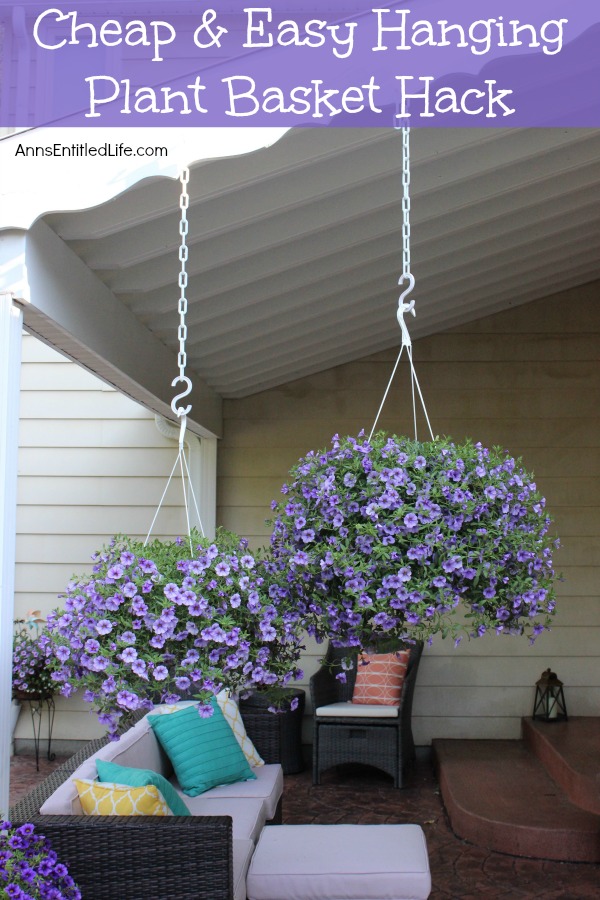 This unbelievably easy, inexpensive, hanging plant basket hack will change the way you look at your outdoor plants and decor. Easy watering access and the ability to stagger your plants for optimal visual enjoyment are just two of the benefits. This no rust, no fuss hack is so simple, you will wonder why you had not tried it before!
We have a covered back patio off our kitchen slider. It isn't large, probably 15'x12′. When we moved in, the only thing I liked about the outdoor gardens and hardscape was the old windows and 3 foot high walls that defined the area. Well, when Hubby had the patio replaced, there was no way to save that enclosure. We ended up dressing up the posts and keeping the metal awning.
Fast forward 10 years…
Every year I tried something new with my hanging baskets to make them hang lower so I could reach them for watering without having to switch the hose nozzle for the long watering nozzle. Inevitably the metal chain rusted or clanked or the twine wore through or things just looked unappealing.
But this year while standing in the local hardware store, Hubby showed me some plastic linked chain and asked if I was interested.
Was I interested!? Oh yeah!!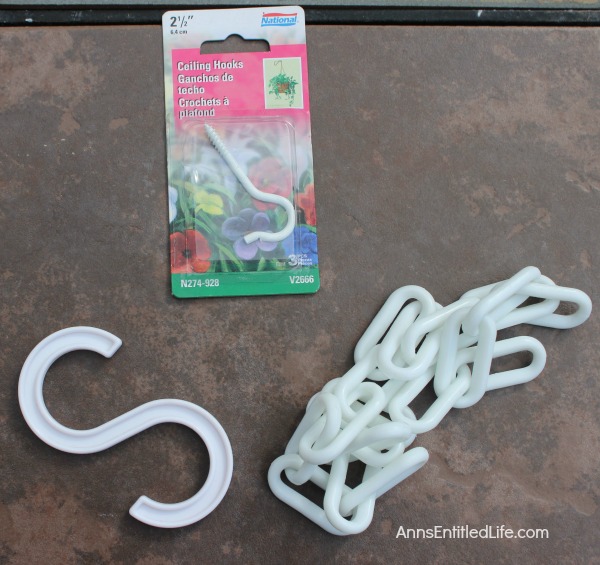 We used:
● Plastic Chain
● Hook to screw into our board
● S hook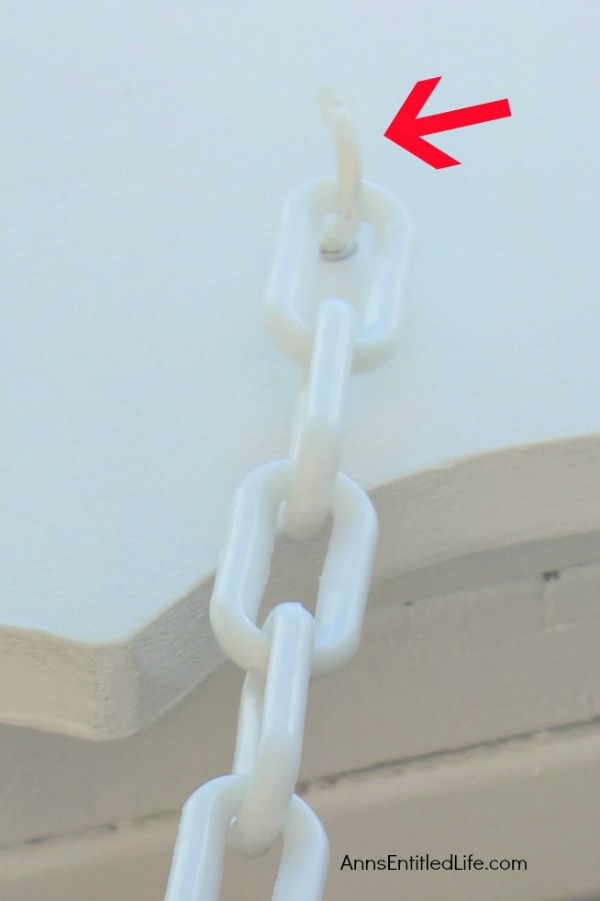 We (that is the royal "we") started by Hubby climbing a ladder and inserting a hook in the board surrounding our outdoor roof. He screwed in one and then hung the chain. I waited to do the second one until I could see how far apart they would need to be to touch, but not crowd.
This plastic link chain weighs next to nothing, yet supports my hanging baskets (which are now about 30% larger than in the photos) even when fully wet from daily watering. There is no clanking, no rusting; they are fabulous!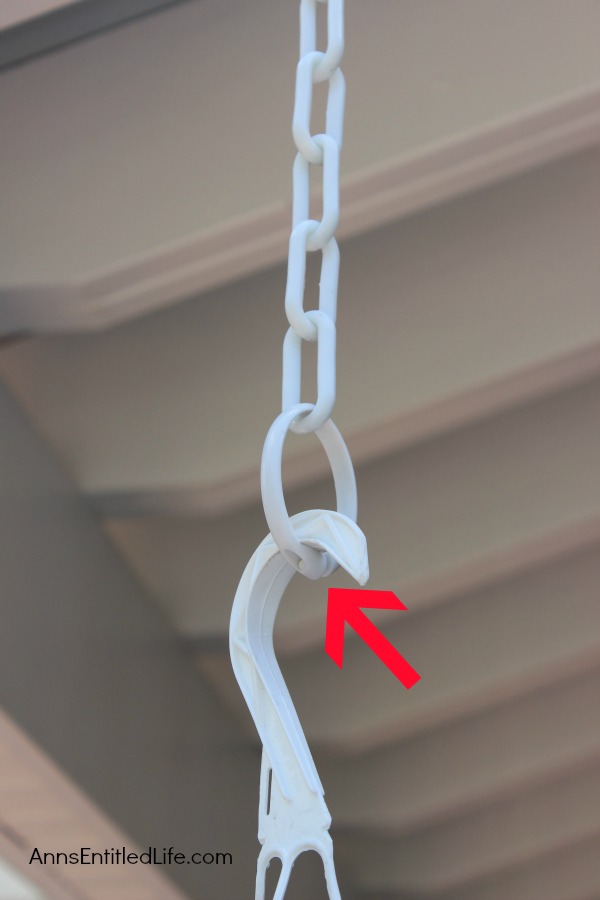 The only issue was I didn't feel "safe" with sticking the hook from my hanging basket through the small bottom loop. It technically did go at least most of the way through, but we live in a very windy area and the last thing I wanted to do was find my baskets smashed on the ground in the morning.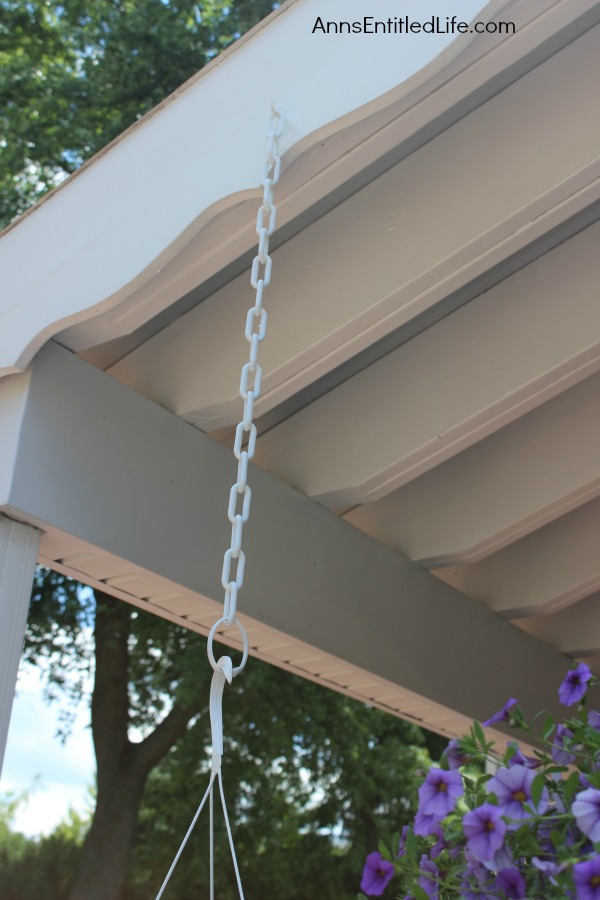 Hubby went to the dollar store and picked up white plastic bathroom rings.
Ohhhhhhhhh so close!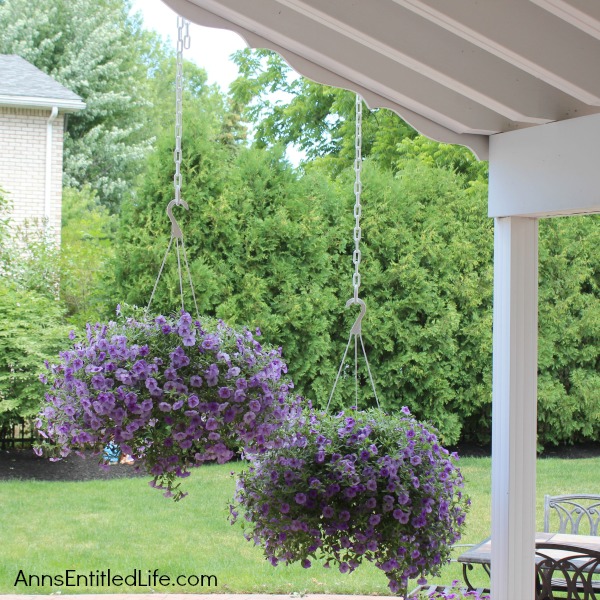 I think with a smaller basket they would be fine. (The photo above shows my flowers when they were smaller.) When my hanging baskets were smaller, they didn't pull as much. As the hanging basket flowers grew, that cheapy ring stretched until one finally broke. I "think" a better quality (heavier) ring would work, although I don't know that for certain. And so would smaller hanging baskets. And possibly gorilla glue, but then if you glued that ring in place you'd have to dump the chain later.
I looked for a white carabiner all over the place! I finally found one here, but decided against ordering since I only needed two.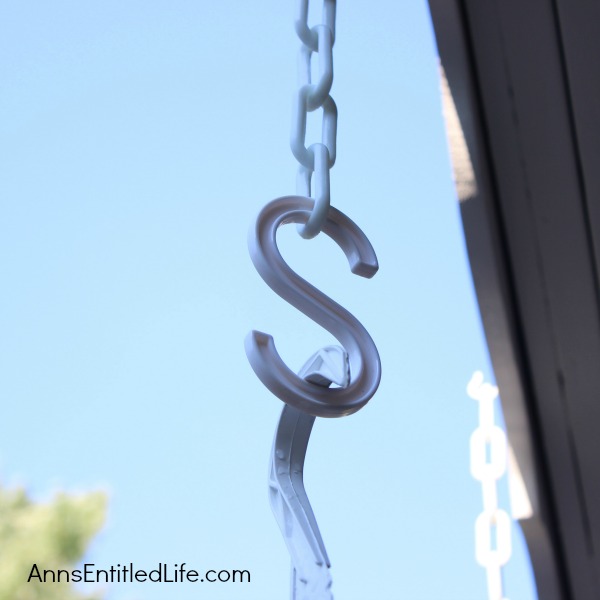 I picked up silver carabiners at Harbor Freight. Hubby made me go in so I could use one of their free coupons, and I found small ones for 89¢. I was going to spray paint them white withRust-Oleum spray paint when Hubby pulled those S curves out of the basement. Anything from closet /organization /laundry hook to these clip hooks
should work just fine!
You can find the plastic chain at your local hardware store. They can cut it for you in the sizes you would like. One of mine is 2 feet long, the other 2 1/2 feet long, but really you can use any size that works for you. If you can't locate the plastic chain locally, home depot sells it online.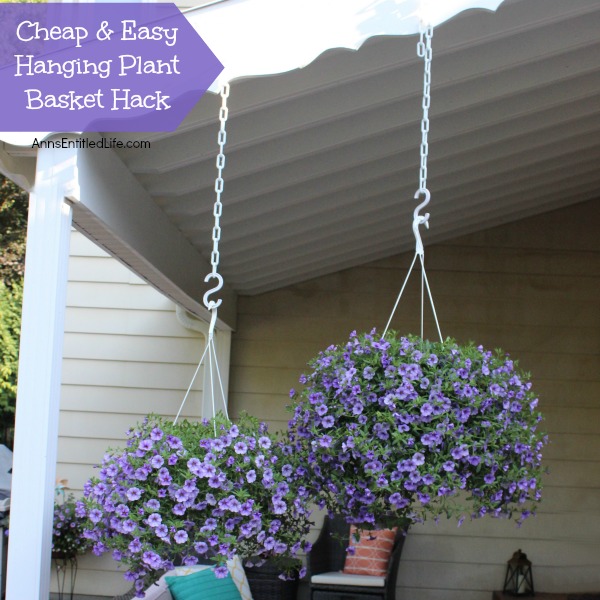 So that is it, a fully customizable no rust, no problem plastic chain set up that allows you to reach your hanging baskets all the time! Ours is low because we enjoy the flowers when we sit outside, easy watering reach, and well, that was pretty much the point!
I loved this "hack" so much, that next year we will have an even larger number of hanging plants down that side – Hubby just doesn't know it yet.
If you like to garden, you may want to read these terrific gardening posts:
● Everything You Need to Know to Grow Peonies
● How to Attract Bees to Your Garden
---
● If you enjoyed this post, be sure to sign up for the Ann's Entitled Life weekly newsletter, and never miss another article!
● For more Craft posts on Ann's Entitled Life, click here.
● For more Garden posts on Ann's Entitled Life, click here.
---