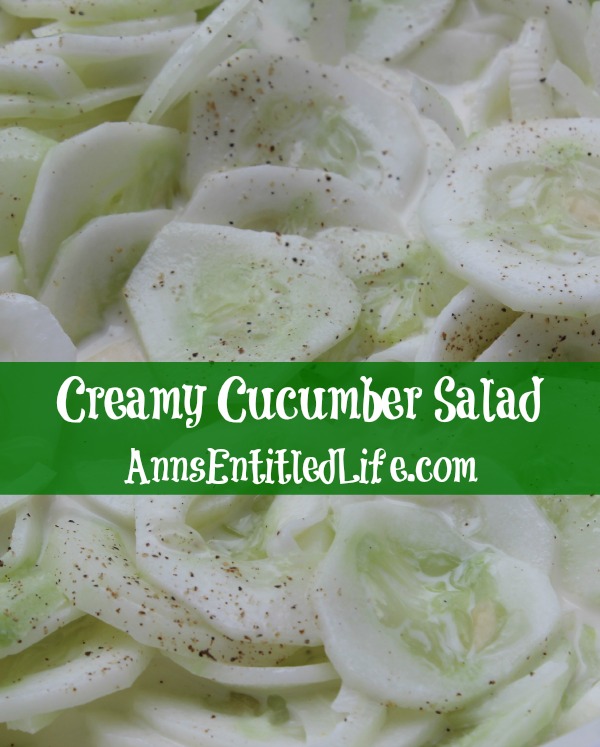 Creamy Cucumber Salad Recipe
By Ann
Grandma's old fashion Creamy Cucumber Salad Recipe. Super easy to make, this is a delicious blend of cucumbers and onions in a sweet, creamy sauce.
Prep Time:10 minutes, plus 6 hours refrigeration
Ingredients:
• 4 large Cucumbers
• 1 medium Sweet Onion
• 1 cup Mayonnaise
• 1/2 cup White Sugar
• 1/4 cup White Vinegar
• Salt and Pepper to taste
Directions:

• Wash, peel and thinly slice 4 large cucumbers. Use a mandoline for uniformity.
• Thinly slice 1 medium sweet onion.
• Place the sliced cucumbers and onions in a ceramic, glass or plastic bowl that has a lid.
• In a small bowl combine mayonnaise, sugar and vinegar. Mix until smooth.
• Turn the mayonnaise mixture into the cucumber and onion mixture, combine well.
• Salt and pepper to taste.
• Cover with a lid, shake lightly.
• Allow to marinate in the refrigerator for a minimum of 6 hours (overnight works well).
• Refrigerate leftovers.
Makes 6 servings of Creamy Cucumber Salad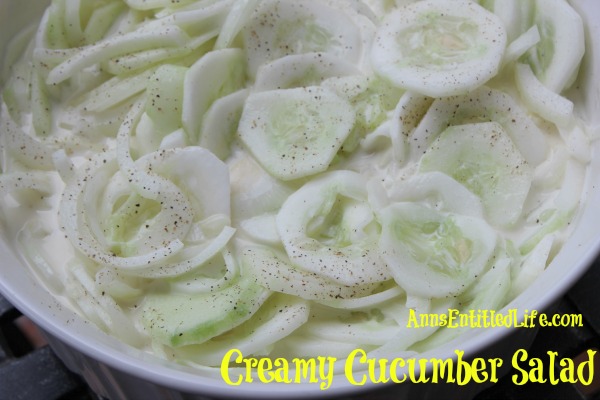 • To print the Creamy Cucumber Salad Recipe click here.
When the cucumbers are all eaten, you will have quite a bit of juice leftover. Add more sliced cucumbers to that existing juice-mix and marinate again!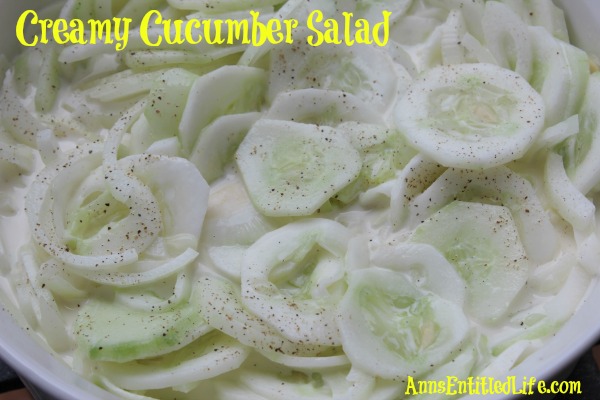 I had wanted to make this for quite some time, and just hadn't done so. When Hubby saw it, he was skeptical; it really doesn't look like much of anything. After one bite, he was hooked! When we finished the first round, he kept asking me to make this creamy cucumber salad recipe again (and again, and again)! It truly is delicious.
---
• If you enjoyed this post, be sure to sign up for the Ann's Entitled Life weekly newsletter, and never miss another article!
• Click here for mandolines
• Disclosure the links in this post may be affiliate links.
• For a list of all Recipes available on Ann's Entitled Life, click here.
---
---
FOLLOW US ON: