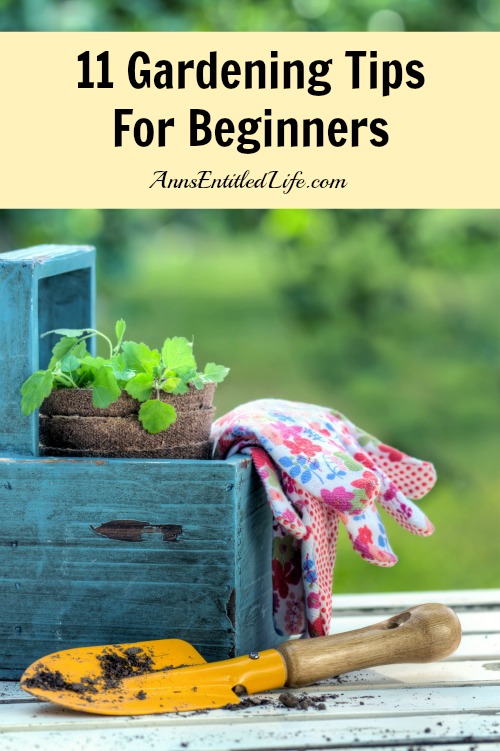 Just starting a brand new garden? Moved into an old house and looking to revitalize the old gardens there? Here are 11 Gardening Tips For Beginners to get you started.
I have been gardening a long time, and have a pretty green thumb – my mother once killed an air plant, but my grandmother had a green, green thumb that I inherited. I believe she got it from her mother – my great-grandmother's "house garden" was over an acre in size. She canned for use all year long (her freezer only fit a half gallon of ice cream and one ice cube tray!) for their family of six. Once her children married and moved away, she continued to can and gave those canned fruits and vegetables away to everyone- friends and family alike. She made the best pickles ever! I used to love going "to Ohio" (where my great-grandmother lived) as a kid and see all the vegetables grow, the flowers bloom, and I definitely enjoyed the grape vines and fruit trees!
This year I plan on planting an herb garden at my current home. While we have plenty of flowers, bushes, and even blackberry bushes in our house gardens, the herb garden at this house is new. I am also growing some vegetables, and I am trying to talk Hubby into planting a few crops deer won't devour up on his hunting land too. I think that may take more persuasion though, and probably won't happen until 2015 (if at all).
11 Gardening Tips For Beginners
● Plan Your Garden – Not only should you do some research on what will grow in your area, but plot out where the garden can go. Is it full sun? Partial sun? Shade? What type of soil do you have? Will you have to enhance it? And make sure the plants you grow are compatible.
When Is It Safe To Plant?
US Hardiness Zones
● Stagger Your Garden so everything doesn't harvest or bloom at once. Plant for some early season vegetables or flowers, mid season and late season. That way you will have produce and flowers all season long.
● Plant Perennials – I love perennials. Not only does it save on work – I don't have to keep replanting year after year, it eventually saves on cash. While normally a higher initial investment, because they last, well, forever in some cases, perennials end up less expensive in the long-run!
● Start Off Slowly – Unless you are running a farm stand or leaving zucchini at the neighbor's door, only plant enough for you, your family and what you can realistically freeze or can. Planting 50 tomato plants your first year gardening will have result in a red-hell come August and September. Start with 3-4 and next year you can add more if you see a need.
How to freeze Blueberries
How to freeze Rhubarb
How to freeze Tomatoes
How to make no sodium vegetable stock
How to roast Peppers
● Try Something New – If you have older gardens, don't be afraid to add a new flowering plant, bush or vegetable to your gardens.
● Wear Gloves – They protect your hands better than any cream or salve. If you hate gloves (and some people do), run your fingernails across a bar of soap before you head to the garden. This will prevent dirt from accumulating under your nails as you can just flick the soap out in the sink when you are washing-up.
● Vegetable Soup Water For Plants – The next time you boil or steam vegetables, instead of pouring the water down the drain, use it to water potted patio plants or your garden after it has cooled. Your plants will thank you.
● Weed Early, Weed Often – Keeping your beds well mulched and well weeded makes for lovely gardens. If you slice below the weed with a sharp blade and bury the weeds completely, the leaves will rot and nourish your soil. I personally use Preen

to keep down the weeds since weeding is my least-favorite part of gardening.
● Tomato Cages are useful for more than just tomatoes. Beans, green peppers, broccoli – anything that is top heavy or climbs that shouldn't sit in the soil can make use of a tomato cage.
● Acidic Feeding – If you don't have holly food
handy? Use leftover tea leaves or coffee grounds to acidify the soil of acid-loving plants such as parsley, green beans, azaleas, rhododendrons, and blueberries. Sprinkling 1/4″ of an inch in a circle around the base of your plants approximately once a month will keep the pH of the soil on the acidic side.
● Harvest at Peek – Don't try and force your fruits and vegetable early, and don't leave the fruit to rot. Picking at peek means the fullest flavor too! If at the end of the season you have a load of green tomatoes left on the vine, you can wrap them in newspaper… but leave that until the end of season.
And a bonus tip:
● Water regularly. When you deprive your plants of water and then you suddenly water a lot to make up for the deprivation, the cells in your fruit or vegetables will expand quickly. This leads to split fruits and vegetables. So water moderately and regularly so the inside and outside of your plants grow at a constant, steady pace.
Practical Tips to Save Water in Your Garden
Do you have any gardening tips for beginners you would like to share?
---
● When Is It Safe to Plant?
● US Plant Hardiness Zones
---
● Disclosure the links in this post may be affiliate links.
● Click here for more How Does Your Garden Grow Topics on Ann's Entitled Life.
● Enjoy this post? Sign up for the Ann's Entitled Life FREE Weekly Newsletter to stay connected.
---