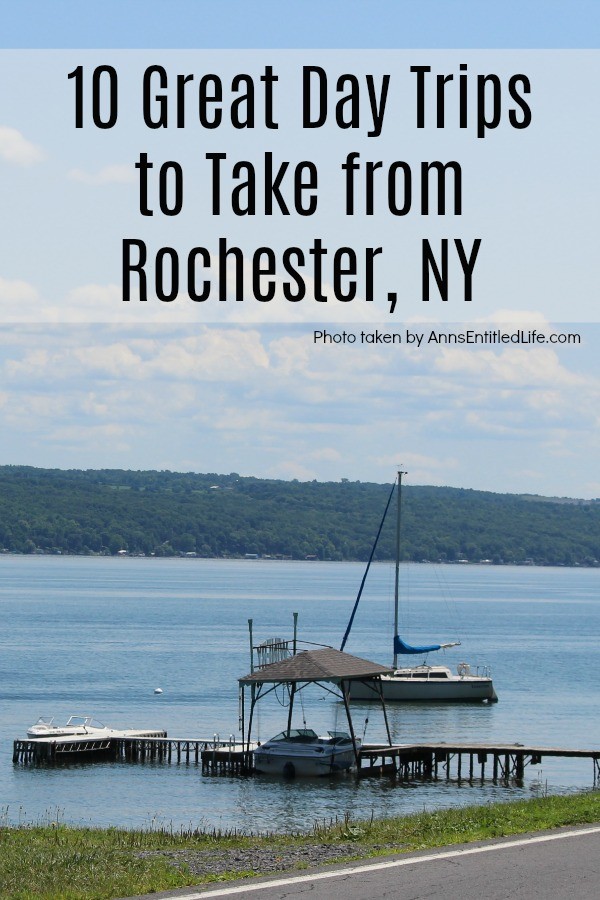 Rochester is a beautiful city hugging Lake Ontario's shoreline in upstate New York. Rochester is positioned in a spot where several locations are within a 2-3-hour drive and make for a wonderful day trip. I have 10 great day trip destinations for you from the Rochester area!
10 Great Day Trips to Take from Rochester, NY
Hubby and I go to Rochester frequently. He has a doctor in one of the suburbs, and so we head out there once per month at a minimum. Last week we made a day of it in Pittsford for the Buffalo Bills training camp, went over for lunch to the Genesee Brew House, then took a ride down to his doctor in the suburb of Victor, and then I met some friends for dinner on the way home. I always mention to one of those friends that if I lived in Rochester, I'd be in the Finger Lakes every weekend – and I am only half kidding.
That got me to thinking: what are some good day trips from Rochester, New York?
Here's my list of 10 Great Day Trips to Take from Rochester, NY. I've defined a day trip as one which can reasonably be driven to, the sights of the area enjoyed, and then returned home, all within a reasonable 10-14 hour day.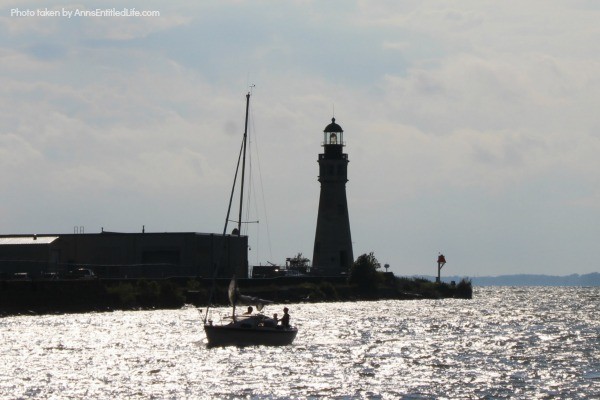 Buffalo, NY
Explore Buffalo's waterfront with a visit to Canalside. Home to seasonal attractions, Canalside offers something new with each visit. While there, visit the Buffalo and Erie County Naval & Military Park, which offers tours of US naval ships and a submarine, as well as other military equipment. A walk along the waterfront is a great way to take in Buffalo's sites.
The Buffalo Zoo is the country's third-oldest zoo and showcases animals from around the globe. From animals native to New York to those on the endangered list, a visit to the zoo is both educational and inspirational.
Test your science knowledge and skills at the Buffalo Museum of Science. With an exhibit that highlights the city from outer space, the museum is home to all types of attractions that appeal to people of all ages.
Since a lot of day trips to Buffalo happen in conjunction with a football or hockey game, I'd be remise in not mentioning that professional sports fans will enjoy a stadium tour of the Buffalo Bills' home turf, as well as catching a game or watching the Buffalo Sabres hockey team.
If you decide to stay overnight, here are some great places to find hotels: local hotels.
For even more ideas, check out this post: 365 Things to Do in Niagara Falls and Buffalo, NY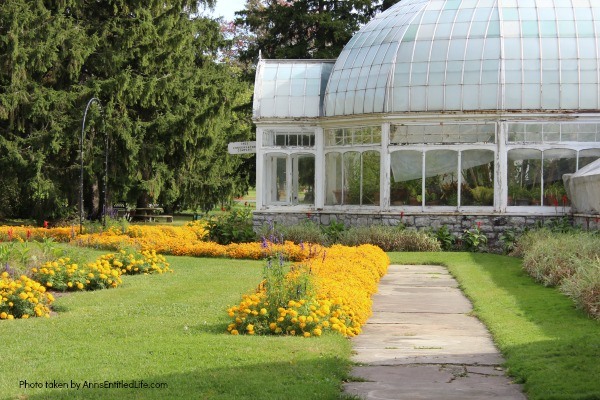 Canandaigua, NY
Located at the top of Canandaigua Lake, this picturesque little town offers some great food (OMG! go to the Rheinblick German Restaurant on Main Street – it is fabulous!), historical buildings, lots of summer fests, and the Sonnenberg Gardens and Mansion Historic Park.
Roseland Wake Park is a great place to take the family. There are beginner classes especially for children. If your family likes outdoors, why not get a New York State fishing license (you can print it immediately online) and spend the day fishing!
If you decide to stay overnight, here are some great places to find hotels and B&Bs: local hotels
Chimney Bluffs State Park – Wolcott
Created by glaciers till the rock formations resembling chimneys at the state park are among the most unique landscape features seen along Lake Ontario. Visitors to Chimney Bluffs State Park in Wolcott, about an hour from Rochester, can view the formations up-close or from the lakeshore. In either case, the view is spectacular. Head off on one of the park's trails during your visit and enjoy a day in nature as you explore among the tall trees and beautiful views. Bring a picnic basket and enjoy a meal while you explore Chimney Buffs State Park.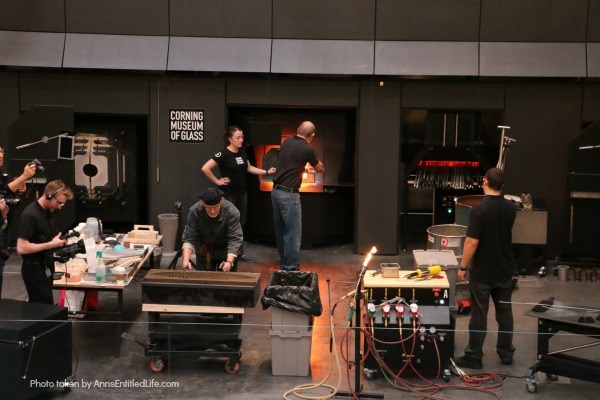 Corning, NY
Corning is home to outstanding museums and attractions on the southern edge of the Finger Lakes region.
The Corning Museum of Glass is home to the history and science of glass. Visit the galleries showcasing beautiful pieces of glass artwork. Some of the best glassblowers in the world will create art pieces while you watch during live presentations. During your visit, try your hand at glass blowing, as classes are offered daily.
Norman Rockwell continues to be considered one of the best folk artists in American history. The New York native created more than 320 illustrations for the cover of the Saturday Evening Post. While best-known for this work, Rockwell also created illustrations for the Boy Scouts of America's magazine and other outlets. The museum's exhibits include his illustrations and the studio he worked in, as well as other items, including his archives.
Known for its outstanding shops and boutiques, a visit to the Gaffer District is a must when visiting Corning. The five-block historical area is home to excellent restaurants and bars. I adore the Gaffer District – from the great restaurants to the glass works to the art galleries and shops, this area really has it all!
If you decide to stay overnight, here are some great places to find hotels and B&Bs: local hotels.
The Finger Lakes
The Finger Lakes region, known for its outstanding vineyards and wineries, is about an hour southeast of Rochester. The perfect location for a day's visit, you can take in culture, history, nature, and enjoy excellent food and wine during the trip.
With so many wineries and vineyards in the area, Finger Lakes is home to three wine trails. The Seneca Lake Wine Trail may be the best-known of the three. Founded in 1986, it's the largest in New York. With a history of winemaking dating back to the mid-1800s, the region saw a resurgence with new vineyards in the 1970s. Today, wines produced from grapes grown in the Finger Lakes region are considered among the best in the world.
A drive around any of the lakes, including Seneca, Canandaigua and Cayuga, are among the prettiest drives you can take anywhere. Check out some of the trails along the way, waterfalls, and New York State Parks, as well as visiting the shops and boutiques in communities like Watkins Glen and Seneca Falls.
More Finger Lakes Winery Information
(because I've spent lots of time there, and bought even more!
● Estate Wineries on Seneca Lake
● West Side of Seneca Lake
● Wine Tasting On Seneca Lake
● Wine Tasting On Cayuga Lake
● Wine Tasting On Canandaigua Lake
● 12 New York State Wineries Offering Free Wine Tastings
If you decide to stay overnight, here are some great places to find hotels and B&Bs: local hotels.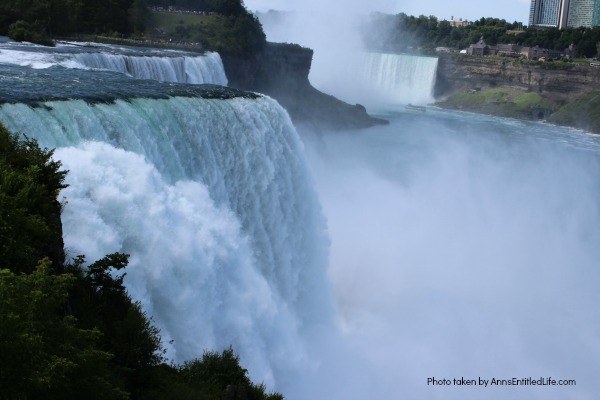 Niagara Falls, NY
Located less than a two-hour drive west of Rochester, Niagara Falls (New York and Ontario) provide a perfect getaway. Of course, with the world-famous Falls flowing into the Niagara River, you can enjoy the view from either side of the border, standing feet away on the American side with a walk through the Niagara State Park.
The Canadian side offers a great view of the Horseshoe Falls with a large observation area.
If you want to get a water-level view of Niagara Falls, take a tour about the Maid of the Mist (USA side), which takes poncho-wearing visitors as close as possible to the Falls. The mist from the Falls will greet you as the boat floats toward the basin of the horseshoe. Before revving its engines and heading back to the dock. If you truly want to get within a hands-reach, visit the Cave of the Winds. Wearing a poncho, you will ride the elevator down to a series of wooden stairs where you climb down Niagara Gorge, enjoying the spray of the falls while enjoying a close-up look at one of the wonders of the world.
While you are visiting the area, check out additional fun activities, such as the zipline to the Falls. Traveling about a mile across the falls more than 200 feet above the water, riders on the four ziplines reach a speed up to 40 mph (70 kph). If you are in the mood to speed on the river, enjoy a speed boat tour on the Niagara Gorge, speeding upriver as water flows overhead drenching you and your travel buddies.
If you decide to stay overnight, here are some great places to find hotels: local hotels.
For even more ideas, check out this post: 365 Things to Do in Niagara Falls and Buffalo, NY
Six Flags Darien Lake Theme Park – Darien Center
The region's premier theme park, Six Flags Darien Lake is about an hour drive from Rochester, perfect for a day at the park. With rides for every member of the family – from thrill rides for teens and adults to child rides – you can easily plan to spend a day at the Darien Lake attraction.
For people who love pushing themselves to the limit, Six Flags is ready to accommodate. Roller coaster fans will enjoy riding the Boomerang. Taking riders on the ride of their lives, this roller coaster moves fast and in all directions. Immediately dropping 125 feet and completing three loops, then doing it again…backwards. The 90-second ride will flip you and send you in all directions. This is not a ride for the faint-hearted. The Boomerang is just one of a dozen thrill rides guaranteed to challenge you.
With nearly 20 family-style rides, Six Flags Darien Lake will allow for some quality family time on attractions like the Scrambler, Corn Popper, or the Giant Wheel. Take a ride together on the Grizzly Run, featuring a circular raft traveling along a tamed-down version of whitewater rafting. While it may not be a Class III rapid, you will get wet on the Grizzly Run.
Looking for a safer ride for the younger members of the group? Then, head over to rides such as Bucky's Barrels, Critter Chase or the Darien Lake Railway children's train.
Six Flags offers several family-oriented entertainment shows throughout your visit. Grab a family meal at any of the concession areas.
During warmer weather, the park also has a water park featuring eight water attractions.
If you are going for a concert and not staying on the premises, check out hotel accomodations here: local hotels.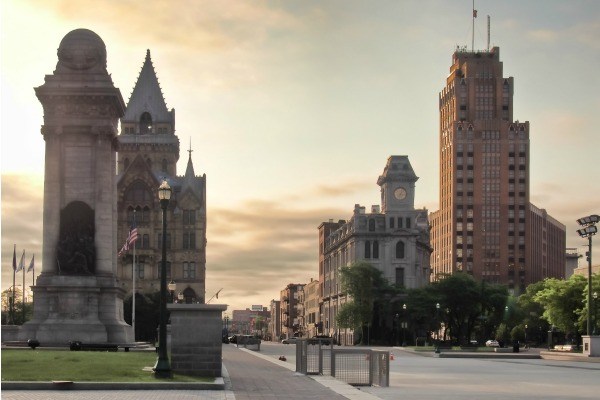 Syracuse, NY
Just down the road (well, the I-90) from Rochester, Syracuse is home to the Syracuse University Orange college programs, featuring great football and basketball games.
It is also home to excellent outdoor activities, such as Highland Forest, where you can enjoy a hike among some of the most attractive scenery in Upstate New York, as well as joining a horseback riding tour. Visit Rosamund Griffin Zoo and see more than 700 animals, with many available at indoor exhibits.
History and architecture enthusiasts will enjoy self-guided tours of unique designs like the Niagara Mohawk Building (aka Niagara Hudson Building) and the Weighlock Building, which is home to the Erie Canal Museum.
If you decide to stay overnight, here are some great places to find hotels and B&Bs: local hotels.
Watertown, NY
A trip to the 1000 Islands area is full of history and fun. While in Watertown, which is about 2 ½ hours northeast of Rochester, visit the historic Burrville Cider Mill. Built in 1801, the mill is a perfect spot during the fall for apple cider and donuts. While in the mood to tour historical sites, the Jefferson County Historical Society is housed in a 19th-century mansion that once belonged to the Paddock family. Featuring family heirlooms and memorabilia, as well as exhibits from the Victorian era and other periods, this museum also includes a log cabin, one-room schoolhouse, and garden. The Roswell P. Flower Memorial Library includes rooms decorated in historical style while housing books and more. Tours are available upon request.
If you prefer a day of outdoor adventure, Watertown is a great spot to visit. With ziplines, whitewater rafting, and nature trails available, you can spend all day exploring without stepping foot indoors.
However, if the family seeks a slower mode of a day trip, visit the Thompson Park Zoo and Conservancy, a 32-acre zoo showcasing animals native to New York, such as elk, black bears, river otters, and bald eagles. Old McDonald's Farm encourages people to get up close to more than 200 farm animals at the petting zoo. While there, take a hayride around the farm.
If you decide to stay overnight, here are some great places to find hotels and B&Bs: local hotels.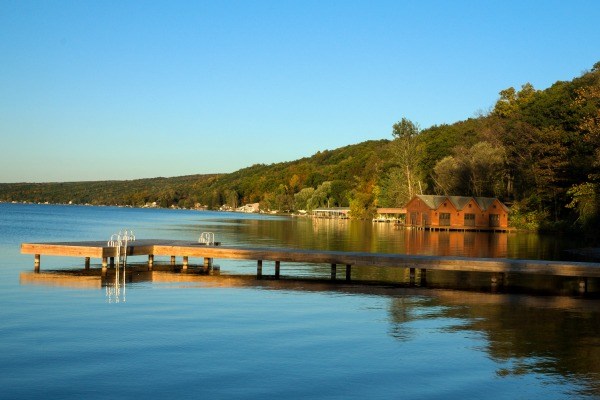 Watkins Glen, NY
Home to professional auto racing, Watkins Glen International Raceway hosts both NASCAR and Formula One-style competitions. The racetrack has played an integral role in auto racing for more than half a century. Visit the International Motor Racing Research Center to learn about the history of racing and the role Watkins Glen has played.
Watkins Glen State Park offers a beautiful nature experience as one of the best parks in the New York. During a two-mile hike, you'll travel down 400 feet, taking in majestic views of waterfalls and cliffs. Named as one of the best parks in the country by USA Today readers, hiking trails take you over and under waterfalls as you discover amazing views of the gorge.
Take a cruise around Seneca Lake on a Captain Bill's cruise ship. Founded in 1963, the tour company continues to be one of the Finger Lakes' most popular lake cruises. Captain Bill's offers daily tour cruises, as well as dinner and special occasion ventures.
As part of the Finger Lakes region, you will find great resteraunts and wineries in the area- And bakeries! We have visited some delicious bakeries while in Watkins Glen – as well as outstanding local shops and boutiques.
If you decide to stay overnight, here are some great places to find hotels and B&Bs: local hotels.
While Rochester offers its fair share of attractions, such as the George Eastman Museum (of Eastman-Kodak camera fame) and Seneca Park Zoo, sometimes you just need to get away and take a break from your area. In that case, Rochester is centrally located to offer some great day trip options, from Niagara Falls to the history of auto racing and areas for great wine. As you venture out for the day, have a great time.
---
● For more New York State Travel posts on Ann's Entitled Life, click here.
● If you enjoyed this post, be sure to sign up for the Ann's Entitled Life weekly newsletter, and never miss another article!
---