While the corn is still producing in some parts of New York State, many farms have harvested and cut. A few enterprising farms make corm mazes that are open for the public to enjoy.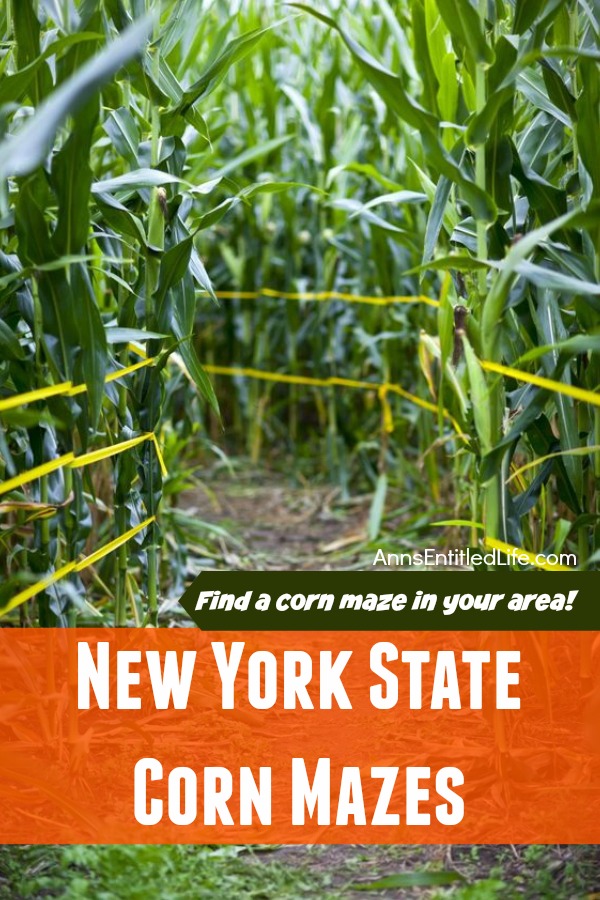 Have some great outdoor family fun this fall at a New York State corn maze!! Whether you are looking to spend the day in a corn maze, for a fright night scream, or corn mazes by moonlight, there is something for everyone on this list of 2021 New York State Corn Mazes!
2021 New York State Corn Mazes List
Many people are surprised to find so many corn mazes available in New York State. There are over one million acres of corn planted in New York State, and it is the fourth largest corn producing state in the US. Needless to say, we have a lot of corn mazes!!
Note that many of these farms also offer pumpkin picking – to pick your own pumpkins from the field or pumpkin patches – to pick your own washed pumpkin, tractor rides, hay rides, a variety of apples to be picked in their apple orchards, as well as farmstand produce for sale. There are various events, including flashlight nights, festival weekends, which are fun for the whole family, as well as breakout events, especially for your children, older kids, and adults.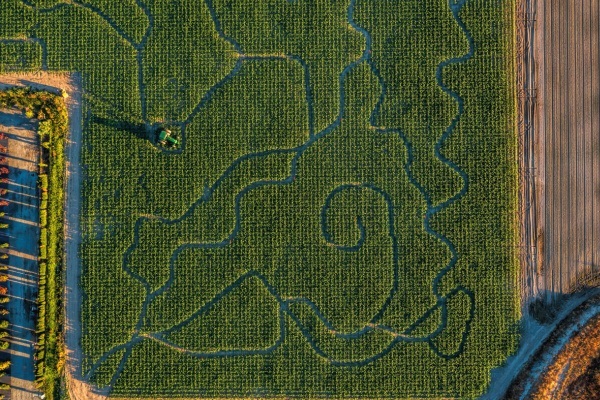 Click the link (the farm's name highlighted in blue) to the Corn Maze website for opening dates, times open, fees, and policies. Some start this weekend, and many run through the end of October. This is an overview. For exact dates, times, and pricing, contact the farm directly. Some offer group rates, advance ticket sales, coupons on the website (!). I am not responsible for any changes in information or weather-related changes.
● Becker Farms – Becker Farms is known locally for its apple picking, pumpkin patch, hayrides, and meet some farm animals at the petting farm. In addition to the corn maze, they have a grape maze, pony rides, goat races, duck races, and more. This is a family fun farm experience.
3724 Quaker Rd., Gasport, NY 14067
$8 for kids $5 for adults (Closed weekdays) Includes: (Children 2 y/o and under free)
● Cambria Corn Maze – There is a 12-acre corn maze, pumpkins, refreshments, local products, and local farm produce.
5274 Lockport Junction Road, Route 270, Lockport, NY
Friday: 3:00pm-10:00pm (last ticket is sold at 9:00pm)
Saturday: 10:00am-10:00pm (last ticket is sold at 9:00pm)
Sunday: 10:00am-8:00pm (last ticket is sold at 7:00pm)
● Critz Farms – This farm is 325 acres and holds a fall festival every year that would be the perfect addition to a day in the corn maze.
3232 Rippleton Road – State Route 13, Cazenovia, NY 13035
● Ellms Family Farm – An Amazing Maze (average time to complete is 90 minutes) as well as several children-only mazes (average time to complete is 20 minutes). Located near Sarasota, Ellms Farms also offers hayrides and pumpkins!
448 Charlton Road, Ballston Spa, NY 12020
● The Great Adirondack Corn Maze – Our corn maze is open for the 2021 season. This year's theme is "Little Red Riding Hood and the Big Bad Wolf."
Tucker Farms, Inc. 112 Hobart Road, Gabriels, NY 12939
CORN MAZE RATES: – (Note: We do not accept credit cards; however, checks and cash will be gladly accepted)
$10 adults (everyone more than 13 years old and unaccompanied children of any age)
$ 8 children (those 13 years old and younger when accompanied by adults)
Free: children less than 4 years old when accompanied by adults
Call for group rates; there are also special events dates and phases of the moon dates.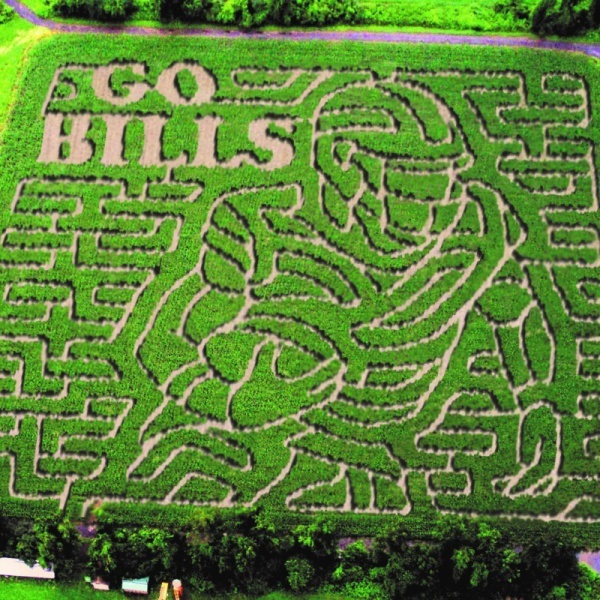 ● The Great Pumpkin Farm – I watch this one go up for months!! The 5-acre corn maze is open, and right now, it is packed with pumpkins and open for business. From pumpkins to mazes (corn and hay) to a petting zoo and more, this is a very popular weekend family destination.
Open September 18 – October 31, 2021, daily 10 am to dusk
(Tickets are NOT needed for WeekDAYS except Monday Columbus Day, and weekdays are free (except Columbus Day))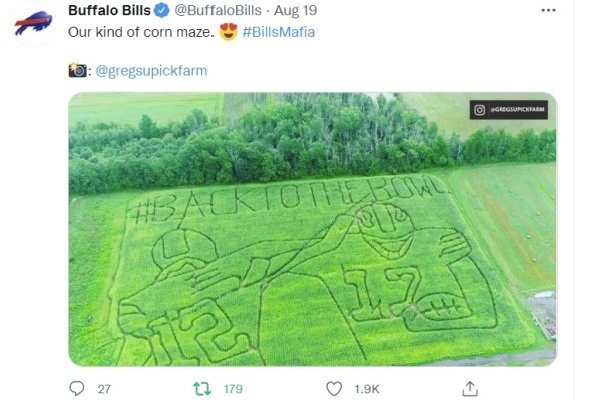 ● Greg's U-Pick – BACK 40″ Wagon ride to the U-Pick Pumpkin Patch, Corn Maze,
9270 Lapp Road, Clarence Center, NY 14032
One Day Admission Price: $15, under 2 are Free
Our U-Pick pumpkin patch, hayrides, and corn maze date run from October 1st through Halloween!
Back 40 is Open Weekends 10 am – 6 pm till Halloween
Wagon rides to and from the "Back 40"
1 U-Pick Pumpkin per person as BIG as you can carry from the patch taken upon first visit.
Access to the Corn Maze
Straw Bale Mountain
Corn Crib where kids can play in our shelled corn pit under the Big tent
Pumpkin Bowling!
Pumpkin Tic Tac Toe
Pumpkin Checkers
Straw Bale Maze at Pumpkinvile
Fresh Apples for snacking
Old Fashioned Tractor set for family photos!
Wagon Carry Up and Off service where we will load your pumpkins on and off the Wagon Ride for you
● Hank's Pumpkin Town – Nestled into a gorgeous part of Watermill, New York, this farm has three different mazes that will suit any age. Need a quick maze? Hank has a 15-minute maze that won't keep you lost for long. The design is impeccable every year, and there is always a neat tale and mystery to go along with the maze each year.
240 Montauk Hwy., Watermill, NY 11976
Admission Price: $16, children under 12 must be accompanied by a parent
Admission includes:
ALL DAY CORN MAZES, UNLIMITED WAGON RIDES, UNLIMITED TRACTOR TRAIN RIDES, FAMILY CORN TRAIN, CALF ROPING, COW MILKING, GIANT MAZE MOUNTAIN SLIDE ​(thrilling 50-foot tube slide), PEDAL CART RACE TRACKS, SANDBOX With Diggers, CORN TABLE, CORN SWINGS, DUCK RACES, MAZE GAMES, WOODEN PLAY STRUCTURES, EDUCATION STATIONS, 2 CURLY SLIDES PIG RACES, Tractor Seesaws, Hank's Pumpkin-Head, Hank's Dairy Barn Play Structure, & More!
BEE A-MAZING TRIVIA GAME (25 mins)
​In this interactive maze game, you will search the maze for SIX different Flowers with Fun Bee Trivia! The Correct Answer will Lead You Towards the End of the Maze, But the Wrong Answer will Send you Back to Look for more Flowers. Se BEE-Careful How You Answer and Have Fun!
THE SPOOKY PUMPKIN MAZE (15 mins)​
Walkthrough the maze, while enjoying a great story.
There are 13 illustrated storyboards that tell the story of Spookley the Square Pumpkin
THE FARM SCENE INVESTIGATION CORN MAZE (1 hour) ​

​
● Headless Horseman – If you are looking for a super creepy and scary corn maze, the Headless Horseman offers an Evil Reaping: Dark Harvest Corn Maze for those who are not faint of heart. Located in Ulster Park, New York, this place is perfect for those who like the nightmarish side of fall.
Open September 25 – October 31st
778 Broadway, Ulster Park, NY 12487
● Liberty Ridge Farm – The 2021 Fall Festival kicks off on September 18th and runs through October 31st. Spend a day enjoying the Farm fresh air while you get lost in the 11 Acre Corn Field Maze, pick pumpkins, catch entertaining shows and grow memories! After you've worked up an appetite, stop by the Barnyard Grill to grab a bite to eat. Don't forget cider donuts on the way out! With over 30+ attractions and shows, there are fun farm activities for all ages.
29 Bevis Road Schaghticoke, NY 12154
● Long Acre Farms – Moonlight Maze. Come experience the Amazing Maize Maze in a whole new way…..at night!! These popular evenings are back again this season every Friday night, September 24th thru October 29th.
Admission prices: $18 (18+), $15 (6-17), 5 and under are free.
*Anyone under 18 years old is required to be supervised by an adult throughout the entire maze. If children show up without adult supervision, they will not be allowed to enter the maze, and no refunds will be given.
1342 Eddy Rd, Macedon, NY 14502
● Queens County Farm Museum –The Amazing Maize Corn Maze! This farm is said to have the only corn maze in New York City. The maze is 3 acres and has enough activities to keep the entire family entertained.
Andy Warhol's Cow at Queens Farm? This year The Amazing Maize Maze celebrates the genius of Andy Warhol's pop art in NYC's only corn maze. The adventure begins with a Stalk Talk to prepare you for the 3-acre challenge of finding clues, solving puzzles, and making your way to Victory Bridge, where the full vista of Warhol's Cow is revealed.
The Amazing Maize Maze
Friday (12-4:30), Saturday (11-4:30), and Sunday (11-4:30), September 17 – October 30 & Monday, October 11 (11-4:30)
Advance Tickets: $12; $8 (ages 4–11)
Free for ages 3 & under
73-50 Little Neck Parkway, Floral Park, New York 11004-1129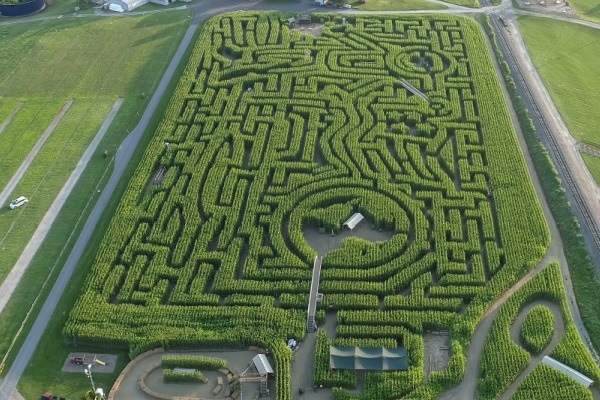 ● Schuyler Farms – 2021 Corn Maze – Get Tangled In Our Spider Web Maze
See website for September and October dates and times open
General Admission including maze admission only $10/pp (under 3 yrs old is free)
1124 Route 29 Schuylerville, NY 12871
● Stokoe Farms – The corn maze on this farm seems to be only one of many extremely fun activities. From hayrides to zip lines, bounce pillows, corn maze, animals, and more, this farm has a lot of fun fall activities. The maze is located in Scottsville, New York, and sits on a farm that's 3500 acres. They have over 35 activities included with admission.
Corn Maze and Kiddie Soybean Maze
656 South Road, Scottsville, NY, 14546
● Stoughton Farms – Stoughton's 17th season with the area's original large-scale corn "MAiZE." On fall weekends, other attractions include our Jumping Pillow, hayrides, cow train rides, pumpkin blaster, corn cannon, and more. Mums, apples, cider, kettle corn, fresh-cut fries, and fudge are a few of our other fall favorites.
2021 "MAiZE" Open September 18th through October 31st!
10898 State Route 38, Newark Valley, NY
● Wickham Farms – This farm has a ton of unique activities that are not often seen at corn mazes. Things like farm batting cages and miniature golf are included in the admission. There are two corn mazes, a smaller family corn maze, and the giant corn maze.
The fall is when the farm truly comes alive! Enjoy a full day of fun in our Barnyard with more than 25 attractions. Our attractions include a 4-acre corn maze, farm animals, hayrides, 18-hole mini-golf, jumping pillows, a kid's train ride, the famous Corn-A-Copia, interactive activities, and more!
Fall harvest starts on September 7th! (Closed Wednesdays)
1821 Fairport Nine Mile Point Rd, Penfield, NY 14526
● Zarpentine Farm – Family Friendly, not scary.
The maze will be back again this year, opening Friday, September 25th!
163 Burritt Rd, Hilton, NY 14468
New York State is home to some of the best corn mazes in the country! If you know of a corn maze that is open in 2021 in New York State that is not listed, please leave the information in the comments, and I will add it to this list!
First Published: August 26, 2021 Last Updated: September 06, 2021
---
● Top 10 Spooky Places to Visit in New York State
● Top 10 Family Friendly Spooky Places in New York State
● For more New York State posts, Click here.
● If you enjoyed this post, be sure to sign up for the Ann's Entitled Life weekly newsletter, and never miss another article!
---