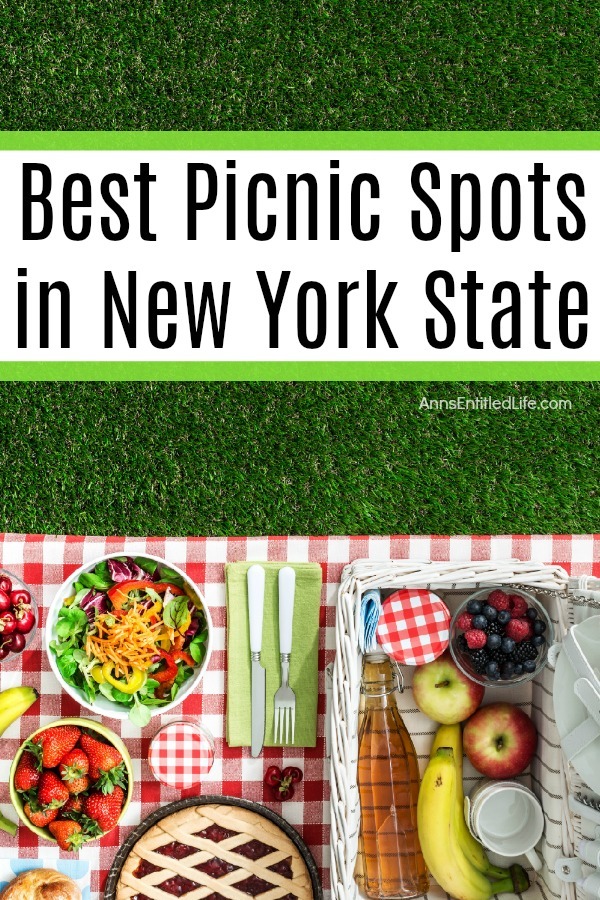 Winnie the Pooh's idea of the perfect picnic is finding a beehive full of honey. For a romantic, it's a basket with a charcuterie plate, with its meat and cheese and tasty grapes, as well as a bottle of the best wine, to be shared on a checkered picnic blanket. Whether it's a family outing or a couple's date, New York has so many beautiful spots to enjoy a picnic.
Best Picnic Spots in New York State
With plenty of options to have a picnic, you are not lacking for amazing spots around New York State to have a fun experience. You can combine history, water sports or exploration with your picnic. However, you want to enjoy your outing, make sure you bring enough food and drink for everyone. And do not forget the sunscreen. Have fun and bon appétit.
Best Picnic Spots in the Adirondacks,New York
With an area the size of the Adirondacks, it is easy to identify multiple locations where you can either have a picnic with picnic tables or lay your blanket on the ground. With majestic views of woods, mountains and waterways, the Adirondacks are an impressive area to enjoy family or couple time. Grab your picnic necessities and head off to a spot like Lake Placid's John Brown Farm State Historic Site. A short drive from town, the park encourages picnics, setting aside an area with picnic tables, Adirondack chairs and plenty of space for games or just relaxing. During your visit, you can roam the state park's grounds and learn the history of the famous abolitionist.
Singing Waters Park offers camping, as well as picnic areas. Set in a charming spot, with woods and a fresh stream, you can set up your picnic next to the calming waters or use one of the picnic areas. Explore the area with walks in the woods or along the stream. Nature is your friend at Singing Waters.
Best Picnic Spots in Albany, New York
How about laying your picnic blanket down on the green grass and pulling out a chicken dinner or maybe a meat and cheese tray with the New York state capitol behind you? The state's capitol is an architectural marvel, having been designed by two architects with definite thoughts that countered each other. Part Romanesque and part-Renaissance, the design changed because the governor replaced one designer with another. One of the world's most interesting designs, the building is the perfect backdrop for a nice picnic in Albany.
With an impressive view of the Hudson River, Henry Hudson Park is a great spot for picnics. The park is home to a boat launch, as well as ball fields for baseball and softball. A pavilion area offers a spot for fun, including a playground.
https://www.albany.com/things-to-do/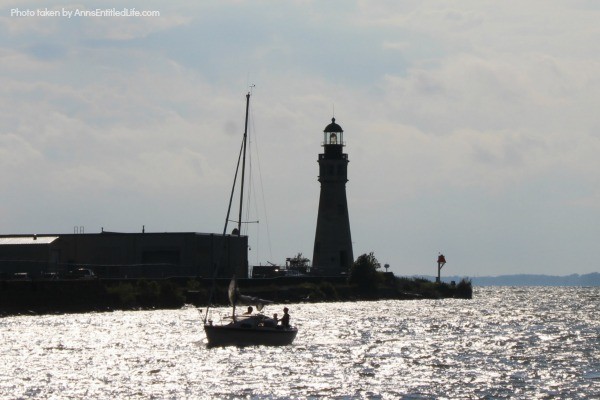 Best Picnic Spots in Buffalo, New York
Delaware Park is a beautiful space located in the heart of the city of Buffalo. Designed by Fredrick Law Olmstead, it is part of Buffalo's Olmstead Park system. The 376-acre park was named simply The Park by Olmsted; it was later renamed Delaware Park because of its proximity to Delaware Avenue which housed Buffalo's mansion row. It is divided into several areas. Abutting Elmwood Avenue is the Buffalo Historical Museum and the Japanese Gardens behind it. A little further down Elmwood is the Albright Knox Art Gallery. Behind that is Hoyt Lake, gardens, a golf course, basketball courts, tennis courts, jogging trails, the "circle" (where in my younger days I could be found speed walking nearly every day of the week), leading to Parkside and the Buffalo Zoo.
There are many places to picnic in Delaware Park; from throwing down a blanket near the rose garden, to using the picnic tables on Amherst Street near the zoo, this is one amazing park in the heart of a city.
365 Things to Do in Niagara Falls and Buffalo, NY
Best Picnic Spots in the Catskills, New York
With trails highlighting skiing, hiking and biking trails, the Catskills are home to beautiful views and great areas to enjoy a picnic. Near the area where the Catskills Creek flows into the Hudson Rover, Dutchmen's Landing Park offers picnic tables as well as ample green space to lay a blanket and have an old-fashioned picnic. With boat ramps at the park, you can bring a boat and enjoy time on the Hudson River. Or, just sit back and enjoy the view as boats of all sizes and types move along the riverway. The park has plenty of space to play games like cornhole, volleyball or maybe even a baseball or softball game.
https://www.greatnortherncatskills.com/outdoors/dutchmans-landing-park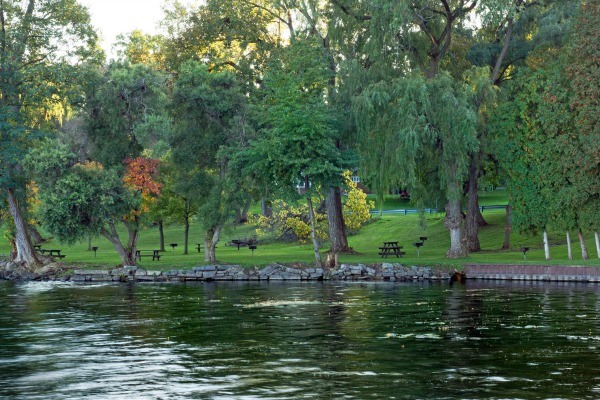 Best Picnic Spots in the Finger Lakes, New York
Whether it's a view of the hills, the glistening lakes or the dense woods, the Finger Lakes region presents picnickers with a majestic setting for a great time.
Gannett Hill gives you a view of the region's Bristol Hills from atop the trees as you visit the Ontario County Park. Bring a blanket and set your basket down in one of the amazing views in nature. You can take a walk in the area and visit the overlook of the hills.
If you are near Ithaca, Ithaca Falls is located in the city and has had a lot of work done to it the last few years. It is simply beautiful, has a chikdren's area, lots of area for picnicing, and biking. Taughannock Falls is beautiful with camping, beaches, picnic areas and trails.
If you prefer a waterside picnic, head to Seneca Lake State Park, home to the region's deepest lake. With water activities like boating, swimming, skiing and water surfing available, a visit to Seneca Lake is a great choice for a picnic. Find a table or set up your own picnic with a blanket and basket, you're sure to have a fun visit to the lake. Add in the amazing scenery surrounding the lake and Seneca Lake makes the perfect choice for a waterside picnic.
And, you know, you can always take the picnic to the water. If you are bringing a boat, take the picnic to the middle of the lake. Stop the boat and float along the water as you a picnic on the water.
Note: after spending a good portion of the last four years in the Finger Lakes, I will tell you that there are a lot of little side of the road parking spots that will have a view of a lake, and a few picnic tables. They may not have facilities (the parks do), but they are fund to stop at and have a lesuirly picnic.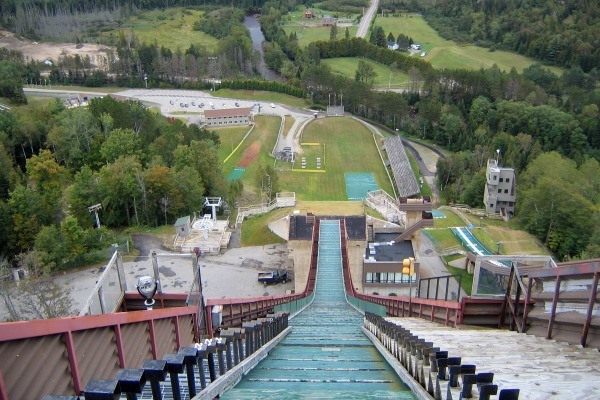 Best Picnic Spots in Lake Placid, New York
While Lake Placid is a major link among the communities of the Adirondacks, it's also a great spot to spend all your time at. So, a picnic in the Lake Placid area will be among the highlights of your visit. The Cascade Lakes are perfect for a picnic as you can enjoy your time near the water, as well as explore nature, including a hike to the Cascade Waterfall.
Lake Placid's public beach makes for a fun day visit. People can play in the lake or relax on the beach. Bring a canoe or kayak and enjoy spending time on the water. You can set up your picnic in the greenspace not far from the beach. Situated among the shade of tall trees, a picnic at the Lake Placid Public Beach will be a highlight of your visit to Lake Placid.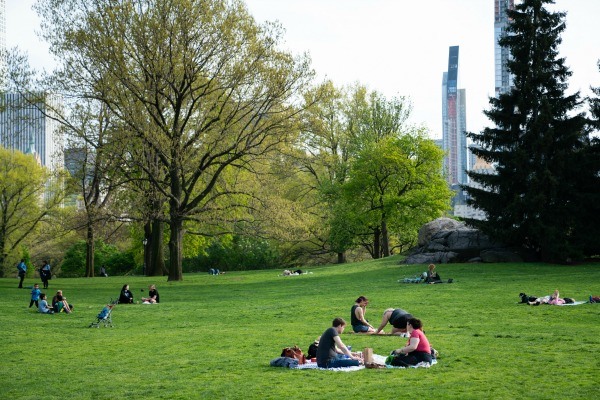 Best Picnic Spots in New York City, New York
Central Park is an obvious choice for a picnic when in New York City! Located between the Upper West Side and Upper East Side, Central Park is another Fredrick Law Olmstead beauty.
But here is a lesser known gem: Fort Tryon Park. Considered one of New York City's most beautiful parks, Fort Tryon is the brainchild of John D. Rockefeller. He began acquiring land for the park more than 100 years ago. Today, people gather for picnics in the pen-air park in Manhattan, which offers views of the Hudson River and scenic views of wooded areas. The park also has a beautiful view of the Cloisters, which is a medieval monastery replica and home to several art pieces. It's difficult to believe you're in New York City as you enjoy your picnic in the 67-acre park.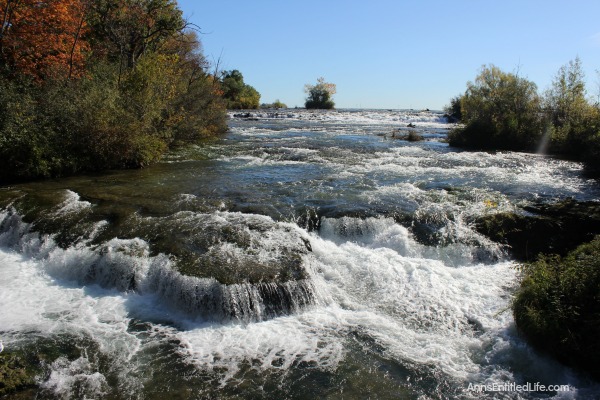 Best Picnic Spots in Niagara Falls, New York
Of course, the main attraction is the Falls, but Niagara Falls State Park is a picturesque setting for a picnic. Goat Island and Three Sisters Island have spots dedicated for picnics. Located near parking lot #2, the area is near the Tesla memorial, as well as a short walk from the falls themselves. Stroll over to Luna Island and you are inches from the top of the falls and can watch the water race by as it edges closer to the drop point.
A little bit down the road is the Devil's Hole. The park has a picnic area in addition to the scenic overviews and the hiking trail. (My story for the Devil's Hole… we used to go hiking there quite often with my father and grandfather. It wasn't until I was in my early 20s that I knew there were stairs!! Those two used to drag us down the paths, and I'll never forget going hand over hand across the stone slides to get to the other side. Oh, by the way – those stone slides? Let's just say there is a reason the nearest bridge to Canada is called the Whirlpool Bridge! If my mother knew half of what we did… )
Best Picnic Spots in Saratoga Springs, New York
Picnic ghosts from the past at the Saratoga National Historic Park. Site of a major battle during war for independence, the national park is home to several war memorials, including a 155-feet tall obelisk commemorating the American victory, the Schuyler House and a battlefield in Stillwater. The park has picnic areas set aside, so you can combine a fun dining option with the beauty of the natural surroundings and a bit of history.
Congress Park is another beautiful area to combine a picnic with majestic views and a touch of history. Visit the Saratoga Springs History Museum and the former Canfield Casino during your visit. Bring a blanket to enjoy your picnic on the well-maintained grounds. Following your picnic, stroll the grounds and take in the impressive views the park has to offer.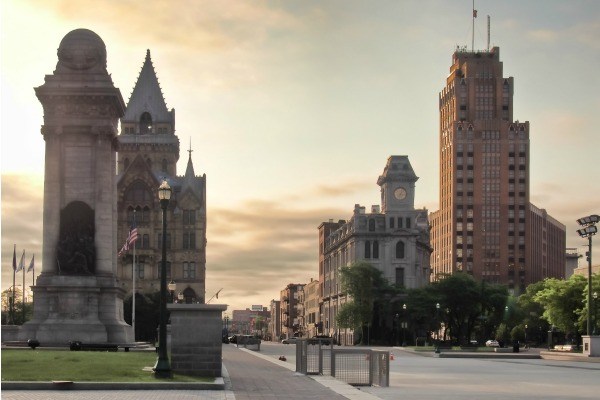 Best Picnic Spots inSyracuse, New York
Eat with the fishes at Carpenters Brook Fish Hatchery. The park, which is home to a hatchery where you can take self-guided tours, has 20 picnic tables available on a first come-first served basis. However, nothing wrong with laying a blanket on the ground and enjoying an old-fashioned picnic. The hatchery is also home to a playground for children and a large green space where you can play games.
Onondaga State Park has two picnic areas available – Willow Bay and Cold Springs. So, you have an option of where you want to enjoy your meal. Onondaga State Park isn't your typical park, with attractions such as the salt museum, Butterfly Garden of Hope and the Ska Nonh Center (Great Law of Peace Center, which tells the history of local Native Americans). The park is also home to water activities including fishing, kayaking and canoeing, as well as boating. Bike and hiking trails are also located in the park.
If you are looking for more things to do in New York State, check out these posts:
● Best Summer Family Getaways in New York State Summer means vacation time! New York State is home to many inviting spots to spend a long weekend or a full week (or two) with the family. From retracing the steps of great Olympians to camping and fishing outdoors to checking out some of the scary and fun attractions at amusement parks, New York State invites you to enjoy some great quality time with your loved ones on a terrific family getaway.
● 10 Fabulous New York State Springtime Getaways – While we may take it for granted sometimes, those of us who live in New York State know that it is a wonderful place to live and play during the springtime. Whether you are a New York State resident, or you are just vacationing in this beautiful region, you can find some pretty amazing places to visit here in the Empire State.
---
● For more New York State Travel posts on Ann's Entitled Life, click here.
● If you enjoyed this post, be sure to sign up for the Ann's Entitled Life weekly newsletter, and never miss another article!
---