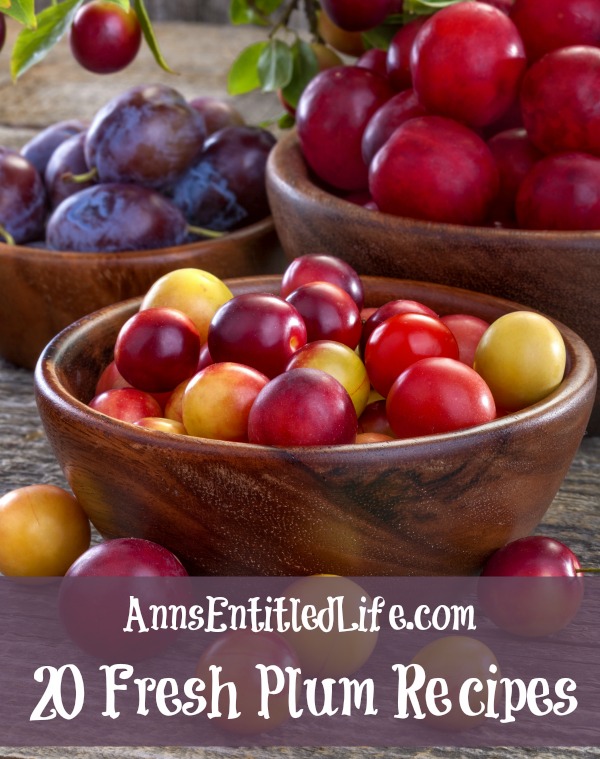 20 Fresh Plum Recipes
Savor the sweet flavor of fresh plums with these 20 Fresh Plum Recipes. From crumbles to jams to cakes and pies, there is a fresh plum recipe for everyone to enjoy!
Plums belong to the Prunus genus of plants and are relatives of the peach, nectarine and almond. They are all considered "drupes" – fruits that have a hard stone pit surrounding their seeds. Plums are a diverse group of species, nearly 40 species of plums exist. Plums may have been one of the first fruits domesticated by humans; plums are grown today throughout the world. The United States produces over 280,000 million metric tons of plums each year.
● Asian Plum Sauce Recipe – Grow, Harvest, Cook
● Beach Plum Jelly Recipe – Spectacularly Delicious
● Blackberry Plum Galette – The Baker Chick
● German Plum Sour Cream Kuchen Recipe – A Flock In The City
● Ginger Plum Sangria Recipe – Camile Styles
● Home Canning Plum Recipe – Backyard Ranch
● Plum and Almond Cream Tart Recipe – Joanne Eats Well With Others
● Plum Berry Skillet Crumble Recipe – Party Bluprints
● Plum Bread Pudding Recipe – In Erika's Kitchen
● Plum Cake Recipe – Italian Dessert Recipes
● Plum Coffee Cake Muffins Recipe – Two Peas and Their Pod
● Plum Jam Recipe (no peel, no pectin) – Natasha's Kitchen
● Plum Lemonade Recipe – Chef In You
● Plum Pie Recipe – Slop Swap
● Plum Tomato Cabbage Soup Recipe – Hungry-Girl
● Plum Vanilla Crumble Bars Recipe – House of Brinson
● Russian Plum Cake Recipe – Little Broken
● Spiced Brandy Plum Recipe – Tall Clover Farm
● Spiced Plum Crisp Recipe – Mom On Time Out
---
● For a list of all Recipes available on Ann's Entitled Life, click here.
---