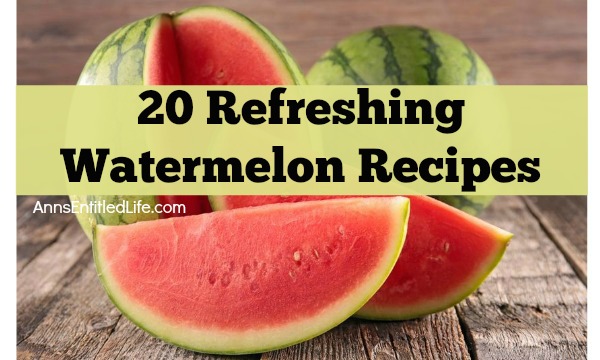 20 Refreshing Watermelon Recipes
Beat the summer heat with cool, delicious watermelon. From cocktails and milkshakes to salads and salsa, these these 20 watermelon recipes are as versatile as they are delicious. Try out one of these refreshing watermelon recipes today.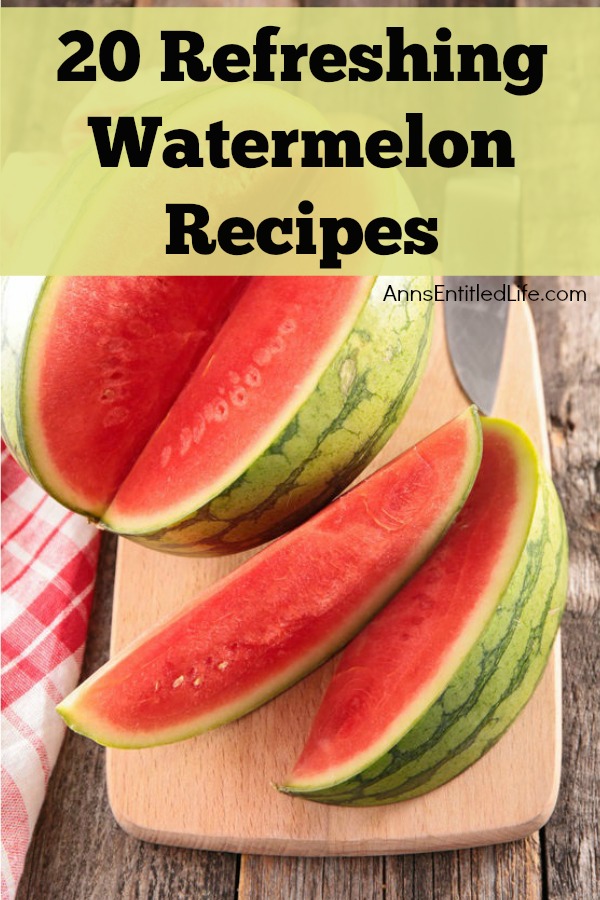 Watermelon was being cultivated as far back as 2000 BC in Egypt. Documentation shows them in the 7th century in India, 10th century in China, and soon afterward the Moorish invaders introduced it to Europe. Colonists brought over watermelon to North America.
Watermelons need temperatures higher 75°F to grow and thrive. The watermelon is classified as a fruit, but many people also classify it as a vegetable.
The world produces mover 95,000,000 tons of watermelon annually, with China (by far) being the number one producer. There are over a thousand varieties of watermelon. Watermelon fruit is 91% water, contains 6% sugars, and provides 10% of our daily Vitamin C per serving.
The watermelon's rind is actually edible, and the most frequent use of a rind is for pickles, stewed or stir fried.
If you enjoy watermelon, you should definitely check out these 20 Refreshing Watermelon Recipes this summer.
● Easy Watermelon Slushy Recipe | Nerdy Mamma
● Fresh Watermelon Salsa Recipe | Cincy Shopper
● Grilled Watermelon with Lime & Hatch Chile Recipe | Mama Likes to Cook
● Polynesian Watermelon Drink Recipe | The Good Hearted Woman
● Refreshing Watermelon and Goat Cheese Salad Recipe | Mama Likes to Cook
● Refreshing Watermelon Smoothie Recipe | The Women Talk
● Sparkling Watermelon Cocktail Recipe | Baling Beauty
● Spiked Watermelon and Mint Lemonade Recipe
● Strawberry Watermelon Smoothie | Eat. Thrive. Glow
● Watermelon, Basil and Feta Salad Recipe | Vegetarian Gourmet
● Watermelon, Lime, and Tequila Granita Recipe | Sidewalk Shoes
● Watermelon Agua Fresca | Organized Island
● Watermelon and Goat's Cheese Salad Recipe | Home Life Abroad
● Watermelon Fruit Infused Water | Quirky Inspired
● Watermelon Infused Tequila Recipe | Sidewalk Shoes
● Watermelon Margaritas | Baking Beauty
● Watermelon Mint Lemonade Recipe | Hot Eats and Cool Reads
● Watermelon Milkshake Recipe | Mom Foodie
● Watermelon Mint Salad Recipe | Miz Helen's Country Cottage
● Watermelon Mojitos Recipe | Living Sweet Moments
● Watermelon Summer Salad Recipe | All She Cooks
If you would like a cute "watermelon" cookie, try these Watermelon Cookies!
---
● Disclosure: the links in this post may be affiliate links.
● For more Recipes on Ann's Entitled Life, click here.
● If you enjoyed this post, be sure to sign up for the Ann's Entitled Life weekly newsletter, and never miss another article!
---