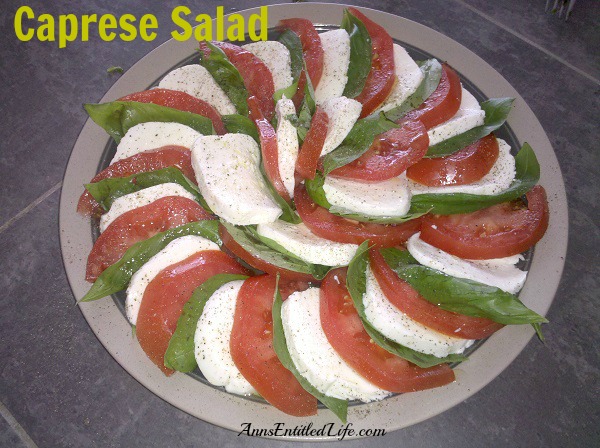 Caprese Salad Recipe
● 1# Fresh Mozzarella
● Fresh Basil
● Tomato
● Olive Oil
● Balsamic Vinegar
● Oregano (hubby could not resist)
● Fresh Ground Pepper
Directions
● Cut the fresh mozzarella and tomatoes uniformly.
● Strip the vein from the fresh basil (I cut them out in a V).
● In a circle, layer tomatoes, basil, mozzarella until the circle is complete.
● Drizzle olive oil over circle, sprinkle balsamic vinegar, and grind fresh pepper over the top.
● While oregano is not normally used, hubby insists on giving the plate a sprinkle.
Hubby puts this together every summer get-together at our house, and it is always a big hit!
---
● Disclosure the links in this post may be affiliate links.
● For more Recipes on Ann's Entitled Life, click here.
● If you enjoyed this post, be sure to sign up for the Ann's Entitled Life weekly newsletter, and never miss another article!
---