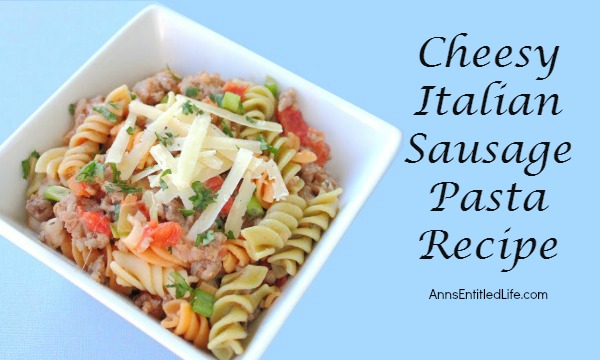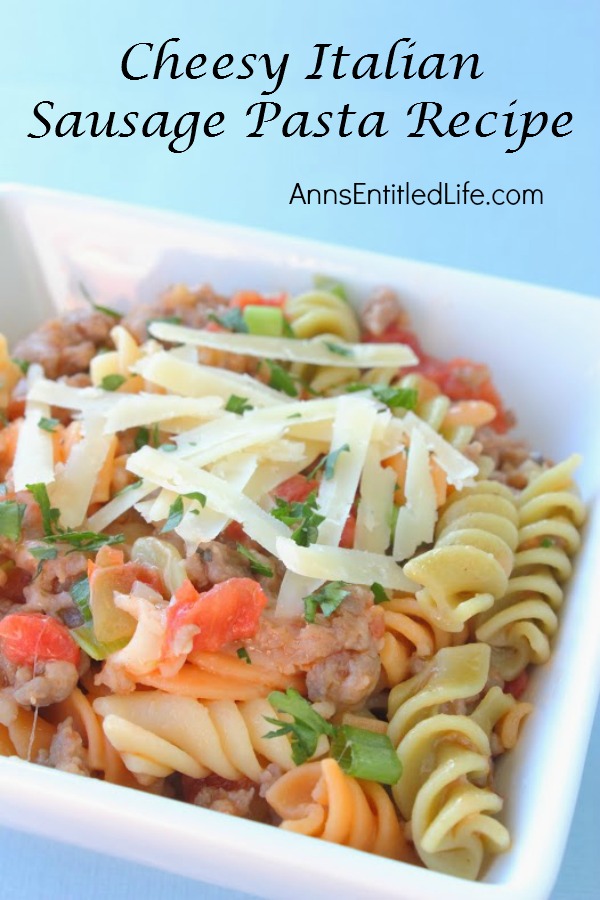 Cheesy Italian Sausage Pasta Recipe
By Ann
A quick, easy, delicious lunch or dinner recipe that is perfect anytime of year. If you need a meal ready fast, try this Cheesy Italian Sausage Pasta Recipe.
Prep Time: 8 minutes
Cook time: 25 Minutes
Ingredients:
● ¼ tsp Crushed Red Pepper
● 3 TBSP Olive Oil
● 1 TBSP Red Wine Vinegar
● 1 tsp Italian Seasoning
● ½ tsp Garlic Powder
● 12 oz Tri-Color Rotini
● 1 lb Bulk Italian Sausage, or links with casings removed
● 1 can (16oz) Petite Diced Tomatoes, drained
● 1 cup Mozzarella, shredded
● 4 Green Onions, thinly sliced
● ½ cup Parmesan, shredded
● 3 Sprigs Parsley Leaves, chopped
Directions:

● Take a knife and chop the red pepper flakes to make them a bit smaller and open up the seeds.
● In a small bowl combine the olive oil, red wine vinegar, red pepper, Italian seasoning and garlic powder whisk to combine and set aside.
● In a Dutch oven, cook pasta to al dente, drain, remove pasta and set aside.
● Return Dutch oven to medium high heat and brown the Sausage, drain.
● Add the tomatoes and cook for 2 minutes.
● Add the Pasta back into the Dutch oven with the olive oil mixture and toss to coat.
● Add in the mozzarella ¼ cup at a time and stir between each addition. Remove from heat.
● Stir in the onions.
● Serve topped with Parmesan and parsley.
● Makes 8 servings Cheesy Italian Sausage Pasta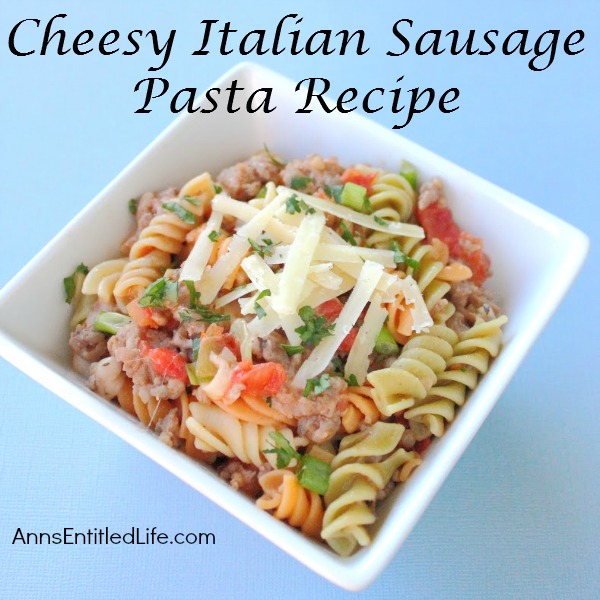 This is a beautiful dish that is fast and easy to make. It tastes delicious! If you are looking for a quick dinner (or a summer pasta dish), give this Cheesy Italian Sausage Pasta a try!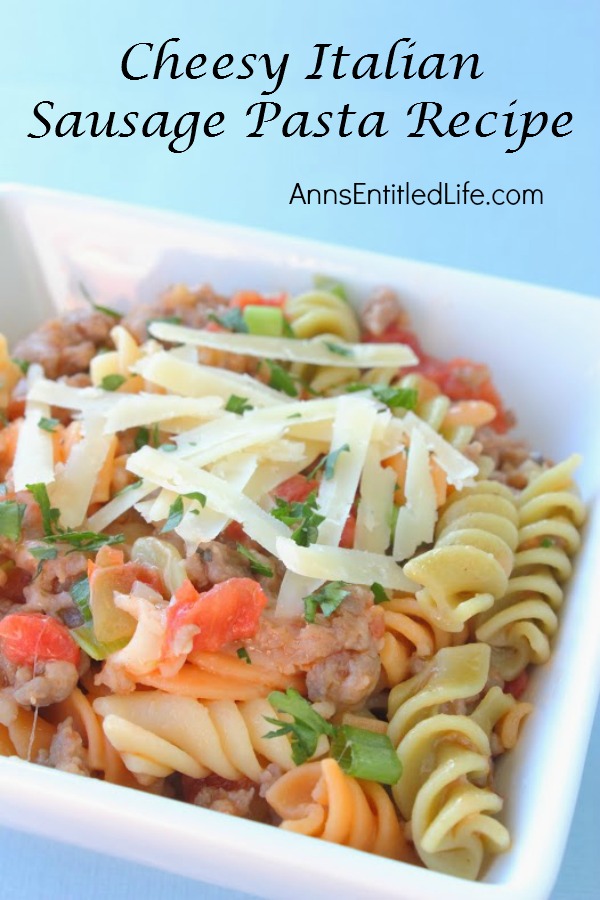 ● To print the Cheesy Italian Sausage Pasta Recipe, click here.
---
● For more Recipes on Ann's Entitled Life, click here.
● If you enjoyed this post, be sure to sign up for the Ann's Entitled Life weekly newsletter, and never miss another article!
---