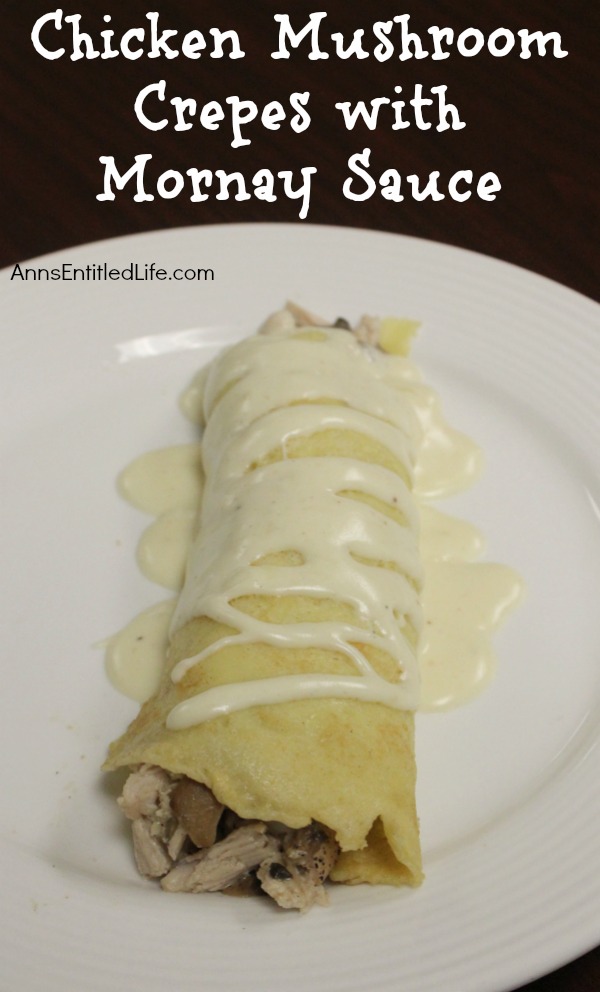 Chicken Mushroom Crepes with Mornay Sauce Recipe
By Ann
A delicious chicken mushroom filling wrapped by a light and airy crepe, topped with Mornay sauce makes a wonderful breakfast or different lunch or dinner entree. Try this wonderful Chicken Mushroom Crepes with Mornay Sauce Recipe tonight!
Prep Time: 30 minutes
Cook Time: 30 Minutes
Basic Crepe Ingredients:
● 1 cup All-purpose Flour
● 2 Eggs
● ½ cup Whole Milk
● ½ cup Water
● ¼ tsp Salt
● 2 TBSP Butter
Chicken Mushroom Filling Ingredients:
● 1 TBSP Butter
● 1 cup Onions, sliced vertically
● 1 Clove Garlic, minced
● 3 cups Baby Portobello Mushrooms, thinly sliced
● ¼ tsp Pepper
● ¾ tsp Salt
● ½ cup Dry White Wine
● ¾ cup Chicken Broth fat free, less sodium if possible
● 2/3 tsp Dry Thyme
● ¼ Low Fat Yogurt
● 2 cups Chicken, cooked skinless, boneless, shredded
Mornay Sauce Ingredients:
● 3 TBSP Butter
● 3 TBSP Flour
● ¾ cup Chicken Broth
● 1 cup Whole Milk
● pinch Salt
● pinch White Pepper
● pinch Nutmeg
● 2 cups Swiss Cheese, shredded
Directions:

● In a blender add all crepe ingredients: flour, eggs, whole milk, water, salt, and butter; blend to combine.
● Set batter to chill in the refrigerator. Optimally, 1-2 hours, at a minimum while you are preparing the filling and Mornay sauce.
● To prepare the chicken mushroom filling:
● Melt butter in a large, nonstick skillet over medium heat.
● Add onions and garlic to the butter. Sauté until onions begin to brown (5+ minutes).
● Add mushrooms, salt, pepper to the onion mixture. Allow to cook 3 minutes until the liquid is evaporated and mushrooms are tender. Stir constantly.
● Add chicken broth, dry white wine and thyme; cook 2 minutes.
● Remove chicken mushroom filling from the heat; add the low-fat yogurt. Stir well until thoroughly blended.
● Add chicken to pan; toss to coat.
● To prepare the Mornay sauce:
● In a medium-sized saucepan melt butter over medium heat.
● Add flour to make a roux. Stir until the roux is pale yellow and frothy; approximately 2 minutes. (Do not allow roux to brown.)
● Slowly whisk in whole milk. Continue to whisk until the sauce thickens and comes to a boil; approximately 3 minutes.
● Reduce heat to a simmer; season with salt, white pepper and nutmeg. (At this point you have béchamel sauce.)
● Stir in cheese and whisk until melted. If sauce is too thick, add a touch of whole milk to thin, this is now Mornay Sauce.
● Prepare crepe:
● Heat a lightly buttered frying pan or griddle over medium heat.
● Pour a scoop of batter into the hot pan.
● Tilt the pan in a circular motion so that the better coats the pan evenly.
● Cook the crepe for 2 minutes until slightly browned at the edges. Loosen with spatula all the way around the crepe.
● Flip the crepe. Cook the other side.
● To serve:
● Remove cooked crepe from pan and place on a plate.
● Place a line of chicken mushroom filling on the crepe, and fold or roll to close.
● Top with Mornay Sauce.
● Serve hot.
● Makes 6 servings Chicken Mushroom Crepes with Mornay Sauce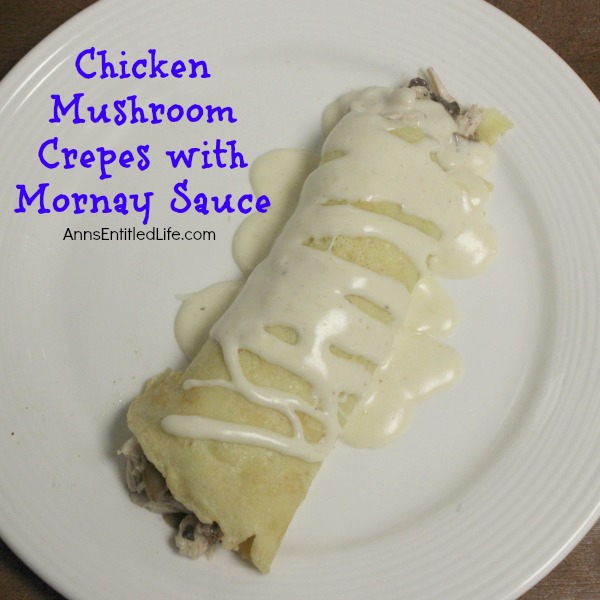 My friend Courtney and I were talking last month about taking some cooking classes. We liked the idea, so we began searching online for local classes. We found quite a few offered locally, and thought the class offerings at the Niagara Falls Culinary Institute sounded promising.
I asked Hubby if he was interested, and Courtney spoke to her significant other, Kyle, and both men decided they were in! We signed up for the Chicken Mushroom Crepes with Mornay Sauce class, and attended last Thursday.
We parked in the ramp attached to the school. It was very easy access to the culinary school from there, and they stamped your parking ticket so we didn't have to pay the $20 parking fee.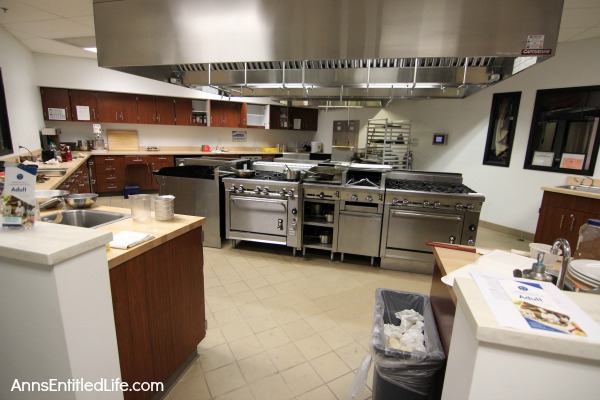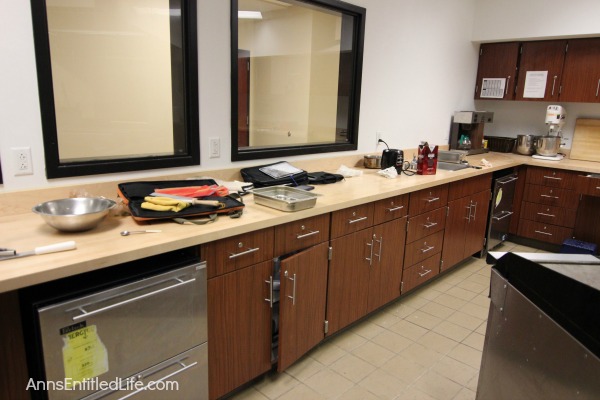 The cooking school classroom itself was very clean, but quite warm (these photos are from the end of the night). It was 95° outside and the kitchen is not air conditioned. The inside air mixes with the outside air through some exchanger over the stoves. Which I am sure that is fine in the winter – but on a hot summer night? Not-so-much.
Our chef instructor, Scotty, was a very nice man who gave us many tips for improving upon this recipe at home. In addition to Hubby, myself, Courtney and Scotty, there was a couple visiting Niagara Falls from Maryland who decided to take the class to see what it was like (they had taken one in New Orleans and said that one was more like a cooking show, whereas this one was very hands on!)
We all got to do a little something.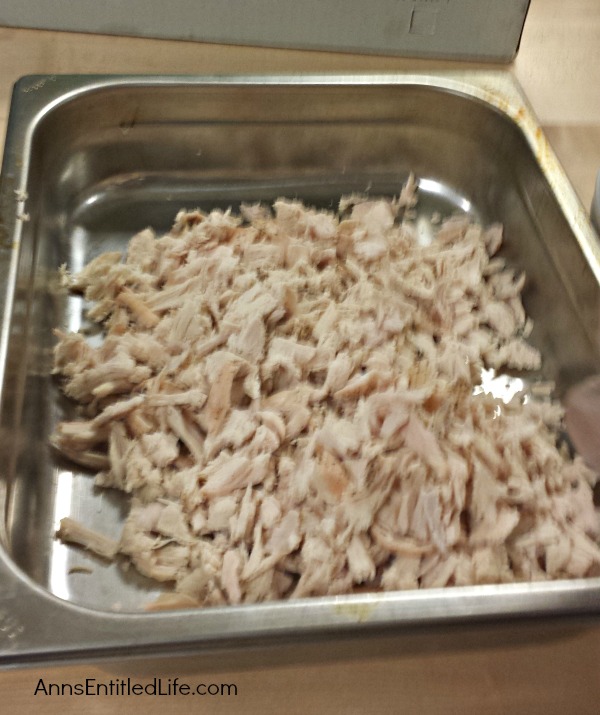 Courtney and the lady from Maryland shredded the cooked chicken by hand. (Taken with my phone.)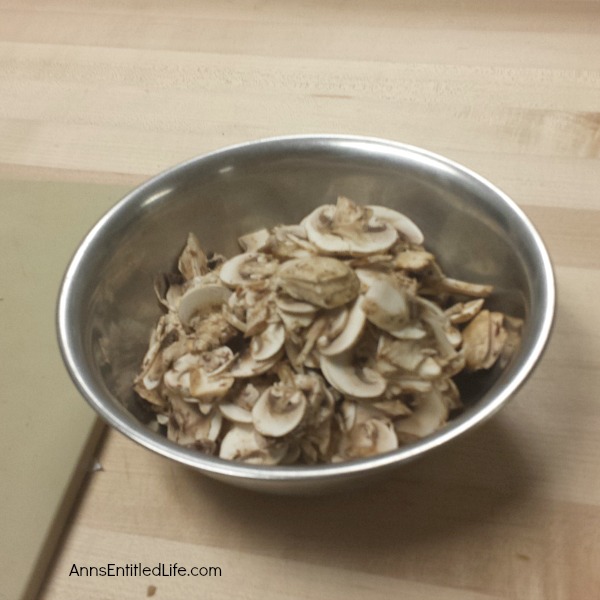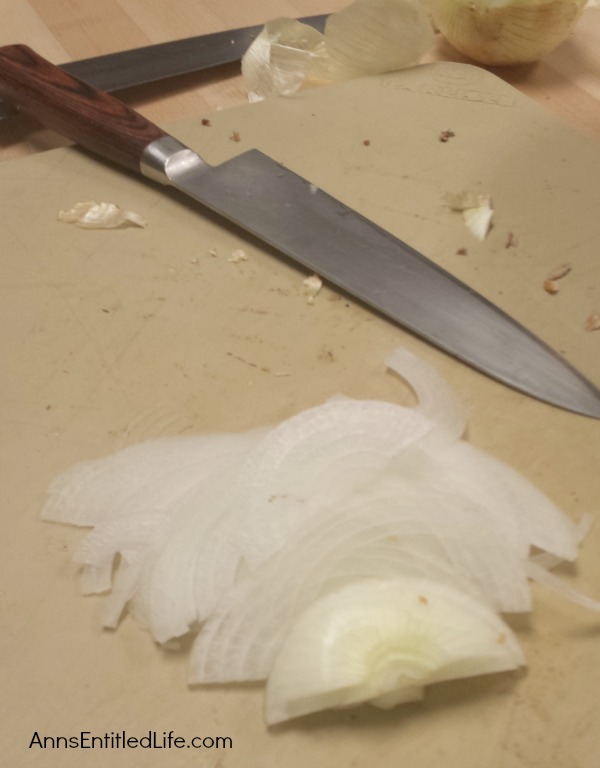 Hubby chopped the mushrooms and onions.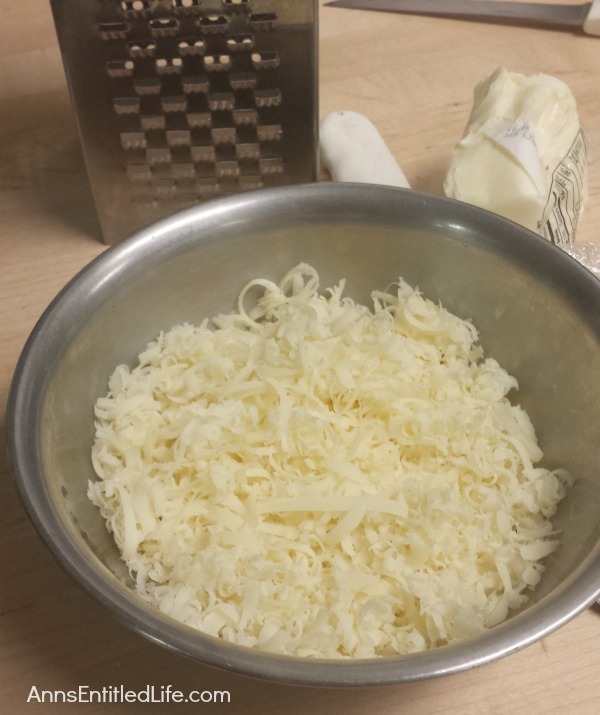 I grated the Swiss Cheese.
Tip: spray the inside and outside of the grater with non-stick spray before grating cheese so it won't stick to the grater.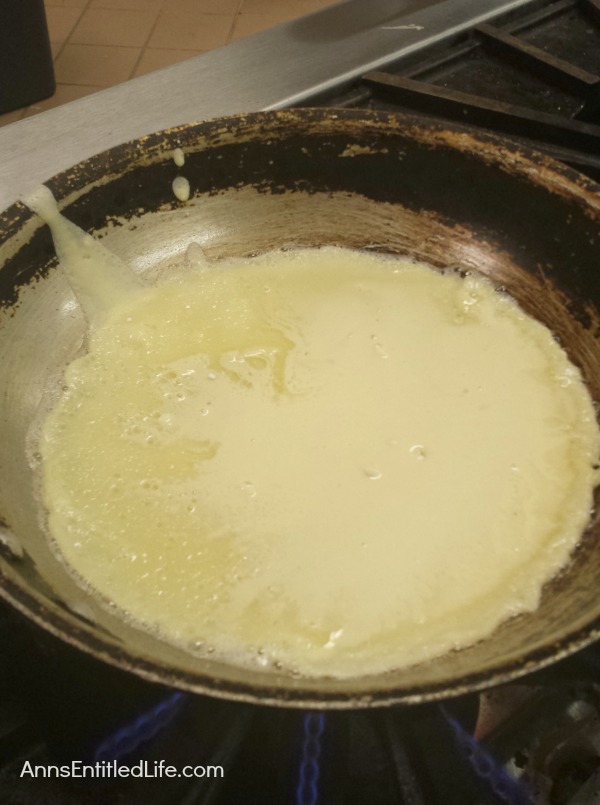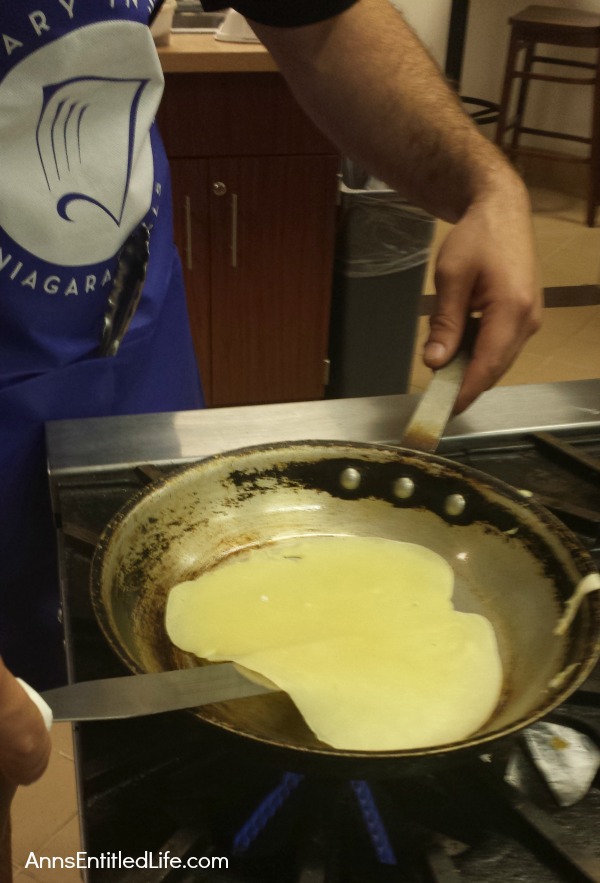 Kyle and the gentleman from Maryland cooked the crepes.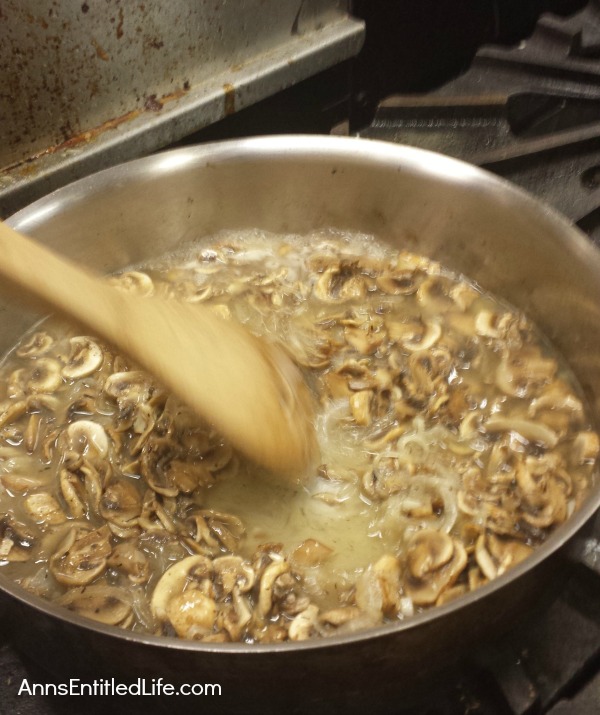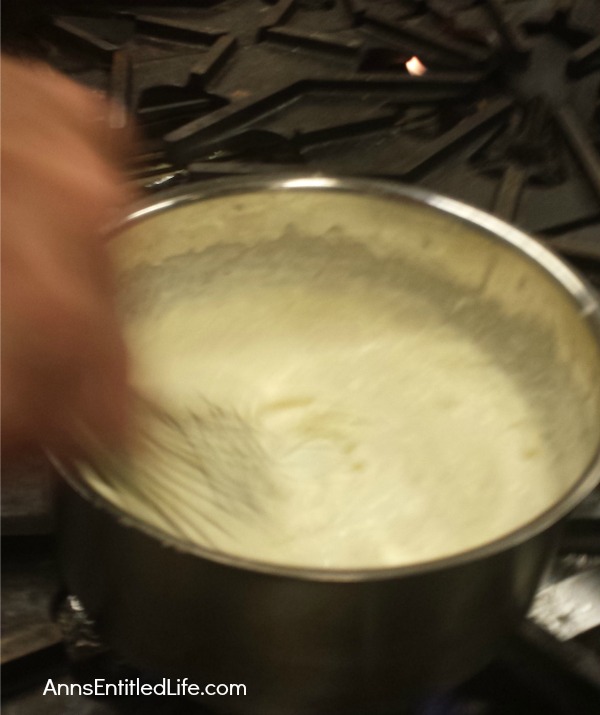 And Chef Scotty and the lady from Maryland cooked up the chicken filling and mornay sauce.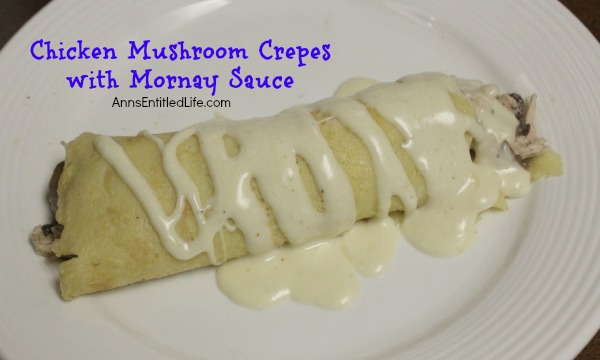 Some notes about this recipe:
● Mornay sauce with Swiss cheese was a bit odd to us. Try using Parmesan cheese or cheddar cheese. Scotty also suggested blue cheese and a tablespoon of Frank's hot sauce for a "Buffalo-style" sauce.
● This recipe originally called for crème fraîche and not yogurt, however crème fraîche isn't easy to find, and takes 18 hours to make your own. According to Scotty, the yogurt is pretty darned close.
● This recipe originally called for two teaspoons of fresh thyme.
● This recipe originally called for scallions for garnish.
● For the crepes, a tip given was to allow the batter to cool in the refrigerator for 1-2 hours.
● The longer you cook a roux, the less thickening power it has.
● It was a very interesting evening. We were scheduled for class from 6pm-8:30pm, but were completely finished by 7:45pm.
● To print the Chicken Mushroom Crepes with Mornay Sauce recipe, click here.
---
● Disclosure the links in this post may be affiliate links.
● For more Recipes on Ann's Entitled Life, click here.
● If you enjoyed this post, be sure to sign up for the Ann's Entitled Life weekly newsletter, and never miss another article!
---