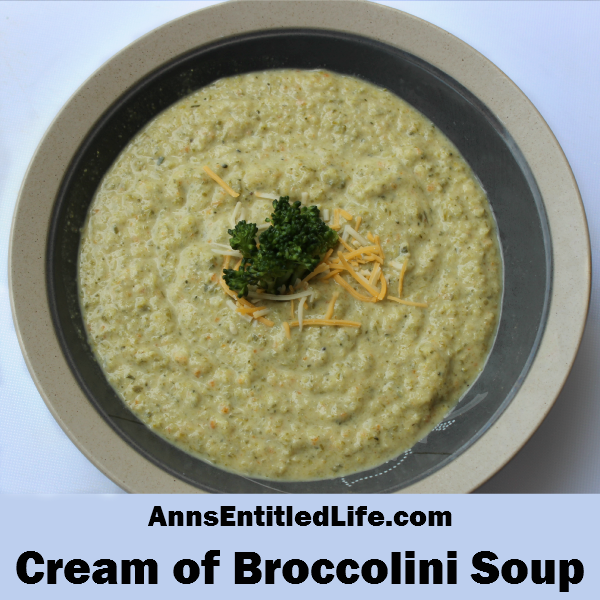 Cream of Broccolini Soup
By Ann
A creamy, comforting soup that beautifully showcases Broccolini! Onions, celery, garlic, broccoli and cream form this quick, scratch-made cream of broccolini soup.
Prep Time: 30 minutes
Cook time: 40 minutes
Ingredients:
● 5 TBSP Butter, divided
● 1 medium Onion, diced
● 1 Garlic Clove, minced
● 1 Stalk Celery, diced
● 1 Carrot, diced
● 2 cans (14.5oz) Chicken Broth
● 4 Cups Broccoloni, chopped (can substitute broccoli if short)
● 3 TBSP Flour
● 1 cup Milk
● 1 cup Light Cream
● 1/2 cup Shredded Cheddar Cheese
● Pepper
Directions:

● Melt 2 tablespoons of butter in a medium sized stock pot.
● Saute onion, garlic, carrot and celery until tender.
● Add broccolini and chicken broth; cover and simmer for 10 minutes.
● Puree soup with a stick blender.
● Return to heat.
● In a small sauce pan over a medium heat, melt 3 tablespoons of butter; stir in flour, add milk and cream. Stir until thick and bubbly.
● Add milk mixture to the soup, stir.
● Add cheese to the soup; stir until melted.
● Season with pepper.
● Heat until thoroughly hot.
Makes 4-6 srvings of Cream of Broccolini Soup
---
● For more Recipes on Ann's Entitled Life, click here.
● If you enjoyed this post, be sure to sign up for the Ann's Entitled Life weekly newsletter, and never miss another article!
---