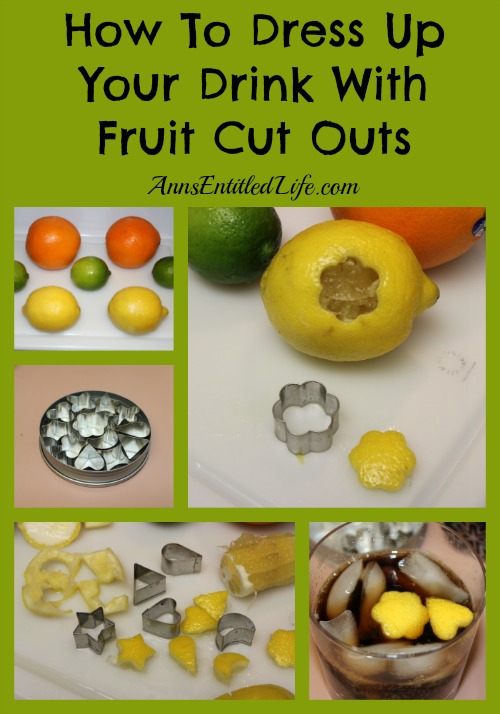 Hosting a party? Want something to dress up that glass of pop or adult cocktail? This is a cute, easy way to add some dash to that glass.
First, purchase some Ateco Cutters or similar, small cut-outs.
Next, you will need to purchase (pick) some citrus fruit – lemons, limes, oranges… whatever it is you'd like to add to your drink.
Make sure you wash the fruit thoroughly before you begin.
There are two ways to cut up the fruit to dress up your drinks: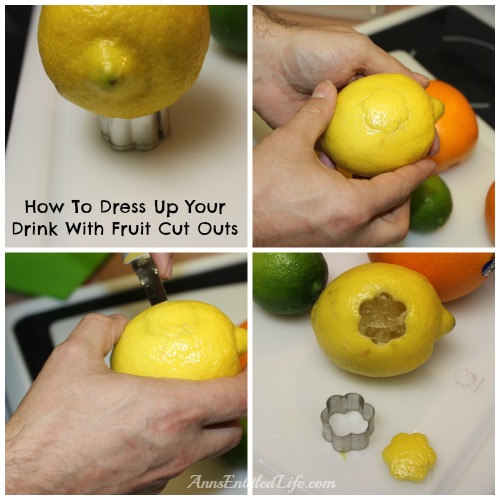 ● The first way is to press the cutter firmly and evenly into the skin of the whole fruit.
● Pull out the cutter, and then slip a knife underneath the cut made by the shaped cutter. Hubby suggests not to close to the edge so as not to mess up the edge.
● Then, remove the entire fruit cut out once you have popped the edge up!
● Hubby likes this way as he finds it easier to have the whole fruit behind the pressure of the cutter.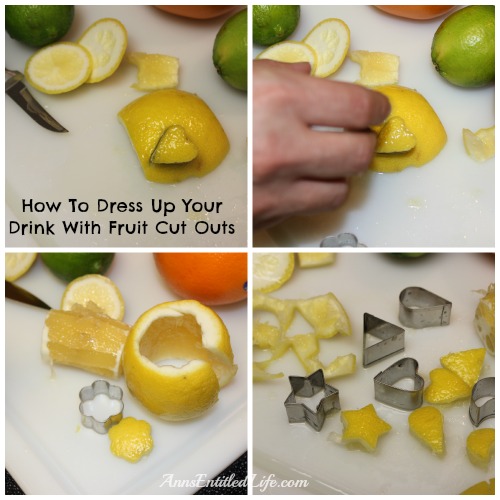 ● The second way, is to core the fruit – remove the inside of the fruit by cutting off the bottom and the top, then insert a knife around the edge, and cut until the meat of the fruit comes out.
● Cut the rind in half (or thirds).
● Place the rind flat (well, as flat as possible) on a cutting board.
● Now, take your cutter of choice, place it on the fruit, and press firmly and evenly.
● Pop out the cutter-cut piece of fruit from the rind.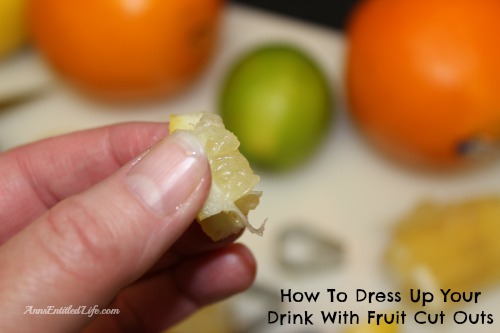 Notice that we didn't pull off any remaining fruit from the back of the rind. This will add flavor to your drink, and you want that especially if you give the decorative-cut-rind a twist before adding it to your drink.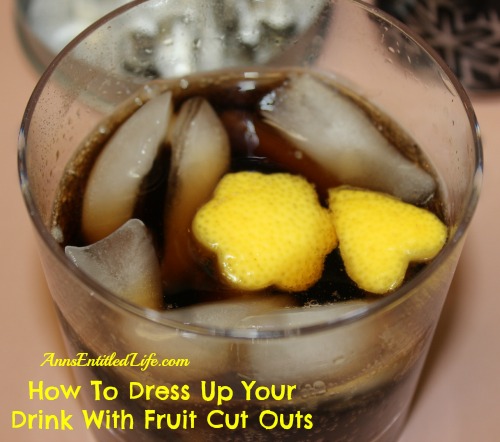 This is a lovely way to dress up a drink – be it a cocktail, pop or water, as well as add that great citrus flavor to your beverage.
Stay tuned for more fun with fruit next week!
---
● Disclosure the links in this post may be affiliate links.
● For more Recipes on Ann's Entitled Life, click here.
● If you enjoyed this post, be sure to sign up for the Ann's Entitled Life weekly newsletter, and never miss another article!
---